Vivantes Humboldt Hospital Berlin
Department of Endoprosthetics, Knee and Hip Surgery (

332617

)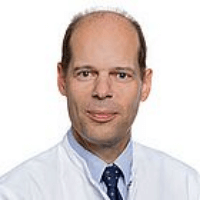 Dr. med.
Dirk Leutloff
Specialized in: endoprosthetics, knee and hip surgery
About the Department of Endoprosthetics, Knee and Hip Surgery at Vivantes Humboldt Hospital Berlin
The Department of Endoprosthetics, Knee and Hip Surgery conducts surgical treatment of knee and hip joints. Due to such a narrow specialization, the department`s surgeons who are using modern methods and implants offer exclusive experience. Along with primary endoprosthetics, standardized operations for the replacement of prostheses are conducted here on a regular basis. Also, the strengths of the department include joint-preserving methods, such as arthroscopy or corrective surgeries of improperly grown fractures. The head of the department is Dr. med. Dirk Leutloff.
All modern surgical methods are available for the treatment of hip / knee conditions. The treatment course depends on the age, clinical picture and patient`s needs. With progressive arthrosis of the knee joint, the standard method of treatment is bicondylar (complete) replacement of the joint surface. In rare cases, the posterior surface of the patella is also additionally replaced. With unilateral wear of the inner knee joint side, for example, in O-shaped deformities of legs, doctors use unicondyl endoprostheses. In special cases, implantation surgeries are performed with a navigation system that serves to better orient the surgeon.
Directions of the department are:
Replacement of the hip joint prosthesis
Hip endoprosthetics
Endoprosthetics of the knee joint
Indications for surgical interventions are:
Coxarthrosis
Gonarthrosis
Loose endoprostheses
Damage to the cartilaginous tissues of the knee joint
Rupture of cruciate ligaments
Meniscus damage
Curriculum vitae of Dr. med. Dirk Leutloff
1989 – 1995 Study of Medicine, Humboldt University of Berlin
01/1996 – 07/1997 Medical Intern, Hospital Berlin Buch, Berlin
10/1997 – 06/2004 Doctor, Charité Berlin
07/2004 – 01/2006 Senior Physician, Charité Berlin
02/2006 – 06/2016 Leading Senior Physician, Asklepios, Birkenwerder, Brandenburg
Since 07/2016 Head of the Department of Endoprocthetics, Knee, and Hip Surgery, Vivantes Humboldt Hospital, Berlin
Photo of the doctor: (c) Vivantes Netzwerk für Gesundheit GmbH
Department of Endoprosthetics, Knee and Hip Surgery.
Vivantes Humboldt Hospital Berlin:

Request more information now.
We will be happy to answer all your questions.
---