Academic Hospital Bogenhausen Munich
Department of Orthopedics, Traumatology and Sports Medicine (

113807

)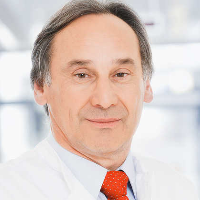 Dr. med.
Ludwig Seebauer
Specialized in: orthopedics, traumatology, sports medicine
About the department
The Department of Orthopedics, Traumatology and Sports Medicine at Academic Hospital Bogenhausen offers the whole range of treatment after injuries and diseases of the musculoskeletal system. Surgeries on the joints and the spine are carried out mainly with the help of minimally invasive arthroscopic methods. Annually about 4500 patients undergo inpatient treatment in the department. The Head of the Department is Dr. med. Ludwig Seebauer.
According to the Focus magazine rating of 2017, the department of orthopedics, traumatology and sport medicine at the Academic Hospital Bogenhausen ranks among the top German departments specializing in endoprosthetics!
In the department of orthopedics, traumatology and sport medicine, headed by Dr. Ludwig Seebauer, great attention is paid to joints` arthroplasty. Many patients arriving at the department have already tried all non-operative methods (such as physiotherapy or analgesics) and nevertheless feel a significant decrease in the quality of life due to pain and motor limitations. Thus, they want to return their mobility with the help of artificial joints. The department is a certified center of arthroplasty (certificate by the independent Endocert institute). It guarantees patients full compliance with high quality standards.
The department has a particularly good reputation in the field of surgery and endoprosthetics of the shoulder joint. Patients from different regions of Germany and even from other countries come here to undergo treatment under supervision of experts in the field of injuries and shoulder wear. The head physician of the department, Professor, Dr. Ludwig Seebauer, together with other experts had developed advanced standards of shoulder joint endoprosthetics. He is considered one of the best specialists in this field.
Special directions of orthopedics and sport medicine in the Munich Bogenhausen clinic include:
Arthrosis of the shoulder joint
Sport injuries of the shoulder joint
Impingement syndrome of the shoulder joint
Rupture of the rotator cuff
Spinal surgery
Breaking / damage to the meniscus
Rupture of cruciate ligaments
Osteoarthritis of the knee joint
Osteoarthritis of the hip joint
Injuries, deformities and diseases of the ankle
Foot surgery
Surgeries on the elbow joint
Pediatric orthopedics, prevention of hip dysplasia and clubfoot
Curriculum vitae
Membership
Founding Member of the German Society of Shoulder and Elbow Surgery (DVSE).
Member of the German Society of Orthopaedics and Trauma Surgery (DGOOC).
Member of the American Academy of Orthopedic Surgeons (AAOS).
Department of Orthopedics, Traumatology and Sports Medicine.
Academic Hospital Bogenhausen Munich:
Request more information now.
We will be happy to answer all your questions.
---
---
Certificates