Academic Hospital Bogenhausen Munich
Department of Urology (

113819

)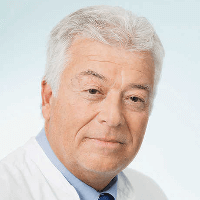 Dr. med.
Volker M. Beer
About the department
The department of urology at Academic Hospital Bogenhausen treats diseases of the urinary tract of women and men and the internal and external male sexual organs. The medical emphases include urological tumor surgery and oncology, reconstructive surgery of the urinary tract, pelvic floor reconstruction, as well as the treatment of urinary stones and acute infections. In oncology, the experts treat patients with kidney cancer, prostate cancer, bladder cancer and with tumors of the posterior abdominal area, the testes and the ureter. The Head of the Department is Dr. med. Volker M. Beer.
The department of urology uses both conservative and surgical methods of treatment. In order to preserve the function of such organs, for example, as the prostate gland, doctors of the department often use laser or sparing, minimally invasive methods of treatment (for example, endosurgery and laparoscopy).
A separate focus is on the treatment of urolithiasis. The Department of Urology is distinguished by specialization in the field of modern, minimally invasive stone therapy using all methods of conservative treatment, from shock wave therapy to endoscopic treatment and complex retrograde flexible and percutaneous operating methods, including laser methods and mini-transcutaneous nephrolithiasis. The department has its own laboratory for the analysis of urinary stones and diagnosis of metabolic disorders, as well as its own monitoring unit.
The spectrum of the department's services:
Urological oncological surgery
Urological traumatology
Urologic oncology
Reconstructive surgery of the genitourinary tract
Treatment of urinary stones
Reconstruction of the pelvic floor
Emergency urological infectology
Photo of the doctor: (c) München Klinik gGmbH
Department of Urology.
Academic Hospital Bogenhausen Munich:

Request more information now.
We will be happy to answer all your questions.
---
Certificates