Hospital Bogenhausen Munich
Department of Cardiac Surgery (

113821

)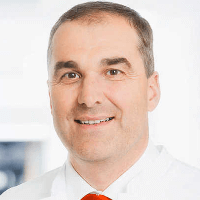 Prof. Dr. med.
Walter Eichinger
Specialized in: cardiac surgery
About the department
Performing annually more than 1000 surgeries on the heart, the department of cardiac surgery at Academic Hospital Bogenhausen belongs to the largest centers of cardiac surgery in Munich. Here, the whole range of cardiovascular diseases is treated in adult patients, from emergency cases to heart attack. Special directions of the department include surgeries on the heart valves, atrial fibrillation, pacemakers, shunt surgeries and aortic aneurysm. The Head of the Department is Prof. Dr. med. Walter Eichinger.
According to the Focus magazine rating of 2017, the Department of Cardiac Surgery at the Academic Hospital Bogenhausen ranks among the top German departments specializing in cardiac surgery!
The cardiac surgeons`s experience, as well as the use of new methods of treatment, contribute to the impeccable reputation of the department, which goes far beyond Germany. To offer patients the best treatment, the doctors of the Academic Hospital Bogenhausen have at their disposal the latest operational technologies that allow to conduct gentle interventions.
The department offers the whole spectrum of cardiac surgery services:
Coronary artery bypass grafting for calcified, narrowed vessels
Using both arteries of the thoracic wall as a vessel for bypass surgery
Shunting surgery with a beating heart (without an artificial blood circulation device)
Minimally invasive bypass surgery (MIDCAB)
Replacement of heart valves and reconstruction of cardiac valves with degenerative changes, calcification and inflammation of the heart valves
Use of minimally invasive methods for reconstruction or replacement of affected heart valves
Diseases of the aorta and aortic arch (aortic surgery)
Treatment of heart rhythm disorders using pacemakers, defibrillators, or surgical ablation with atrial fibrillation
Thoraco-endoscopic minimally invasive ablation with atrial fibrillation
Correction of congenital heart disease in adults
Treatment of the carotid artery and conducting heart surgery within a single session
Removal of tumors of the heart
Surgery for pulmonary circulation (acute and chronic pulmonary embolism)
One of the priorities of the department are operations on the heart valves. With the possibility of cardiac surgery, clinics strive to restore the natural function of the heart valve. For the patient, this means a longer life expectancy and an improved quality of life. However, if there is a strong calcification of heart valves, as a rule, these heart valves are replaced. The department has an excellent international reputation in the field of operating methods that preserve heart valves. Such surgeries are performed for defects of the aortic, mitral and tricuspid valves. Reconstruction of the heart valves in most cases is carried out with the help of minimally invasive techniques, after which only small scars remain.
Areas of specialization of the department include:
Surgeries on heart valves
Atrial fibrillation
Pacemakers / Defibrillators
Shunting
Aortic aneurysm
Photo of the doctor: (c) München Klinik gGmbH
Department of Cardiac Surgery.
Hospital Bogenhausen Munich:

Request more information now.
We will be happy to answer all your questions.
---
Certificates