Academic Hospital Bogenhausen Munich
Department of Rheumatology, Clinical Immunology and Osteology (

114133

)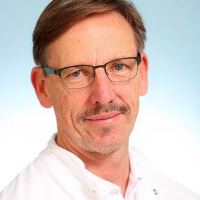 Dr.
Harald Mörtlbauer
Specialized in: rheumatology, clinical immunology, osteology
About the department
The department of rheumatology, clinical immunology and osteology at Academic Hospital Bogenhausen examines and treats patients with inflammatory rheumatic diseases as well as with non-inflammatory diseases and syndromes(for example, arthrosis or osteoporosis). Medical spectrum includes all modern diagnostic procedures, such as joint and soft tissue sonography as well as the complex autoimmune diagnostics. Annually department treats more than 1600 inpatients. The head physician of the department is Dr. Harald Mörtlbauer.
The department specialization includes autoimmune diagnostics (autoantibody analysis), which allows timely detection of autoimmune diseases. Samples from patients are examined in their own immunological separation laboratory.
An important area is the treatment of spondyloarthritis. It is an inflammatory disease of the spine, which can also affect joints and tendons. The disease can manifest itself in different ways - from moderate forms, in which it is sufficient to carry out symptomatic treatment, to severe forms with the risk of limited mobility of the spine (Bekhterev's disease). Immunomodulating medications are often successfully used for treatment. This includes biologics, for example.
In inflammatory rheumatological diseases, as a rule, the immune system needs to be modulated or partially suppressed. Not only classical immunosuppressive agents are used for this purpose, but more and more often medicines that belong to the group of biologics. With the use of biologics, it has recently been possible to achieve a significant improvement in treatment options. Often several drugs are combined with each other. With the help of targeted, individualized treatment programs, department doctors successfully treat the diseases.
For patients with inflammatory rheumatological diseases and non-inflammatory pain syndromes (including fibromyalgia and high degree of osteoporosis), the department offers multimodal rheumatological complex treatment. The goal of treatment is to alleviate pain and improve mobility and coordination - and thus the quality of life in general.
Range of medical services includes:
Treatment of osteoporosis within the framework of an interdisciplinary specialized center
Vasculitis (inflammation of blood vessels)
Collagenosis (inflammation of connective tissue)
Rheumatoid arthritis
Photo of the doctor: (c) München Klinik gGmbH
Department of Rheumatology, Clinical Immunology and Osteology.
Academic Hospital Bogenhausen Munich:

Request more information now.
We will be happy to answer all your questions.
---
Certificates