Academic Hospital Bogenhausen Munich
Department of Cardiology and Internal Intensive Medicine (

280

)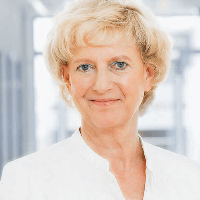 Prof. Dr. med.
Ellen Hoffmann
Specialized in: cardiology, internal medicine
About the department
The department of cardiology and intensive care medicine offers all modern diagnostic and therapeutic methods for heart and circulatory diseases. The medical emphases are on the non-invasive and invasive diagnosis and treatment of heart disease and cardiac arrhythmias. Cardiac arrhythmias are diagnosed and treated with modern techniques such as electrophysiological examination. Chief physician of the department is Prof. Dr. med. Ellen Hoffmann.
According to the Focus magazine rating of 2018, the department of cardiology and intensive care medicine at the Academic Hospital Bogenhausen ranks among the top German departments specializing in the treatment of cardiovascular diseases!
A key focus of the department is the catheter-assisted aortic valve replacement (= TAVI). In a TAVI procedure, a fitting, folded biomaterial heart valve is inserted via a catheter over the inguinal artery into the aortic root and unfolded there. The valve can alternatively be introduced through the heart apex. Replacing the heart valve with a catheter is a particularly gentle procedure because it does not require a heart-lung machine as the procedure is performed on the beating heart. Only a short time after the procedure, the patients are back on their feet.
The Academic Hospital Bogenhausen has been certified by the German Cardiac Society as a TAVI center. In order to receive this quality seal, high standards must be met. These include experienced cardiologists and cardiac surgeons who annually perform at least 25 operations and at least 50 in the center. Being one of the pioneers of this technology, the hospital has been administering this method since 2007.
Main focuses of the department:
Heart valve disease

Catheter-assisted aortic valve implantation (TAVI)
Minimally invasive rehabilitation of the mitral valve using the clip system (MitraClip)
Dilatation of mitral valve stenosis using balloon catheter (valvuloplasty)
Drug stroke prophylaxis (anticoagulation)

Arrhythmia
Coronary heart disease, myocardial infarction, angina pectoris

Invasive therapeutic procedures (balloon dilatation (PTCA, percutaneous transluminal coronary angioplasty), stent implantation, etc.)

Sports cardiology, performance diagnostics
Photo of the doctor: (c) München Klinik gGmbH
Department of Cardiology and Internal Intensive Medicine.
Academic Hospital Bogenhausen Munich:

Request more information now.
We will be happy to answer all your questions.
---
Certificates