Brothers of Mercy Hospital Munich
Department of Cardiology and Pulmonology (

580011

)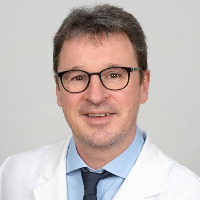 Prof. Dr. med.
Roland Schmidt
Specialized in: cardiology, pulmonology
About the Department of Cardiology and Pulmonology at Brothers of Mercy Hospital Munich
The Department of Cardiology and Pulmonology at the Brothers of Mercy Hospital Munich offers the full range of services in these fields and specializes in treating patients with cardiovascular diseases, lung and respiratory tract pathologies. The department has all modern diagnostic options for early detection of pathologies, accurate diagnostics and risk assessment for heart, blood vessel and lung diseases. In addition, the department has an advanced Cardiac Catheterization Laboratory, which performs minimally invasive procedures such as balloon dilatation, catheter-based procedures, stent implantation and recanalization for chronic coronary artery occlusions. A Chest Pain Unit is certified by the German Cardiac Society and operates around the clock. In the field of pulmonology, both drug therapy and highly effective endoscopic procedures are carried out. The department's doctors ensure that the patient receives the best treatment in comfortable conditions and in a friendly environment. The Head Physician of the department is Prof. Dr. med. Roland Schmidt.
Diagnostics and treatment of cardiovascular pathologies are the primary focus of the department's clinical practice. The department's experienced doctors treat pathologies of the coronary arteries, heart muscle, pericardium, heart valves and heart rhythm disturbances (arrhythmias). The specialists also provide care to patients with arterial hypertension that affects the functioning of the heart. The medical facility has all modern tests for assessing the state of the heart. These include electrocardiography, echocardiography, right and left heart catheterization, 24-hour Holter monitoring, electrophysiological studies, etc.
Heart failure is one of the most common heart diseases and is also often fatal. The diagnosis can be confirmed with cardiac ultrasound, transesophageal echocardiography, cardiac catheterization, and cardiac magnetic resonance imaging. The primary treatment method is drug therapy. The treatment regimen may include ablation or stent implantation in the case of heart failure caused by heart valve or coronary artery pathologies. Cardiologists often recommend cardiac resynchronization therapy to treat patients with severe heart failure.
Patients often visit the department with pathologies of the heart valves: mitral, aortic, pulmonary and tricuspid. The most common heart valve defects are stenosis and insufficiency. The diagnostic stage includes transthoracic and/or transesophageal echocardiography and cardiac catheterization. In many cases, doctors use only drug therapy. In complex cases, they perform catheter-based procedures such as mitral valve repair with clipping, transcatheter aortic valve replacement, and others.
The specialists of the medical facility successfully cope with inflammatory heart diseases: endocarditis, myocarditis and pericarditis. A patient undergoes echocardiography, including transesophageal one, CT, MRI and blood tests during the diagnostic examination. Antibiotic therapy, anti-inflammatory drugs and other medications are used for the treatment. With heart valves damaged, catheter-based procedures or surgery may be required.
As for pulmonology, the department specializes in treating lung, pleural and respiratory tract diseases. Particular attention is paid to treating patients with bronchial asthma, bronchitis, pneumonia, pulmonary hypertension, pneumothorax, pulmonary embolism, interstitial lung disease and other pathologies. Pulmonary function tests, spiroergometry, and endoscopic examinations are used during the diagnostics for respiratory organs.
An important focus of work of the department's pulmonologists is medical care for patients with bronchial asthma, in which chronic bronchial obstruction occurs. The department's doctors carry out clinical examinations and perform X-rays and/or CT scans to make an accurate diagnosis. Since the main manifestation of bronchial asthma is shortness of breath, the therapy aims to eliminate this symptom as much as possible. During the treatment, the specialists use drug infusions, inhalations and physiotherapy. In severe cases, non-invasive ventilation through a mask or intubation for invasive ventilation may be required. The last-line therapy is temporary lung replacement therapy.
Despite the achievements of modern medicine in pulmonology, pneumonia (lung inflammation) is still one of the most common and dangerous diseases. A clinical examination, X-ray scans, and blood tests are usually sufficient to make a diagnosis. In some cases, a CT scan may also be required. The key treatment for pneumonia is antibiotic therapy, which is most commonly provided with injections or intravenous infusions. Patients with pneumonia are also indicated for oxygen therapy, therapeutic exercises, and pain management. In severe cases, non-invasive or invasive ventilation is performed in the Intensive Care Unit. If the methods mentioned above are ineffective, the department's specialists resort to extracorporeal membrane oxygenation (ECMO).
The department specializes in the diagnostics and treatment of the following diseases:
Cardiology

Arterial hypertension
Inflammatory diseases of the myocardium, pericardium and endocardium
Carotid artery stenosis
Myocardial infarction
Coronary heart disease
Heart rhythm disturbances (arrhythmias)
Heart valve pathologies: stenosis and insufficiency
Heart failure

Pulmonology

Asthma and chronic obstructive pulmonary disease
Bronchitis
Respiratory muscle diseases
Pneumonia (lung inflammation)
Pulmonary hypertension
Collapsed lung (pneumothorax)
Interstitial lung disease
Lung and pleural cancer
Pulmonary embolism
Pleurisy (pleural inflammation)
Sleep-related breathing disorders (for example, obstructive sleep apnea)

Other heart and lung diseases
The department's diagnostic and therapeutic range includes:
Cardiology

Diagnostics

Electrocardiography
Cardiac ultrasound diagnostics

Classic echocardiography
Transthoracic echocardiography
Transesophageal echocardiography
Stress echocardiography

Long-term cardiac tests

24-hour blood pressure monitoring
Holter monitoring (24- and 48-hour)

Exercise stress tests
Catheter-based techniques

Coronary angiography
Right and left heart catheterization
Cardiac conduction assessment
Electrophysiological diagnostics of heart arrhythmias

Treatment

Drug therapy
Catheter-based techniques

Balloon dilatation (percutaneous transluminal coronary angioplasty) and stent implantation
Recanalization for chronic coronary total occlusion, rotablation
Implantation of cardiac support systems: implantation of pacemakers, defibrillators, including monitoring of their work, and cardiac resynchronization therapy
Mitral valve repair with clipping
Transcatheter aortic valve implantation

Pulmonology

Diagnostics

Endoscopic examinations

Bronchoscopy
Bronchoalveolar lavage
Various forms of biopsy, including transbronchial biopsy

Pulmonary function tests

Spirometry
Spiroergometry
Whole-body plethysmography with bronchodilators or challenge testing
Lung diffusion capacity assessment

Pleura and lung ultrasound scans
Chest X-ray scans
Chest CT scans
Obstructive sleep apnea screening

Treatment

Drug therapy
Endoscopic techniques

Bronchoscopy
Bronchoalveolar lavage
Hemostasis and sclerotherapy using argon projector

Pleural and lung punctures
Pleural drainage
Artificial ventilation

Non-invasive ventilation
Invasive ventilation
Extracorporeal membrane oxygenation (ECMO)

Other diagnostic and therapeutic services
Curriculum vitae of Prof. Dr. med. Roland Schmidt
Since March 2011, Prof. Dr. med. Roland Schmidt has been heading the Department of Cardiology and Pulmonology at the Brothers of Mercy Hospital Munich. Before this, the doctor worked as a Senior Physician at the German Heart Center and the Department of Internal Medicine I at the University Hospital Rechts der Isar Munich. The doctor received his medical education in Muenster and New York. Then, he underwent his practical training at the Technical University of Munich. In 2007, the doctor had his board certification in Internal Medicine, and in the same year, he received an additional qualification in Emergency Medical Care. In 2008, he had an additional qualification in Internal Intensive Care. In 2009, the doctor received his specialization in Cardiology. In 2007, Prof. Schmidt underwent his habilitation.
Photo of the doctor: (c) Barmherzige Brüder Krankenhaus München
Department of Cardiology and Pulmonology.
Brothers of Mercy Hospital Munich:

Request more information now.
We will be happy to answer all your questions.
---
Certificates