Academic Hospital Brothers of Mercy Munich
Department of Cardiology and Pulmonology (

580011

)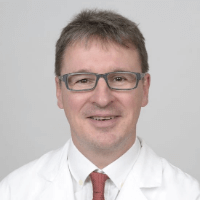 Prof. Dr. med.
Roland Schmidt
Specialized in: cardiology, pulmonology
About the department
The Department of Cardiology and Pulmonology at the Academic Hospital Brothers of Mercy Munich offers the full range of services in these fields and specializes in the treatment of patients with cardiovascular diseases and pulmonary pathologies. The department is headed by Prof. Dr. med. Roland Schmidt.
The department has all the modern diagnostic capabilities for early detection, accurate diagnosis and risk assessment for diseases of the heart, blood vessels and lungs. The specialists of the department have excellent qualifications in the field of contrast-enhanced stress echocardiography, spiroergometry, ergometry, flexible bronchoscopy, pleural drainage, implantation of pacemakers and cardioverter-defibrillators, cardiac resynchronization therapy.
In addition, the department operates a state-of-the-art Cardiac Catheterization Laboratory, which serves to perform minimally invasive procedures, such as balloon dilatation, catheter procedures, stenting and recanalization in chronic coronary artery occlusion. The Chest Pain Unit operates around the clock (certification of the German Society of Cardiology) and provides optimal medical care to patients with urgent and acute clinical situations.
The department's special offer is a comprehensive program for diagnosing physical data of athletes (both professional and amateur). This program covers ECG, ergometry, spiroergometry with lactate measurement, heart ultrasound and pulmonary function testing. This specialized diagnostics allows for the selection of the optimal set of exercises for training, which will develop physical endurance as best as possible and at the same time will not harm human health.
The department specializes in the diagnostics and treatment of the following diseases:
Cardiology

Hypertension
Inflammatory diseases of the myocardium, pericardium and endocardium (for example, endocarditis)
Carotid stenosis
Myocardial infarction
Coronary heart disease
Heart rhythm disorders (cardiac arrhythmias)
Heart valve diseases (for example, stenosis, insufficiency)
Heart failure
Peripheral artery occlusion

Pulmonology

Asthma and chronic obstructive pulmonary diseases
Bronchitis
Disorders of the respiratory muscles
Pneumonia (lung inflammation)
Pulmonary hypertension
Collapsed lung (pneumothorax)
Interstitial lung diseases
Lung and pleural cancers
Pulmonary embolism
Pleurisy (pleural inflammation)
Sleep-related breathing problems (for example, obstructive sleep apnea)

Other heart and lung diseases
The diagnostic and therapeutic spectrum of the department includes:
Cardiology

Catheter techniques

Coronary angiography
Left and right heart catheterization
Balloon dilatation (percutaneous transluminal coronary angioplasty) and stenting
Cardiac conduction assessment
Recanalization in chronic coronary vascular occlusions, rotablation
Electrophysiological diagnosis of heart arrhythmias

Implantation of heart support systems

Pacemaker implantation
Defibrillator implantation
Event recorder implantation
Cardiac resynchronisation therapy
Monitoring the proper operation of pacemakers and defibrillators

Ultrasound heart diagnostics

Cardiac echocardiography, including transthoracic echocardiography
Transesophageal echocardiography
Stress echocardiography

Long-term heart studies

24-hour blood pressure monitoring
Holter monitoring (24 and 48 hours)

Stress heart studies
Electrocardiogram
Doppler sonography and duplex scanning of the vessels of the neck and lower extremities (for example, in case of thrombosis, arterial occlusions, embolism)

Pulmonology

Endoscopy

Bronchoscopy
Lavage, bronchoalveolar lavage
Various forms of biopsy, including transbronchial biopsy
Hemostasis and sclerotherapy using argon projector

Pulmonary function testing

Spirometry
Whole-body plethysmography using bronchodilators or provocative tests
Diffusion capacity testing
Obstructive sleep apnea screening
Pleural and lung ultrasound

Puncture and drainage

Pleural and lung puncture
Pleural drainage

Stress lung studies
Respiratory therapy

Intensive artificial lung ventilation
Artificial lung ventilation at home

Other diagnostic and therapeutic services
Curriculum vitae
Since March 2011, Prof. Dr. med. Roland Schmidt has been in charge of the Department of Cardiology and Pulmonology at the Academic Hospital Brothers of Mercy Munich. Prior to this, the doctor worked as a Senior Physician at the German Heart Center and the Department of Internal Medicine I at the University Hospital Rechts der Isar Munich. The doctor received his medical education in Muenster and New York. He underwent practical training at the Technical University of Munich. In 2007, the doctor had his board certification in Internal Medicine, and in the same year he received additional qualification in Emergency Medical Care. In 2008, an additional qualification in Internal Intensive Care followed. In 2009, the doctor received specialization in Cardiology. In 2007, Prof. Schmidt underwent habilitation.
Photo of the doctor: (c) Barmherzige Brüder Krankenhaus München
Department of Cardiology and Pulmonology.
Academic Hospital Brothers of Mercy Munich:

Request more information now.
We will be happy to answer all your questions.
---
Certificates