Brothers of Mercy Hospital Munich
Department of Interventional Radiology (

580017

)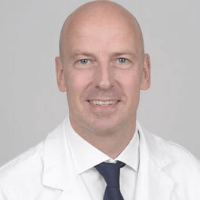 PD Dr. med.
Tobias Jakobs
Specialized in: interventional radiology
About the Department of Interventional Radiology at Brothers of Mercy Hospital Munich
The Department of Interventional Radiology at the Brothers of Mercy Hospital Munich offers the full range of diagnostic and treatment methods with ionizing radiation. In addition to conventional X-ray diagnostics, computed tomography (CT), and magnetic resonance imaging (MRI), the tasks of the department's doctors include minimally invasive image-guided interventions. Therapeutic procedures are performed using computed tomography and angiography. The department has state-of-the-art medical equipment, which makes it possible to provide patients with not only high-precision diagnostics and the highest treatment standards, but also maximum protection of the body from negative radiation exposure. In most cases, patients receive medical care on an outpatient basis. The department's specialists always devote time to personal communication with their patients and answering all their questions. The department is headed by PD Dr. med. Tobias Jakobs.
The department's main therapeutic options include the treatment of vascular diseases (for example, occlusive peripheral arterial disease), dialysis shunt revascularization, minimally invasive methods for treating liver pathologies (for example, chemoembolization, thermal ablation), minimally invasive treatment of kidney tumors (in cooperation with the Department of Urology), and image-guided punctures and drainages.
Interventional therapy is carried out under CT or angiography guidance. Angiographic guidance is commonly used during vascular interventions. The image-guided treatment gives excellent results and, unlike classical surgery, does not require any traumatic skin and soft tissue incisions. In addition, interventional procedures are performed under local anesthesia, which reduces the load on the heart and, accordingly, the risks to the patient's health.
The department has an innovative picture archiving and communication system, which provides access to diagnostic data for all hospital departments, specialists from partner hospitals and doctors in private practices. This system allows the specialists to store all images for 10 years, which also helps them to lead proper follow-up monitoring of patients after treatment completion (comparing old and current images in dynamics).
The department's main clinical activities include:
Minimally invasive CT-guided interventions

Diagnostic procedures

High-speed punch biopsy of suspicious tissues in all organs and anatomical structures of the body (liver, lungs, bones, kidneys, adrenal glands, pancreas, lymph nodes, and muscles)
Malignant tissue marking before further treatment (surgery, radiation therapy, and CyberKnife therapy)

Therapeutic procedures

Drainage and fluid removal (for example, in abscesses, seromas, biliomas, and lymphoceles)
Radiofrequency and microwave ablation for liver, kidney, lung and bone tumors
Cryoablation for kidney, lung, bone and soft tissue tumors
Vertebroplasty and kyphoplasty for osteoporotic vertebral fractures and osteolysis, which can lead to impaired spinal stability
Percutaneous pelvic bone osteosynthesis for fractures and treatment of traumatic sacral fractures
Pain management for spinal diseases: periradicular therapy and facet joint block
Nerve plexus block for advanced tumors accompanied by severe pain

Minimally invasive angiography-guided catheter-based interventions

Therapeutic procedures

Treatment of arterial circulation disorders with balloon dilatation (percutaneous transluminal angioplasty) and stent implantation
Interventions for vascular occlusions in aneurysms, internal bleeding, uterine fibroids, vascular malformations, varicocele, and benign prostatic hyperplasia
Catheter-based interventions for cancer: embolization of tumors of various localization, transarterial chemoembolization of primary and secondary liver tumors
Endovascular aneurysm repair (EVAR)
Implantation of port systems
Percutaneous transhepatic cholangiodrainage
Transjugular intrahepatic portosystemic shunt

Other diagnostic and therapeutic options
Curriculum vitae of PD Dr. med. Tobias Jakobs
Higher Education and Professional Career
1994 - 1996 Preclinical medical training at the Georg August University of Goettingen and the University of Vienna.
1996 - 2001 Medical studies at Ludwig Maximilian University of Munich and the University of California, San Francisco.
2001 - 2002 Internship, Institute of Clinical Radiology, University Hospital of Ludwig Maximilian University of Munich.
2002 - 2008 Research Fellow, Institute of Clinical Radiology, University Hospital of Ludwig Maximilian University of Munich.
2004 Thesis defense (magna cum laude), Ludwig Maximilian University of Munich. Subject: "Quantitative determination of calcium levels in the coronary arteries using electron beam tomography and conventional computed tomography".
2007 Research Fellowship in Interventional Radiology, Anderson Cancer Center, Houston, Texas, USA.
2008 - 2010 Senior Physician and Head of the Section of Angiography and Interventional Radiology at the Institute of Clinical Radiology, University Hospital of Ludwig Maximilian University of Munich.
2009 Board certification in Radiology.
2010 Habilitation, Ludwig Maximilian University of Munich. Subject: "Local image-guided minimally invasive therapy for liver tumors".
2011 Head of the Department of Interventional Radiology at the Brothers of Mercy Hospital Munich.
Clinical and Research Focuses
Musculoskeletal injuries and diseases.
Liver and abdominal MRI.
Lung and abdominal CT.
CT-guided minimally invasive surgical treatment of cancer.
Minimally invasive treatment of oncological diseases with the help of catheter-based techniques.
Memberships in Professional Societies
German Society of Radiology (DRG).
German Society of Interventional Radiology (DeGIR).
Cardiovascular and Interventional Radiological Society of Europe (CIRSE).
European Society of Radiology (ESR).
Radiological Society of North America (RSNA).
European Society of Gastrointestinal and Abdominal Radiology (ESGAR).
Review Activities
Member of the Editorial Board of European Radiology (Eur Radiol).
Journal of Vascular and Interventional Radiology (JVIR).
Journal of CardioVascular and Interventional Radiology (CVIR).
Fortschritte auf dem Gebiet der Röntgenstrahlen und bildgebenden Verfahren (RöFo).
Photo of the doctor: (c) Barmherzige Brüder Krankenhaus München
Department of Interventional Radiology.
Brothers of Mercy Hospital Munich:

Request more information now.
We will be happy to answer all your questions.
---
Certificates