Academic Hospital Nordwest Frankfurt am Main
Department of Internal Medicine (Gastroenterology, Hepatology, Cardiology, Pneumology) (

113987

)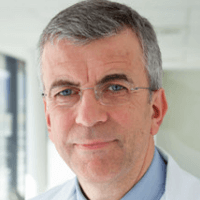 Prof. Dr. med.
Siegbert Rossol
Specialized in: internal medicine, gastroenterology, hepatology, cardiology, pulmonology
About the department
The Department of Internal Medicine at the Academic Hospital Nordwest under the direction of Prof. Dr. med. Siegbert Rossol treats all diseases in the field of internal medicine. These include general internal diseases, as well as diseases in such fields as gastroenterology / hepatology, pulmonology / sleep medicine, cardiology and intensive care medicine. Overall, the Department annually serves over 5,000 patients in its eight sections. There is maintained close cooperation with the specialized clinics in all focuses of the conservative and surgical medicine.
The field of gastroenterology / hepatology at the Academic Hospital Nordwest specializes in the diseases of the whole gastrointestinal tract and metabolic disorders. In addition to the diagnosis and treatment of diseases of the esophagus, stomach, small and large intestines, considerable attention is given to the treatment of liver and pancreas. The Department under the direction of Prof. Dr. med. Siegbert Rossol offers the entire spectrum of diagnostic and therapeutic endoscopy: EGC, proctoscopy, colonoscopy of the rectum, endoscopic retrograde cholangiopancreatography (ERCP), endoscopic ultrasound, polypectomy, mucotomy, stent implantation, argon plasma coagulation etc.
The field of cardiology at the Academic Hospital Nordwest is focused on noninvasive and invasive diagnosis, treatment of acute myocardial infraction, cardiac arrhythmias, fainting and Intensive Care Unit. The patients with acute and chronic coronary heart disease, limited pump function of the heart, cardiac arrhythmias, inflammatory heart valve diseases can receive noninvasive and invasive diagnosis, as well as the treatment. In close collaboration with the Stroke Unit, there are provided medical services for patients with strokes.
The priorities of pneumology at the Hospital Nordwest are the diagnosis and treatment of lung and bronchial diseases, as well as breathing disorders during sleep and the treatment of allergic diseases. There are offered various diagnostic methods, including mobile / non-mobile bronchoscopy, as well as laser or argon plasma therapy, stent implantation in case of stenosis of the respiratory tract and bronchi and removal of foreign bodies. Another endoscopic method is thoracoscopy, which is used to obtain probes from the pleural effusion in the pleural cavity / lung surface / rib pleura for the further diagnosis and treatment.
The range of services of the Department of Internal Medicine under the direction of Prof. Dr. med. Siegbert Rossol includes:
Gastroenterology and Hepatology
Interventional endoscopy
Endoscopic surgery on the upper and lower parts of the gastrointestinal tract
The latest endoscopic and ultrasound equipment, including capsule endoscopy of the small and large intestines, endoscopy of the small intestine, DEGUM III Sonography Center, including interventional 3D-ultrasound, endoscopic ultrasound
Diagnosis and treatment of chronic liver diseases, including elastography in fibrosis and liver cirrhosis
Breath tests and extended functional tests to detect gastrointestinal diseases (Helicobacter pylori, food intolerance)
Diabetes training and counseling on nutrition
Body composition analysis
Central partnership Department of the Bowel Center at the Hospital Nordwest (certified by the German Cancer Center)
Cardiology and Intensive Care Medicine
Cardiology (two beds in the Department of Angiography), electrophysiology
Therapeutic Intensive Care Unit, including hypothermia
Intermediate Care Unit (ICU)
Cardiac Care Unit (CCU)
Cardiac Pain Unit (CPU), certified by the German Society of Cardiology
Telemedicine in cooperation with the Department of Cardiovascular Surgery at the University Hospital Frankfurt
Pneumology and Sleep Medicine:
Interventional bronchoscopy, including laser procedures and stenting
Sleep Laboratory (certified by the German Society of Sleep Medicine (DGSM)) for the diagnosis and non-invasive treatment of respiratory disorders associated with sleep
Noninvasive ventilation
Allergology with hyperactivity research
Complete pulmonary function diagnosis, including spiroergometry
Curriculum vitae
Beruflicher Werdegang
Seit 2006 Chefarzt der I. Medizinischen Klinik am Krankenhaus Nordwest in Frankfurt am Main
2001 bis 2006 Chefarzt der I. Medizinischen Klinik am Klinikum Rüsselsheim in Rüsselsheim
2005 Koloproktologe
2004 Gesundheitsökonom M.Sc.
1995-1996 Alexander von Humboldt-Stipendium Institution: Institute of Liver Studies, Prof. R. Williams King`s College School, University of London
1995 Anerkennung des Teilgebietes Gastroenterologie
1992 Facharzt für Innere Medizin
1994 bis 2001 Oberarzt II. Medizinische Klinik am Universitätsklinikum Mannheim
1992 bis 1993 Assistenzarzt IV. Medizinische Klinik Universitätsklinikum Mannheim
1986 bis 1991 Wissenschaftlicher Assistent I. Med. Klinik und Poliklinik an der Universitätsklinik Mainz
1999 bis 2004 Studium Gesundheitsmanagement Akademie für Weiterbildung der Universitäten Mannheim und Heidelberg, Master of Science (M.Sc.)
Photo of the doctor: (c) Krankenhaus Nordwest
Department of Internal Medicine (Gastroenterology, Hepatology, Cardiology, Pneumology).
Academic Hospital Nordwest Frankfurt am Main:

Request more information now.
We will be happy to answer all your questions.
---
Certificates