Academic Hospital Nordwest Frankfurt am Main
Department of Urology and Pediatric Urology (

113989

)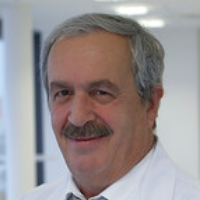 Prof. Dr. med.
Eduard W. Becht
Specialized in: urology, pediatric urology
About the department
The Department of Urology and Pediatric Urology at the Academic Hospital Nordwest under the direction of Prof. Dr. med. Eduard Becht treats benign and malignant diseases of the urogenital system in men, women and children. In the field of prostate cancer treatment, the Department meets the strictest quality requirements and is certified by the German Cancer Society as the Prostate Cancer Center. According to the Focus magazine rating of 2017, the Department of Urology and Pediatric Urology at the Academic Hospital Nordwest ranks among the top German departments specializing in prostate cancer treatment!
The Department of Urology and Pediatric Urology at the Hospital Nordwest in Frankfurt am Main specializes in surgical urology, endourology, minimally invasive treatment, laser therapy, focused ultrasound treatment, cryotherapy, as well as modern diagnosis and treatment of incontinence. Uro-oncology is primarily focused on the organ-sparing surgery, especially in case of kidney tumors, laparoscopic surgery is used for prostate cancer and modern alternative methods, which ensure an individual treatment approach, are mostly used in case of urological tumors. The principle of evidence-based medicine is realized within the framework of the interdisciplinary Cancer Center during cancer consultations, which involve a discussion on clinical pictures for each patient.
The Pediatric Urology of the Hospital Nordwest specializes in the diagnosis and treatment of urinary incontinence, reflux, undescended testicle, phimosis, hypospadias and other pathological changes. The Academic Hospital Nordwest pays particular attention to the outpatient surgery in children (removal of the foreskin, orchidopexy), as well as anti-reflux surgery and renal pelvis plastic repair.
Since 2007, the Department under the direction of Prof. Dr. med. Eduard Becht has been the certified Prostate Cancer Center. The following focuses include the diagnosis and treatment of kidney and ureteral stones, treatment of subvesical obstruction (benign prostatic hyperplasia, urethral stricture etc.) and plastic reconstructive surgical techniques in urology.
The Department of Urology and Pediatric Urology under the direction of Prof. Dr. med. Eduard Becht specializes in the following treatments:
Malignant tumors:
Prostate tumors, diagnosis - transrectal and perineal biopsy, biopsy in combination with MRI, mapping biopsy, acoustic shear wave elastography, contrast-enhanced ultrasound
Prostate tumors, treatment – perineal and radical retropubic prostatectomy with preservation of potency, laparoscopic extraperitoneal radical prostatectomy, prostate cryoablation, HIFU (treatment of the localized prostate cancer with a high intensity focused ultrasound), drug therapy
Kidney tumors – organ-preserving operations
Bladder tumors – photodynamic diagnosis, artificial bladder, urinary catheter, laser therapy
Testicular tumors – retroperitoneal lymphadenectomy with preservation of ejaculation/ sparing
Penile cancer – laser therapy, reconstruction of the penis head
Chemotherapy – also in collaboration with the Department of Oncology
Benign tumors:
Transurethral resection – laser ablation of the prostate/ Green Light laser system
Benign prostatic hyperplasia
Stones in the genitourinary tract:
Outpatient and inpatient shock wave therapy (Expert Center for Lithotripsy)
Percutaneous minimally invasive surgery for kidney stones
Ureterorenoscopy (ureteroscopy and stone removal with decomposition), holmium laser, flexible ureterorenoscopy, stone metabolism
Incontinence:
Complete urodynamic measuring station
Conservative treatment
Minimally invasive therapy (collagen injections "Bulkamid", TVT, TVT-O)
Surgery (Birch surgery, fascia plasty, sacropexy)
Conservative treatment by "Neocontrol" magnetic resonance system
Pediatric urology:
Treatment of phimosis
Cryptorchidism
Urinary incontinence in children
Reflux disease in childhood
Hypospadias
Erectile dysfunction:
Diagnosis and treatment
Doppler and duplex scanning, dynamic cavernosography and cavernosometry
Curriculum vitae
Beruflicher Werdegang
Juni 2011 Vorsitzender des Vereins "Interdisziplinäre Uroonkologie Frankfurt am Main e.V."
April 2005 Verleihung der Ehrendorktorwürde der Kapodiastrias-Universität Athen
Okt 1994 Ernennung zum apl-Professor der Medizinischen Fakultät der Universität des Saarlandes Homburg/Saar
Juli 1994 Chefarzt der Klinik für Urologie und Kinderurologie am Krankenhaus Nordwest
März 1989 Oberarzt der Urologischen Klinik und Poliklinik der Universität des Saarlandes Homburg/Saar
Feb 1986 Facharzt für Urologie
Mai 1980 Promotion an der Med. Klinik, Abteilung Nephrologie, der Johannes Gutenberg Universität Mainz
Mai 1979 Approbation als Arzt
1972-1979 Studium der Humanmedizin an der Johannes Gutenberg Universität Mainz
Department of Urology and Pediatric Urology.
Academic Hospital Nordwest Frankfurt am Main:
Request more information now.
We will be happy to answer all your questions.
---
---
Certificates