Academic Hospital Nordwest Frankfurt am Main
Department of General, Abdominal and Minimally Invasive Surgery (

40

)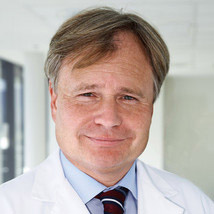 Prof. Dr. med.
Thomas W. Kraus
Specialized in: general surgery, abdominal surgery, minimally invasive surgery
About the department
The Department of General, Visceral and Minimally Invasive Surgery at the Hospital Nordwest in Frankfurt am Main provides the full range of general and visceral surgery (with the exception of organ transplantation). The Department is headed by Prof. Dr. med. Thomas W. Kraus. There are annually performed over 2,500 surgical procedures and also a large number of endoscopic operations on the digestive system. The Department has 79 beds, which are distributed among 3 sections, as well as additional beds in the interdisciplinary Section of Surgery.
The Department of General, Visceral and Minimally Invasive Surgery at the Hospital Nordwest specializes in the surgical treatment of diseases and injuries of the entire digestive tract, glands, different abdominal wall, diaphragm hernias and obesity. The Department pays key attention to the interdisciplinary patient care that the team of physicians has adjusted quite well. The specialists of the Department always try to give a comprehensive information on all possible treatments, their risks and alternatives.
The main objective of the Department is to provide modern cancer therapy. There are treated all solid tumors in the abdominal cavity, in the entire digestive tract (esophagus, stomach, small and large intestines, rectum) and their complications. To treat various tumors, the Hospital Nordwest has founded interdisciplinary centers. The Bowel Center Frankfurt Nordwest, certified by Onkozert, ranks among the most active at the interregional level. According to the Focus magazine rating of 2017, the Department of General, Visceral and Minimally Invasive Surgery at the Hospital Nordwest ranks among the top German departments specializing in colon cancer treatment!
The Hospital Nordwest also has a well-developed surgery of gallbladder and bile ducts. There are used all surgical techniques, which are mostly minimally invasive. Liver and pancreatic surgery is considered to be the most difficult one. The Department has a unique competence in this field. The chief physician Prof. Dr. med. Thomas W. Kraus has headed the South German Liver Transplant Center for many years and was the first head of the European Pancreas Center at the Heidelberg University. There are conducted all forms of partial liver resection (metastases) and pancreatic resection.
The main treatment focuses of the Department of Surgery at the Hospital Nordwest under the direction of Prof. Dr. med. Thomas W. Kraus are:
Cancer surgery / curative and palliative tumor surgery
Gastrointestinal surgery
Liver, gallbladder and pancreatic surgery
Surgery of the esophagus
Endocrine surgery
Minimally invasive surgery
Minimally invasive endoscopic surgery
Minimally invasive laparoscopic surgery
Surgery for hernias / fractures
Obesity surgery
Plastic reconstructive surgery
Port implantation
Surgical intensive care medicine
Specialized outpatient counseling
Curriculum vitae
Beruflicher Werdegang
2011 Vorstandsmitglied Gesundheitswirtschaft Rhein-Main
2008-2009 Ärztlicher Direktor Krankenhaus Nordwest
2009 Kooperationsarzt Viszeralchirurgie EMMA Klinik für operative Medizin Seligenstadt
Seit 2006 Chefarzt der Klinik für Allgemein-, Viszeral- und Minimal Invasive Chirurgie
2004 APL Professur Universität Heidelberg
2003 MBA Krannert Business School, Purdue University / West Lafayette USA GISMA Business School Hannover
2002 Ltd. Oberarzt der Chirurgischen Klinik am Universitätsklinikum Heidelberg, Leitung der Sektion für Transplantation viszeraler Organe am Süddeutschen Transplantationzentrum Heidelberg
2001 Stvt. Leitung Onkologische Chirurgie Uni-Klinik Heidelberg
2001 Leitung Sektion für Transplantation viszeraler Organe, Süddeutsches Transplantationzentrum Heidelberg
2000 Anerkennung Schwerpunkt Viszeralchirurgie
1998 Anerkennung Schwerpunkt Gefäßchirurgie
1997 Habilitation für Chirurgie; Universität Heidelberg
1996 Oberarzt chirurgische Univ. Klinik Heidelberg
1995 Facharztanerkennung Chirurgie
1993 Senior Medical Officer NATO Flottenverband Stanaforland / Adria - Jugoslawien Schiffsarzt Fregatte Bremen Bundesmarine / Wilhelmshaven
1990 Assistenzarzt, Krankenhaus Salem Heidelberg
1988 Assistenzarzt, Chirurg. Univ. Klinik Heidelberg
1987 Bundeswehr Grundwehrdienst - Hochgebirgszug 1. Gebirgsjägerdivision Mittenwald / Garmisch-Partenkirchen
1987 Promotion an Universität Heidelberg
1987 Approbation und ECFMG Examina, USA - Gast Approbation
1985-1987 Medizinstudium Westminster Medical School London Charing Cross Medical School London
1981-1984 Medizinstudium Ruprecht Karls Universität Heidelberg
Photo of the doctor: (c) Krankenhaus Nordwest
Department of General, Abdominal and Minimally Invasive Surgery.
Academic Hospital Nordwest Frankfurt am Main:

Request more information now.
We will be happy to answer all your questions.
---
Certificates