Diagnosis and conservative treatment for liver cirrhosis (program ID:

591664

)
Academic Municipal Hospital Karlsruhe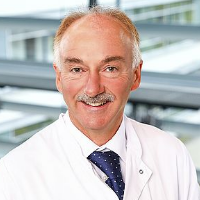 Head Physician
Prof. Dr. med.
Liebwin Gossner
Specialized in: gastroenterology, hepatology, diabetology
Department of Gastroenterology, Hepatology and Diabetology
Program includes:
Initial presentation in the clinic
clinical history taking
review of medical records
physical examination
laboratory tests:

complete blood count
biochemical analysis of blood
(ALT, AST, GGT, AP, Bilirubin)
enzymes and proteins
hepatitis serology
tumor markers (AFP)
inflammation indicators (CRP, ESR)
indicators blood coagulation

abdominal ultrasound
fibroscan (transient elastography)
doppler blood vessels of the liver
gastroscopy with endoscopic variceal banding
or sclerotherapy (if indicated)
removing fluid with a needle in aszitis (paracentesis)
detox therapy
consultation of related specialists
symptomatic specific treatment
the cost of essential medicines and materials
nursing services
control examinations
full hospital accommodation
developing of further guidance
Price:
Type of program :
Expected duration of the program:
You may also book

Price:
About the department
The Department of Gastroenterology, Hepatology and Diabetology at the Academic Municipal Hospital Karlsruhe offers the full range of diagnostics and treatment of diseases of the gastrointestinal tract, liver, biliary tract, pancreas, as well as all types of diabetes mellitus, including its complications. Particular attention in the treatment of diabetes complications is paid to the treatment of diabetic foot (certificated as a recognized Diabetic Foot Center). As one of the largest specialized medical facilities in the treatment of gastroenterological diseases in Baden-Württemberg, the department guarantees optimal treatment of not only general, but also extremely rare pathologies in this spectrum. The close cooperation with experts in specialized disciplines plays the decisive role in the department's successful clinical practice.
The Chief Physician of the department is Prof. Dr. med. Liebwin Gossner. According to the Focus magazine, the doctor ranks among the top German specialists in the field of gastroscopy!
In the field of gastroenterology, the department offers the very latest endoscopic examinations, which help to detect various pathologies of the gastrointestinal tract. It is worth noting that the department is part of a certified interdisciplinary Bowel Disease Center (certification of the German Cancer Society). Thus, it provides an optimal and structured treatment of intestinal pathologies. The priority is given to the diagnostics, prevention and treatment of bowel cancer.
The department's diabetologists specialize in the treatment of type 1 and type 2 diabetes mellitus. Each clinical case is considered individually, after which the therapy is adapted to the needs of a particular patient. The medical facility is certified as a Training Center for Diabetes Patients (German Diabetes Association). The department's tasks also include the treatment of complications of diabetes mellitus. The comprehensive nutrition counseling is provided here as well.
The department's clinical focuses include:
Diagnostics and treatment of esophageal diseases
Diagnostics and treatment of stomach and intestinal diseases, including polyps and tumors at the initial stages
Interdisciplinary diagnostics and treatment of tumors at the Bowel Disease Center
Diagnostics and treatment of liver diseases
Diagnostics and treatment of biliary tract diseases
Diagnostics and treatment of pancreatic diseases
Diagnostics and treatment of all types of diabetes mellitus
Diagnostics and treatment of diabetic foot
Diagnostics and treatment of heartburn, indigestion, complex cases of constipation and chronic diarrhea
Nutrition counseling
Diagnostics and treatment of liver diseases due to alcohol abuse
Full range of endoscopic examinations
Ultrasound diagnostics
Functional diagnostics of the gastrointestinal tract
Other medical services
---
About hospital
Accommodation in hospital
Liver Cirrhosis
Price:
Program [Description]
Diagnosis and conservative treatment for liver cirrhosis
Hospital: Academic Municipal Hospital Karlsruhe
Type:
access_time Duration:
date_range
There are 35 liver cirrhosis treatment hospitals on Booking Health website
Show all clinics