Treatment of av-malformation of brain using platinum coils embolization (coiling) (program ID:

593724

)
Academic Municipal Hospital Karlsruhe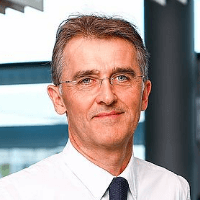 Head Physician
Prof. Dr. med.
Peter Reimer
Specialized in: adult and pediatric diagnostic, interventional radiology, neuroradiology
Department of Adult and Pediatric Diagnostic, Interventional Radiology, Neuroradiology
Program includes:
Initial presentation in the clinic
clinical history taking
review of medical records
physical examination
laboratory tests:

complete blood count
general urine analysis
biochemical analysis of blood
inflammation indicators (CRP, ESR)
indicators blood coagulation

neurological examination
functionality x-ray
CT/MRI scan
neuropsychological tests (on indications):

ENMG (electroneuromyography)
EEG (electroencephalography)
SEPs (somatosensory evoked potentials)
VEPs (visually evoked potentials)
BAEP tests (brainstem auditory evoked potential)

preoperative care
treatment of the av-malformation with coiling
1-day intensive care unit stay
postoperative MRI control
symptomatic treatment
control examinations
the cost of essential medicines and materials
nursing services
full hospital accommodation
developing of further guidance
Service
Price:
Type of program :
Expected duration of the program:
You may also book

Price:
About the department
The Department of Adult and Pediatric Diagnostic, Interventional Radiology, Neuroradiology offers the full range of imaging diagnostics and minimally invasive imaging-guided treatment. The special focuses of clinical practice include diagnostic examinations and therapy in children (pediatric radiology), as well as the treatment of patients with neurological pathologies (neuroradiology). The admission of patients is provided both on an inpatient and outpatient basis. The department is headed by Prof. Dr. med. Peter Reimer.
As one of the largest medical facilities of this kind in Germany, the department has the prestigious DIN ISO certification. In addition, the department regularly undergoes DEGIR quality inspections and for more than 10 years has been included in the TOP-10 in Germany among the participating medical facilities. Also, the department implements the quality control system, which allows the department's specialists to provide top-class medical services of international standard, and thereby maximally satisfy the expectations of patients.
The department is equipped with progressive systems of computed tomography (CT), magnetic resonance imaging (MRI), ultrasound, angiography and digital volume tomography. All the results of the examinations are recorded and stored using modern picture archiving and communication system. The department also practices in the telemedicine project in collaboration with the University Hospitals in Mannheim and Heidelberg
The department's spectrum of medical services includes:
Diagnostic radiology

Classical X-ray examinations
Computed tomography (also with contrast enhancement)

Tumor diagnostics
Vascular diagnostics
Heart diagnostics
Emergency diagnostics

Magnetic resonance imaging

Brain and spinal diagnostics
Neck examinations
Heart diagnostics
Breast diagnostics
Abdominal and pelvic diagnostics
Vascular diagnostics
Diagnostics of the musculoskeletal system
Fetal MRI diagnostics

Breast diagnostics

Digital mammography
High resolution breast sonography
Tomosynthesis
Spectral contrast-enhanced mammography
Breast MRI

Ultrasound diagnostics

Color-coded duplex sonography of the carotid artery and blood vessels
Examinations of soft tissues of the neck and thyroid gland
Examinations of abdominal and pelvic organs
Fusion guided prostate biopsy

Interventional radiology

Liver tumor embolization
Prostate embolization
Access formation for port systems and PICC-Line

Pediatric radiology

X-ray examinations

Diagnostics of the whole skeleton
Diagnostics of scoliosis
Measurement of the length and axial parameters of the lower limbs
Lung examinations
Bone examinations

Fluorography

Esophageal examinations
Gastroenterological tests
Contrast enema
Urethral and bladder pressure tests

Magnetic resonance imaging

Skull examinations
Thoracic examinations
Abdominal examinations
Vascular imaging
Full body examination
Spectroscopy
Fetal MRI

Computed tomography

Thoracic examinations
Abdominal examinations
Limb examination
Digital volume tomography
CT-guided interventional procedures

Ultrasound diagnostics

Neuroradiology

Diagnostics and treatment of stroke
Diagnostics and treatment of cerebral aneurysms
Diagnostics and treatment of arteriovenous vascular malformations
Diagnostics and treatment of carotid stenosis
Diagnostics and treatment of dural fistulas
Diagnostics and treatment of cerebral vein diseases
Diagnostics and treatment of neurodegenerative diseases
Diagnostics and treatment of inflammatory diseases of the central nervous system
Diagnostics and treatment of tumors of the nervous system
Diagnostics and treatment of seizures
Outpatient back pain therapy
Outpatient myelography
Outpatient angiography

Other medical services
Photo of the doctor: (с) Städtisches Klinikum Karlsruhe
---
About hospital
Accommodation in hospital
Av-malformation of brain
Price:
Program [Description]
Treatment of av-malformation of brain using platinum coils embolization (coiling)
Hospital: Academic Municipal Hospital Karlsruhe
Type:
access_time Duration:
date_range
There are 27 av-malformation of brain treatment hospitals on Booking Health website
Show all clinics