Total knee replacement (program ID:

480878

)
Alfried Krupp Hospital in Essen-Ruettenscheid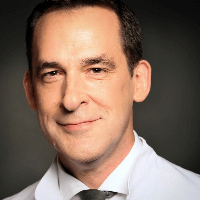 Head Physician
Prof. Dr. med.
Sven Lendemans
Specialized in: adult and pediatric orthopedics, trauma surgery, foot surgery
Department of Adult and Pediatric Orthopedics, Trauma Surgery, Foot Surgery
Program includes:
Initial presentation in the clinic
clinical history taking
physical examination
review of medical records
laboratory tests:

complete blood count
general urine analysis
biochemical analysis of blood
indicators of inflammation
indicators of blood coagulation

X-ray/MRI examination of the knee
preoperative care
total knee replacement, cost of the implant is included
symptomatic treatment
control examinations
the cost of essential medicines and materials
orthopedic appliances
physiotherapy
nursing services
full hospital accommodation
explanation of future recommendations
How program is carried out
Preliminary preparation for surgery: quitting smoking and drinking alcohol 2 weeks before surgery; cancelling non-steroidal anti-inflammatory drugs (diclofenac, ibuprofen); cancelling anticoagulants (warfarin); normalization of body mass, if possible.
Preoperative examination, including consultation with an anesthesiologist and necessary related specialists. X-ray examination and MRI of the knee joints are performed. The examination takes 1-2 days.
Surgical knee replacement. The operation is performed under general anesthesia and lasts for about 2 hours.
Postoperative care. During the first day after the intervention the patient stays in the intensive care unit, under round-the-clock medical supervision. After that, with a smooth course of the postoperative period, the patient is transferred to a regular ward and the drains are removed. The range of motion expands gradually, from light toes movements to walking. Walking with the use of walking aids is allowed in 3-5 days after the operation. Normal walking without the use of walking aids (crutches, cane) will become possible in 6-12 weeks.
Finally, the attending physician will evaluate the results of control examinations, schedule the date of discharge from the hospital and give you detailed recommendations for further follow-up and treatment.
Required documents
Medical records
X-ray examination, MRI/CT scan (if available)
Service
Price:
Type of program :
Expected duration of the program:
You may also book

Price:
About the department
According to the prestigious Focus magazine, the Department of Adult and Pediatric Orthopedics, Trauma Surgery, Foot Surgery at the Alfried Krupp Hospital in Essen-Ruettenscheid ranks among the top German medical facilities in the fields of its expertise!
The department provides the full range of diagnostic and therapeutic services to patients with musculoskeletal injuries and diseases. The department offers medical care to patients of all age groups – from young children to adults and the elderly. The department's specialists admit more than 5,500 inpatients every year. The medical facility also provides outpatient medical care. The department enjoys the status of a regional Trauma Center certified by the German Society for Trauma Surgery (DGU). Joint replacement surgery is one of the priority areas of the department's clinical practice. The medical facility has been awarded the endoCert certificate in this medical field, which confirms the high efficiency and safety of joint replacement surgery. The team of the department's doctors prefers modern treatment methods: whenever possible, specialists use only conservative treatments, and if there are absolute indications for surgery, they resort to minimally invasive, arthroscopic and endoscopic interventions. The surgical treatment involves the use of advanced computer navigation systems, which guarantee high accuracy of each surgeon's manipulation. The department is headed by Prof. Dr. med. Sven Lendemans.
One of the priority tasks of the department's orthopedists is the treatment of joint diseases. Since 2018, the department has been certified as a Joint Replacement Center by the German Society for Orthopedics and Orthopedic Surgery (DGOOC). Only the best orthopedic clinics in Germany receive such a quality certificate, and therefore it is a guarantee of top-class medical services and high competence of surgeons. The department is most often visited by patients with hip and knee pain. The department also provides medical care to patients with shoulder and ankle pathologies. The most common causes of joint dysfunction are arthrosis (joint tissue degeneration), infections and cancer. Doctors often have to resort to arthroplasty (joint replacement surgery), since most patients seek medical care at the advanced stages of the disease, when conservative methods are no longer effective. Arthroplasty is the only effective way to relieve pain, restore joint function, and eliminate movement limitations. The department performs partial and total joint replacement surgery. Total arthroplasty is usually the last-line therapy. The department's surgeons work with modern computer-assisted equipment that allows choosing the optimal model of the prosthesis or creating a 3D model of an artificial joint for its customized manufacturing in accordance with the patient's individual anatomical characteristics. Such an approach allows ensuring the best result of joint replacement surgery and maximally restore the patient's mobility. An undeniable advantage for the department's patients is that arthroplasty is performed using minimally invasive techniques, namely, through several small skin incisions. In addition, when performing surgery, doctors use intraoperative navigation, which makes it possible to place the prosthesis as accurately as possible. Depending on the complexity and volume of the forthcoming operation, arthroplasty can be performed under local or general anesthesia. After surgery, patients receive the necessary care. Physiotherapists also work with the patients, since they help them to get on their feet for the first time and restore joint movement. However, orthopedists of the medical facility strongly advise patients to undergo comprehensive rehabilitation in the specialized center.
The department is recognized as a regional Trauma Center (certificate of the German Society for Trauma Surgery, DGU), as it provides the full range of services for the treatment of musculoskeletal injuries. Particular attention is paid to emergency care for injuries, arthroscopic interventions on large joints in case of their lesions, treatment of pelvic and spinal injuries, as well as sports injuries. The department's specialists have unique skills in the treatment of patients with severe injuries and in the treatment of elderly patients (geriatric traumatology). The Trauma Center admits patients around the clock. There is also a helipad here, which makes it possible to transport patients extremely quickly.
An integral part of the department's clinical activities is the treatment of degenerative diseases and spinal injuries. Doctors have in their arsenal both conservative and surgical treatments. Conservative methods include infiltration therapy, periradicular therapy, facet and sacroiliac joint blocks, radiofrequency facet denervation, physiotherapy, manual therapy, medical training therapy, etc. If the results of the preliminary diagnostic examination indicate that attempts to eliminate pain and restore the function of the spine with the help of conservative therapy will be unsuccessful, surgical treatment becomes an option of choice. The department performs microsurgical interventions on intervertebral discs, intervertebral disc replacement surgery, surgery for spinal tumor resection, corrective interventions for traumatic and non-traumatic spinal deformities, spinal stabilization. Almost all spinal interventions are performed using sparing surgical techniques and intraoperative monitoring systems, which contributes to the high efficiency of treatment and its safety for the patient.
The department admits not only adults, but also children, since a specially trained team of pediatric orthopedists and traumatologists works here. The key interest in the field of pediatric orthopedics includes ultrasound scanning of newborns for the early detection of hip dysplasia, Perthes disease, slipped capital femoral epiphysis, joint inflammatory lesions, spinal curvature (kyphosis, scoliosis, Scheuermann's disease), congenital deformities (impaired bone growth, O-shaped and X-shaped deformities of the lower extremities), foot diseases (clubfoot, flat feet, heel foot), musculoskeletal tumors (osteosarcoma, Ewing's sarcoma, bone cysts), etc. The department's pediatric traumatologists carry out conservative and minimally invasive treatment of traumatic musculoskeletal injuries in children.
A special field of the department's work is the surgical treatment of foot pathologies. The surgeons of this specialization perform operations to repair hallux valgus, ankle arthroplasty, arthrodesis, surgical treatment of metatarsal injuries, repair of hammer and claw toes, nail bed plastic surgery, transplantation of ankle cartilage tissue, correction of complications of peripheral nerve lesions and compression syndromes of the foot, etc. The department mainly uses arthroscopic and minimally invasive surgical techniques, which can significantly reduce the period of postoperative recovery and alleviate pain.
The department's range of medical services includes:
Adult orthopedics and traumatology

Partial and total knee, hip, shoulder and ankle replacement surgery
Arthroscopic surgery

Knee surgery

Cruciate ligament surgery
Joint-preserving surgery (for example, meniscus suturing, meniscus replacement, cartilage cell transplantation)
Patella stabilization
Treatment of knee fractures

Hip surgery

Surgery for femoroacetabular impingement
Surgery for acetabular labral tears
Articular cartilage restoration (microfracturing, AMIC, ACT)

Shoulder surgery

Shoulder dislocation repair
Rotator cuff tear repair

Elbow surgery

Dislocation repair
Ligament plastic surgery for chronic elbow instability
Cartilage interventions (regenerative therapy, nanofracturing, AMIC)
Removal of free articular bodies and arthrolysis
Open and minimally invasive interventions for elbow fractures

Septic surgery

Interventions for acute and chronic infections of the bones, soft tissues and joints
Interventions for implant-associated infections
Interventions for pseudoarthrosis
Interventions for post-infectious defects

Spinal and pelvic surgery

Microsurgical interventions on the intervertebral discs
Intervertebral disc replacement surgery
Surgery for spinal tumor resection
Surgery for inflammatory spinal diseases
Surgery for traumatic and non-traumatic spinal deformities
Stabilization surgery on the cervical, thoracic and lumbar spine
Infiltration therapy
Periradicular therapy
Facet and sacroiliac joint blocks
Radiofrequency intervertebral denervation

Pediatric orthopedics and traumatology

Ultrasound diagnostics for early detection of hip dysplasia with follow-up treatment
Treatment of Perthes disease
Treatment of slipped capital femoral epiphysis
Treatment of inflammatory joint diseases
Correction of spinal curvature

Kyphosis
Scoliosis
Scheuermann's disease

Correction of congenital musculoskeletal deformities

Impaired bone growth
O-shaped and X-shaped deformities of the lower extremities

Correction of the wrong foot position

Clubfoot
Flat feet
Heel feet
Sickle-shaped feet

Treatment of musculoskeletal tumors in children

Osteosarcomas
Ewing's sarcomas
Tumor-like lesions (for example, fibrous dysplasia, bone cysts, exostosis)
Complications of tumors (for example, local bone defects, pseudoarthrosis, osteonecrosis)

Treatment of musculoskeletal injuries in children

Foot surgery

Ankle replacement surgery
Ankle arthroscopy
Hallux valgus repair
Treatment of metatarsal injuries
Repair of hammer and claw toes
Nail bed plastic surgery
Ankle cartilage transplantation
Correction of complications of peripheral nerve lesions and compression syndromes in the foot
Treatment of traumatic foot injuries

Other therapeutic options
Curriculum vitae
Prof. Dr. med. Sven Lendemans holds the position of the Head of the Department of Adult and Pediatric Orthopedics, Trauma Surgery, Foot Surgery at the Alfried Krupp Hospital in Essen-Ruettenscheid. The specialist gained his clinical experience at the University Hospitals in Essen and Giessen, which are known as one of the best medical facilities in Germany. According to the Focus magazine, Prof. Lendemans regularly ranks among the best German doctors specializing in the treatment of orthopedic diseases and musculoskeletal injuries. Dr. Sven Lendemans also has a Master's Certificate from the German Spine Society (DWG).
The doctor's clinical interests include arthroplasty, knee surgery, hip surgery, treatment of musculoskeletal injuries, including bone fractures, and sports injuries.
Photo of the doctor: (c) Alfried Krupp Krankenhaus
---
About hospital
Accommodation in hospital
Knee arthritis
Program [Description]
Total knee replacement
Hospital: Alfried Krupp Hospital in Essen-Ruettenscheid
Type:
Duration:
Price:
date_range
There are 93 knee arthritis treatment hospitals on Booking Health website
Show all clinics
Certificates