Asklepios Municipal Hospital Bad Wildungen
Department of Internal Medicine, Diagnostic and Interventional Cardiology, Gastroenterology and Diabetology (

8

)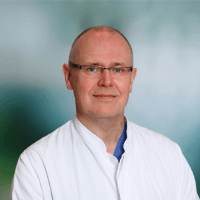 Dr. med.
Dieter Puplat
Specialized in: internal medicine, diagnostic and interventional cardiology, gastroenterology, diabetology
About the department
The Department of Internal Medicine, Diagnostic and Interventional Cardiology, Gastroenterology and Diabetology at the Asklepios Municipal Hospital Bad Wildungen provides the high-precision diagnostics and comprehensive treatment in the areas of its specialization. The department's competent doctors admit patients with diseases of the cardiovascular system, gastrointestinal tract, all types of diabetes mellitus, pathological kidney lesions caused by heart diseases and diabetes mellitus. The patients are provided with modern diagnostics using advanced medical equipment, including diagnostic cardiac catheterization, as well as conservative and interventional treatment without a full-fledged surgical intervention. Should surgery be required, the specialists from the Department of General and Abdominal Surgery will be involved in the process. Each patient is provided with a personalized treatment, taking into account his particular needs and wishes. The department is headed by Dr. med. Dieter Puplat.
The department's primary focus is to provide medical care to patients with acute and chronic heart diseases. To assess the state of the cardiovascular system and the functioning of the heart, the department uses various diagnostic tests, including echocardiography, resting and stress electrocardiography, 24-hour Holter monitoring, blood pressure measurement, etc. If required, the doctors also carry out such interventional diagnostic procedures as coronary angiography, intravascular ultrasound, intracoronary Doppler scanning of coronary circulation and others. After comprehensive diagnostics, the cardiologist establishes an accurate diagnosis for the patient and elaborates the optimal treatment regimen. Such cardiac pathologies as ischemic heart disease, cardiac arrhythmias, heart valve defects and myocardial diseases are the most commonthe the department's clinical practice. The first line therapy is drug therapy, electrical cardioversion and other conservative techniques. The patients with severe cardiac arrhythmias are offered interventional procedures to implant pacemakers and defibrillators. To treat obstructions and stenosis in the coronary arteries, the department's cardiologists perform interventional procedures to implant stents. The department also has the Chest Pain Unit for providing emergency medical care to patients with acute coronary syndrome.
The department's gastroenterologists specialize in the diagnostics and treatment of inflammatory bowel diseases, stomach diseases, irritable bowel syndrome, food intolerance, gallbladder diseases and others. The diagnostics involves the use of both laboratory tests and endoscopic examinations (for example, gastroscopy, colonoscopy, rectoscopy). The department's therapeutic options in the field of gastroenterology cover drug therapy and endoscopic procedures – removal of polyps, gastrointestinal bleeding control, etc.
The department also deals with the treatment of patients with type 1,2 diabetes mellitus, gestational diabetes mellitus and complications of these pathologies. The treatment is based on blood sugar monitoring. For this purpose, the patients are prescribed diet therapy, insulin pump therapy and continuous glucose monitoring. The patients with diabetes mellitus undergo treatment in accordance with the requirements of the German Diabetes Society. As of today diabetes mellitus remains an incurable pathology, and therefore the main task of the department's doctors is to prevent its progression and the development of complications.
The department's range of medical services includes:
Diagnostics and treatment of cardiovascular diseases

Coronary heart disease
Acute coronary syndrome
Cardiac arrhythmias
Heart failure
Heart valve diseases
Myocardial diseases

Diagnostics and treatment of gastrointestinal diseases, including diseases of the liver, pancreas and biliary tract

Inflammatory bowel disease (Crohn's disease and ulcerative colitis)
Stomach ulcers
Irritable bowel syndrome
Irritable stomach syndrome
Appendicitis
Gastritis
Food intolerances, for example celiac disease
Swallowing disorders and esophageal inflammatory diseases
Gallstone disease

Diagnostics and treatment of diabetes mellitus

Type 1 diabetes mellitus
Type 2 diabetes mellitus
Gestational diabetes mellitus

Diagnostics and treatment of rheumatic diseases
Diagnostics and treatment of pathological kidney lesions due to previous heart diseases and diabetes mellitus
Diagnostics and treatment of arterial hypertension
Diagnostics and treatment of other pathologies
Photo of the doctor: (c) Asklepios Kliniken GmbH
Department of Internal Medicine, Diagnostic and Interventional Cardiology, Gastroenterology and Diabetology.
Asklepios Municipal Hospital Bad Wildungen:

Request more information now.
We will be happy to answer all your questions.
---
Certificates