Conservative treatment of bile duct inflammation (program ID:

27747

)
Asklepios Academic City Hospital Bad Wildungen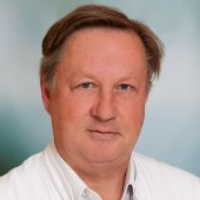 Head Physician
Dr. med.
Ulf Jonas
Specialized in: internal medicine, cardiology
Department of Internal Medicine and Cardiology
Program includes:
Initial presentation in the clinic
clinical history taking
physical examination
review of medical records
laboratory tests:

complete blood count
general urine analysis
biochemical analysis of blood
TSH-basal, fT3, fT4
indicators of inflammation (CRP, ESR)
indicators blood coagulation

abdominal ultrasound
gastroscopy
endosonography
nursing services
consultation of related specialists
treatment by chief physician and all leading experts
explanation of individual treatment plan
Service
Price:
Type of program :
Expected duration of the program:
You may also book

Price:
About the department
The Department of Internal Medicine and Cardiology at the Asklepios Bad Wildungen Municipal Clinic, headed by Dr. med. Ulf Jonas, offers a wide range of diagnostic and therapeutic options. The patient care involves a simultaneous participation of cardiologists, gastroenterologists, diabetologists and other specialists. Cardiovascular disease, Lung and bronchus diseases, Metabolic disorders, such as diabetes, Infectious diseases and diseases of the gastrointestinal tract and liver are treated here.
The Department under the direction of Dr. med. Ulf Jonas is especially focused on cardiac catheter examination. The physicians of the Department carry out coronary angiography of the heart vessels, as well as diagnosis of the circulatory system pressure in the lungs. The Asklepios Bad Wildungen Municipal Clinic provides all common and innovative diagnostic procedures. The Department deals with the diagnosis of atherosclerotic diseases of the heart and large vessels, diseases of the heart muscle and heart valves, pulmonary circulation, as well as cardiac arrhythmia. In addition, the Department of Internal Medicine and Cardiology regularly uses special techniques, such as intravascular ultrasound, intracoronary Doppler flow measurement (measurement of the circulating blood volume in a certain period of time), as well as measurement of blood pressure in the coronary arteries.
The implantation of pacemakers and stenting make up another key focus of the Asklepios Bad Wildungen Municipal Clinic in the field of internal medicine and cardiology. Most often the stents are placed to stabilize some sections of the coronary arteries. Moreover, the Asklepios Bad Wildungen Municipal Clinic also offers a competent counseling and support for overweight or underweight patients, as well as patients with chronic diseases, such as Crohn's disease, short bowel syndrome and food allergy.
The range of medical services of the Department of Internal Medicine and Cardiology under the direction of Dr. med. Ulf Jonas includes:
Coronary heart disease
Cardiac arrhythmias
Heart valve diseases
Diseases of the heart muscle
Diseases of the respiratory tract
Vascular diseases
Strokes
Gastrointestinal disorders
Diabetes
Kidney diseases
---
About hospital
Accommodation in hospital
Bile duct inflammation
Price:
Program [Description]
Conservative treatment of bile duct inflammation
Hospital: Asklepios Academic City Hospital Bad Wildungen
Type:
access_time Duration:
date_range
There are 92 bile duct inflammation treatment hospitals on Booking Health website
Show all clinics
Certificates