Department of Diagnostics (

335736

)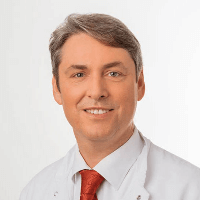 Dr. med.
Gregor Blome
Specialized in: diagnostics
About the Department of Diagnostics at ATOS Clinic Munich
The Department of Diagnostics at the ATOS Clinic Munich offers the full range of advanced diagnostic services. Of particular interest for the department is the diagnosis and early detection of cardiovascular diseases and chronic metabolic disorders. The scope of the department's tasks also includes prevention and counseling on a healthy lifestyle. The department is headed by Dr. med. Gregor Blome.
The specialists of the department work hand in hand to provide patients with prevention by early detection of health problems and their prompt elimination. With due consideration of patients' specific complaints and wishes, each of the is individually prescribed diagnostic procedures.
The department offers a basic comprehensive check-up comprised of a thorough examination of the heart, blood pressure, patient's general physical condition. Also, this check-up includes the examination of the thyroid gland, lungs, abdominal organs and blood vessels. The final stage of the examination is a complete blood count. Once the doctor obtains examination results, he will discuss the necessary further measures with the patient.
In addition, patients are offered an extended diagnostic program, which is based on a basic examination supplemented by other various tests ranging from special orthopedic examinations, cancer screening with the use of radiological substances up to the check-up of person's athletic abilities.
The service range of the department includes:
General tests
Examination of the internal organs
High resolution ultrasound (with live imaging for the patient)
Duplex scanning of the vessels (carotid artery, veins, arteries, etc.)
Ultrasound of the joints and musculoskeletal system
ECHO-CG diagnostics (at rest and under stress)
24-hour blood pressure monitoring
24-hour ECG monitoring
Stress ECG and examination of person's athletic abilities
Pulmonary function test
X-ray diagnostics
Special diagnostics for determining the functionality of the cardiovascular system
Counselling on metabolic disorders (e.g., for weight loss)
Infusion therapy
Pain therapy
Curriculum vitae of Dr. med. Gregor Blome
1995 Defense of doctoral thesis.
1998 Medical specialist in general medicine.
1998 Foundation of own medical practice in Munich.
2000 Head of Private Medical Practice of Emergency Care in Munich.
2008 Head of the Department of Diagnostics at the ATOS Clinic Munich.
Membership in Professional Societies
Association of German Therapists (BDI).
Bavarian Association of Family Physicians (BHÄV).
Photo of the doctor: (c) ATOS Klinik München
Department of Diagnostics.
ATOS Clinic Munich:

Request more information now.
We will be happy to answer all your questions.
---