University Hospital Essen
Department of Pediatric Surgery (

289971

)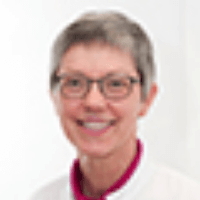 Dr. med.
Gabriele Krawzak
Specialized in: pediatric surgery
About the Department of Pediatric Surgery at University Hospital Essen
The Department of Pediatric Surgery at the University Hospital Essen offers the full range of general neonatal and pediatric surgery, as well as minimally invasive surgical treatment of all congenital and acquired malformations of the thoracic and abdominal organs, retroperitoneal space, in children of all age groups. The department cooperates closely with the Departments of Obstetrics and Neonatology, and is part of the Level I Neonatal Center. Thus, it offers comprehensive medical care for newborns and premature babies. It applies the cutting-edge technology and treatment regimens. The Chief Physician of the department is Dr. med. Gabriele Krawzak.
The indications for surgical treatment during the neonatal period may be gastrointestinal circulation disorders (necrotizing enterocolitis), congenital inguinal hernias, incomplete formation of the esophagus and/or gastrointestinal tract, as well as the defects of the diaphragm (congenital diaphragmatic hernia) and abdominal wall (gastroschisis / omphalocele), etc.
In collaboration with the Department of Pediatric Nephrology, Gastroenterology and Endocrinology, the department treats patients with acute and chronic kidney diseases who need temporary or permanent dialysis. If necessary, the affected kidney may be removed (nephrectomy).
Also, the surgical treatment may be indicated in chronic inflammatory bowel diseases (Crohn's disease, ulcerative colitis, etc.). With the help of surgical interventions, the significant improvement can be achieved in rare congenital liver diseases (biliary atresia, progressive familial intrahepatic cholestasis, etc.). The infants and children of all ages with acute and chronic liver failure are offered the entire spectrum of services, ranging from the interdisciplinary diagnostics to liver transplantation.
In addition, in collaboration with the Department of Pediatric Hematology, Oncology, Pulmonology and Cardiology, the department treats patients with malignant diseases. The department's specialists have in their arsenal the entire spectrum of diagnostic and therapeutic interventions, ranging from biopsy sampling for histological examination to tumor resection as part of multimodal therapy. The standard axillary procedure is the surgical installation of a safe venous access (central venous catheters, Broviac/Hickman), which is often performed in children with chronic lung diseases.
In addition to the listed methods, the department offers all other very latest surgical techniques for the diagnostics and treatment of diseases in children and adolescents. The treatment is provided in collaboration with the Departments of Adult and Pediatric Urology, Anesthesiology, Radiology, Traumatology/Orthopedics, Otolaryngology, Ophthalmology, Neurosurgery, Hand Surgery, Plastic Surgery, etc. The combination of the advanced experience of doctors and state-of-the-art technology provides the best treatment results.
The diagnostic and therapeutic range of the department includes:
Minimally invasive procedures

Treatment of spontaneous pneumothorax (bullae resection)
Biopsy in lung diseases of unknown origin
Biopsy / resection of the thoracic wall tumors (for example, neuroblastomas)
Treatment of congenital cystic lung malformations (pulmonary sequestration)
Treatment of congenital esophageal malformations (esophageal atresia)
Treatment of congenital diaphragmatic malformations (diaphragmatic hernia)
Minimally invasive correction of pectus excavatum (Nuss procedure)
Interventions on the cardia in gastroesophageal reflux disease
Hypertrophic pyloric stenosis (pyloric spasm)
Gallbladder removal in inflammation or gallstones
Liver biopsy
Surgical treatment of liver and spleen cysts
Total or partial splenectomy (spleen removal) due to the hematological diseases (for example, spherocytosis)
Biopsy of the abdominal and retroperitoneal organs in tumors of unknown origin for the development of treatment strategies in accordance with national and international protocols
Removal of benign / malignant tumors of the abdominal cavity and retroperitoneal space (for example, neuroblastomas)
Appendectomy
Catheter implantation for peritoneal dialysis

Standard surgical interventions

Surgical treatment of biliary atresia
Liver / kidney transplantation in children of all age groups
Intestinal atresia
Gastrointestinal tract malformations
Hirschsprung disease / aganglionosis
Sacrococcygeal teratoma
Inguinal hernia
Umbilical hernia
Removal of cervical cysts / neck fistulas
Imposition of an artificial tracheal external fistula (tracheostomy)
Lymphangioma resection
Hemangioma resection
Implantation of Broviac / Hickman catheters for dialysis and port systems (Port-A-Cath)

And other diagnostic and therapeutic surgical interventions
Photo of the doctor: (c) Universitätsklinikum Essen
Department of Pediatric Surgery.
University Hospital Essen:

Request more information now.
We will be happy to answer all your questions.
---
Certificates