University Hospital Essen
Department of Adult and Pediatric Urology (

289986

)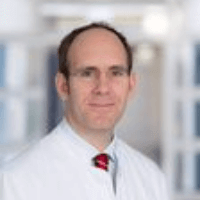 Prof. Dr. med.
Boris Hadaschik
Specialized in: adult and pediatric urology
About the Department of Adult and Pediatric Urology at University Hospital Essen
According to the Focus magazine, the Department of Adult and Pediatric Urology at the University Hospital Essen ranks among the top German medical facilities specializing in prostate cancer treatment!
The department offers the full range of conservative and surgical treatment of diseases of the urogenital system in patients of all age groups. The main fields of specialization include surgical and drug treatment of urological tumors, plastic reconstructive interventions for correcting anomalies of the external genital organs and urinary tract. The spectrum is also complemented by genital correction and transgender operations in adults. The department annually provides its medical services to more than 2,700 inpatients and 6,700 outpatients. The Chief Physician of the department is Prof. Dr. med. Boris Hadaschik.
The department has 55 beds for inpatient treatment. The surgical treatment is carried out in four modern operating rooms of the department. The department's doctors widely practice both traditional treatment methods and the very latest therapeutic options, for example, minimally invasive treatments, such as stereotactic prostate biopsy, robotic laparoscopy (using da Vinci Surgical System).
Close cooperation with other departments of the hospital and private practitioners contributes to an optimal and comprehensive treatment. When starting treatment of each patient, the department's specialists aim to ensure the high-quality, effective therapy adapted to the individual needs and wishes of the patient.
The service range of the department includes:
Diagnostics and treatment of oncological urologic diseases

Radical surgery in kidney, bladder and prostate cancer, as well as in testicular tumors
Laparoscopic interventions in kidney and prostate tumors
Organ-conserving kidney tumor surgery
Retroperitoneal lymph node dissection in testicular tumors
All methods of urine diversion (for example, artificial bladder formation)
Brachytherapy and radiation therapy in prostate cancer
MRI-guided prostate biopsy (fusion biopsy)
Chemo-, immuno- and systemic therapy for all urologic tumors
Clinical examinations
Outpatient chemotherapy
Follow-up care after the treatment of oncological diseases
Palliative and pain therapy
Provision of a second opinion

Diagnostics and treatment of pediatric urologic diseases

Correction of congenital malformations of the genitourinary organs
Plastic reconstructive surgery (including plastic repair of the kidney pelvis, hypospadias repair, genital reconstructive surgery, endoscopic surgery)

Andrology

Diagnostics and treatment of infertility (cooperation with the Fertility Center NOVUM)
Diagnostics and treatment of erectile dysfunction, including implantation of a cavernous body prosthesis
Treatment of abnormalities of the external genitalia
Men's health, age-related changes in men

Treatment of sex differentiation disorders (transsexualism)

Sex reassignment surgery
Breast augmentation

Microsurgery

Fertility restoration
Varicocele repair
Autotransplantation
Hypospadias repair

Minimally invasive surgery (conventional and robotic techniques)

Lymphadenectomy
Prostatectomy
Nephrectomy
Nephroureterectomy
Organ-conserving resection of the kidney tumors
Kidney pelvis plastic surgery
Removal of kidney cysts
Lymphocele fenestration
Undescended testicle repair
Varicocele repair

Endoscopic treatment of benign prostatic hyperplasia and bladder tumors

Video-assisted transurethral resection of the prostate
Video-assisted transurethral resection of the bladder, including photodynamic diagnostics and narrowed-band endoscopy

Treatment of kidney stone disease

Endoscopic therapy with ureterorenoscopy (rigid and flexible)
Minimally invasive percutaneous therapy (PNL and Mini-PNL)
Extracorporeal shock wave lithotripsy

Interventional procedures

Embolization
Thermoablation procedures in tumors or metastases
CT-guided biopsy

Urinary incontinence treatment

Treatment of incontinence and enuresis
Treatment of incontinence in the elderly
Treatment of stress urinary incontinence in adults
Treatment of neurogenic disorders of bladder emptying
Video dynamics, electrostimulation, BioFeedback
Medical therapy in urinary incontinence
Surgical therapy, including bladder elevation, sacropexy, minimally invasive procedures (for example, injections into the urinary sphincter) and artificial sphincter implantation

Outpatient surgery

Circumcision
Endoscopic procedures
Varicocele and hydrocele surgery
Surgical interventions in children

Other medical services
Curriculum vitae of Prof. Dr. med. Boris Hadaschik
Prof. Boris Hadaschik studied medicine in Heidelberg, Louisville, Detroit and New Orleans. Afterwards he trained in Surgery and Urology in Heidelberg and Mainz. In 2006, Boris Hadaschik was awarded a two-year postdoctoral research fellowship at the Vancouver Prostate Centre from the German Research Foundation. He obtained the German Urological Association's highest scientific award, the Maximilian Nitze Prize, for his work regarding "Novel intravesical agents against non-muscle invasive bladder cancer in a validated orthotopic mouse model". In 2010, Boris Hadaschik became an Associate Professor in the Department of Urology at the University Hospital Heidelberg. His main interests lie in the development of prostate cancer diagnostics (for example, imaging-guided biopsy) and therapy (for example, molecularly-targeted radiopharmaceuticals) to improve and customize cancer treatment and its outcomes. Prof. Boris Hadaschik is a Co-Founder of the Ginsburg Study Group for Comprehensive Prostate Diagnostics and a Member of several international Working Groups to optimize MRI-targeted prostate biopsy. In addition, he is a Principal Investigator of the German multicentre PROBASE trial for prospective randomized evaluation of risk-adapted prostate-specific antigen screening in 50,000 young men.
Photo of the doctor: (c) Universitätsklinikum Essen
Department of Adult and Pediatric Urology.
University Hospital Essen:

Request more information now.
We will be happy to answer all your questions.
---
Certificates