University Hospital Essen
Department of Nephrology (

290002

)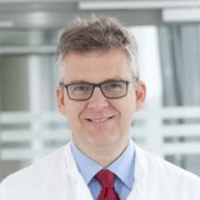 Prof. Dr. med.
Andreas Kribben
Specialized in: nephrology
About the Department of Nephrology at University Hospital Essen
The Department of Nephrology at the University Hospital Essen offers the full range of diagnostics and treatment of kidney diseases, hypertension, immunological diseases and kidney failure. The scope of tasks of the department's specialists includes kidney transplantation from a living donor, including сross kidney transplantation and kidney transplantation in ABO incompatibility, the preparation and subsequent care after transplantation. The department performs all dialysis and other extracorporeal procedures, including hepatic dialysis. The department is headed by Prof. Dr. med. Andreas Kribben.
The department was founded in 1963 and today it is one of the best in its field of activities. It treats more than 1,000 inpatients and 8,500 outpatients every year. A highly qualified medical team takes care of the health of patients. It consists of 18 doctors, including 9 medical specialists in internal medicine, nephrology, hypertensiology, infectology and laboratory diagnostics. The competent care is provided by the specially trained nurses. The department's doctors strictly follow the national and international treatment protocols. The department's activities are not limited to clinical practice, therefore, it is involved in research in order to optimize the treatment of nephrological diseases, as well as in the specialized training of medical students.
The service range of the department includes:
Diagnostics and treatment of autoimmune diseases
Diagnostics and treatment of all types of renal parenchymal diseases, in particular progressive glomerulonephritis and diabetic nephropathy, acute kidney failure

Analysis of autoantibodies (ANA/ANCA, etc.)
Urinalysis (within the specialized Nephrology Laboratory): urine microalbumin test, creatinine clearance
Duplex ultrasound imaging (also for ultrasound-guided kidney biopsy)
Kidney biopsy

Diagnostics and treatment of all types of arterial hypertension (special focus on malignant and secondary hypertension, renovascular and endocrine hypertension)

24-hour blood pressure monitoring
Hormone test in order to identify the endocrine causes of hypertension
Diagnostics of kidney disease and pathological changes in blood vessels, for example, renal artery stenosis
Nutrition counseling
Screening for obstructive sleep apnea
Assessment of hemodynamics in order to study the function of the sympathetic nervous system, renin-angiotensin system and endothelium function, including the conduction of clinical and experimental trials

Preparation and follow-up monitoring of patients after kidney transplantation (participation in the Eurotransplant)
Physiotherapy

Various types of respiratory therapy
Special techniques in order to improve endurance, flexibility, coordination and motor skills
Manual lymphatic drainage
Massage
Electrotherapy
Healing baths
Exercise therapy
Other classic physiotherapy techniques

Dialysis procedures

Hemodialysis
Continuous venovenous hemodialysis
Ambulatory peritoneal dialysis
Replacement therapy for hepatic failure syndrome
Plasmapheresis
Hemofiltration
Hemodiafiltration
Nocturnal hemodialysis

Other medical services
Photo of the doctor: (c) Universitätsklinikum Essen
Department of Nephrology.
University Hospital Essen:

Request more information now.
We will be happy to answer all your questions.
---
Certificates