University Hospital Essen
Department of Adult and Pediatric Thoracic Surgery, Thoracic Endoscopy (

303792

)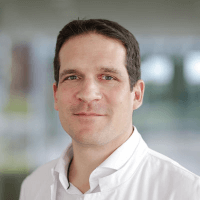 Prof. Dr. med.
Clemens Aigner
Specialized in: thoracic surgery, thoracic endoscopy
About the Department of Adult and Pediatric Thoracic Surgery, Thoracic Endoscopy at University Hospital Essen
The Department of Adult and Pediatric Thoracic Surgery, Thoracic Endoscopy at the University Hospital Essen offers the full range of modern diagnostic and therapeutic services in these fields. The department performs more than 2,300 interventions annually, so it is one of the largest and most important medical facilities in Germany and Europe. The surgical options include both open surgery and sparing minimally invasive endoscopic procedures. Special attention is paid to the treatment of lung cancer and lung metastasis from other tumors. The department is headed by Prof. Dr. med. Clemens Aigner.
The department's medical team applies all the proven modern methods of diagnostics and surgical treatment of thoracic diseases. More than 1,200 open thoracic surgeries and about 1,000 minimally invasive endoscopic interventions are performed here annually. Over 80% of patients received surgical treatment of malignant tumors, such as lung cancer or lung metastases. In addition to inpatient treatment, the department provides services for the outpatients (about 2,000 cases annually).
Since November 2014, the department's surgeons have performed many interventions using the da Vinci surgical system. Of course, the surgical intervention is not carried out by the robot. The da Vinci system acts as a highly accurate instrument and its work is completely controlled by the surgeon.
The priority focus of the department's clinical practice is thoracic cancer surgery. All decisions on the diagnostics and treatment of malignant diseases of the lungs, bronchi, pleura and mediastinum are made taking into account the stage, size, type of tumor, localization, cardiovascular risk and age of the patient. The treatment strategy is developed in interdisciplinary cooperation with the specialists from related fields. Preference is always given to minimally invasive treatments.
The service range of the department includes the diagnostics and treatment of the following thoracic diseases in adults and children:
Congenital diseases of the lungs and mediastinum

Tracheal and bronchial malformations
Congenital lobar emphysema
Primary and secondary pulmonary hypoplasia
Extra- and intralobar pulmonary sequestration
Tracheal and bronchial cysts
Congenital cystic adenomatoid malformations
Agenesis and stenosis of pulmonary artery
Pulmonary arteriovenous fistulas

Different types of open and thoracoscopic resections
Mediastinoscopy, thoracoscopy and minimally invasive surgery

Benign and malignant tumors of the lungs and bronchi

Surgical treatment of stage I-IIIA bronchogenic cancer
Multimodal therapy with preoperative chemotherapy, chemo- / radiation therapy and subsequent surgery at the stage IIIA and IIIB and in some cases at IV stage (in collaboration with oncologists and radiation therapists)
Surgical interventions in elderly patients
Surgical treatment of single and multiple lung metastases (for example, in kidney, intestinal, breast cancer, etc.), also within the multimodal therapy

Mediastinoscopy and imaging-guided thoracoscopy in bronchial carcinoma
Video-assisted surgery for atypical lung resection and lobectomy
Special surgical treatment of bronchogenic cancer
Extended surgical intervention with the resection of large vessels, thoracic wall, pericardium and diaphragm, extended resections of pancoast tumors
Sternotomy
Unilateral or bilateral thoracotomy
Laser resection (surgery for metastases)
Robot-assisted surgery (in some cases)

Mediastinal diseases

Benign and malignant thymic tumors (thymoma, thymic cysts, thymic carcinoma)
Myasthenia gravis
Teratomas and lymphomas (as part of multimodal therapy)
Neurogenic tumors, mesenchymal tumors and mediastinal cysts
Benign esophageal diseases (fibroids, cysts, diverticula)
Superior vena cava syndrome
Mediastinal infections (acute and chronic mediastinitis, mediastinal fibrosis)
Hyperhidrosis (with damage to the face, hands, underarms)

Sternotomy
Thoracotomy
Mediastinoscopy and video-assisted interventions
Video-assisted mediastinal lymphadenectomy
Minimally invasive video-assisted thymus resection
Minimally invasive sympathectomy
Robotic surgery (in some cases)

Tumors and malformations of the thoracic wall

Primary benign and malignant tumors of the thoracic wall (lipomas, chondromas, fibroids, sarcomas, lymphomas)
Thoracic wall metastases (carcinomas, sarcomas)
Infiltration of the thoracic wall with lung, thoracic and pleural tumors (including pancoast tumors)
Infections of the ribs and sternum
Thoracic deformities (pectus excavatum, pectus carinatum, etc.)

Thorax resection with and without subsequent plastic surgery (if necessary, in collaboration with plastic surgeons)
Resection and replacement of the thoracic wall / sternum with alloplastic materials with various types of muscle reconstruction
Minimally invasive interventions for pectus excavatum correction (for example, Nuss, Ravitch procedures and combined techniques)
Other types of correction and stabilization of thoracic wall defects

Pleural diseases

Pneumothorax (primary, secondary, traumatic)
Benign and malignant pleural effusion
Parapneumonic and postoperative empyema
Pleural infections (tuberculosis, fungal infections)
Chylothorax
Benign pleural tumors
Malignant diffuse pleural mesothelioma

Diagnostic and therapeutic minimally invasive video-assisted procedures
Open pleurectomy and decortication
Expanded pleuropneumonectomy with the resection of pericardium and diaphragm (3-PD resection) in pleural mesothelioma

Diaphragm diseases

Diaphragmatic paralysis, elevated hemidiaphragm
Congenital and acquired diaphragmatic hernia
Tumors of the diaphragm

Video-assisted and open diaphragm resections
Diaphragmatic hernia repair

Infectious lung diseases

Chronic pneumonia, lung abscess
Parapneumonic and postoperative empyema
Middle lobe syndrome, bronchiectasis
Complications of tuberculosis
Aspergilloma, other fungal infections
Pulmonary cystic echinococcosis

Thoracoscopic resection in empyema
Decortication, thoracostomy, thoracic and muscular plastic surgery
Transpericardial and transpleural surgery in bronchus stump insufficiency

Pulmonary emphysema

Pulmonary cysts
Bullous changes
Pulmonary emphysema in chronic obstructive pulmonary disease

Bullectomy
Lung volume reduction surgery, unilateral and bilateral, open and video-assisted
Participation in clinical trials of new treatment methods

Tracheal diseases

Congenital and acquired tracheal diseases
Benign strictures and stenoses (after injuries, intubation and artificial ventilation)
Primary and secondary tracheal tumors
Benign and malignant tracheoesophageal fistula
Iatrogenic tracheal injuries

Treatment of acute tracheal injuries (endoscopic and open surgery)
Simple and advanced tracheal resections, reconstructive interventions
Resection and closure of benign tracheoesophageal fistulas
Interventional measures, such as dilatation, tracheal and esophageal stent implantation, bougienage, laser therapy
All types of stent implantation
Open and endoluminal methods of suturing in tracheal injuries

Other medical services
Curriculum vitae of Prof. Dr. med. Clemens Aigner
Education and Professional Career
1994 - 2000 Study of Medicine at the University of Vienna, Austria.
2000 Admission to medical practice (in Germany 2015).
01.2000 Doctoral thesis defense, University of Vienna, Austria.
2002 - 2003 Rotation (further training), Elizabeth Clinic in Linz, Vienna Heeresspital, Vienna General Hospital.
2003 - 2009 Training for a Medical Specialist in Thoracic Surgery, Department of Cardiothoracic Surgery, Medical University of Vienna.
2008 Habilitation, Medical University of Vienna.
2009 - 2015 Assistant Professor and Senior Physician in the Department of Thoracic Surgery at the Medical University of Vienna.
Since 2016 Professor in Thoracic Surgery and Head of the Department of Adult and Pediatric Thoracic Surgery, Thoracic Endoscopy at the University Hospital Essen.
Internships Abroad
Royal Prince Alfred Hospital, Sydney, Australia.
Chulalongkorn University Hospital, Bangkok, Thailand.
University Hospital Leuven, Belgium.
Toronto General Hospital, Canada.
Rigshospitalet Hospital, Copenhagen, Denmark.
Memberships
2011 - 2013 Managing Position, European Society of Thoracic Surgeons.
European Association for Cardiothoracic Surgery.
International Association for the Study of Lung Cancer.
International Society for Heart and Lung Transplantation.
German Society of Thoracic Surgery.
Austrian Society of Thoracic Surgery (former President 2015).
Austrian Societies of Surgery, Oncology, Transplant Surgery and Pulmonology (Board Member, 2014 - 2015).
Photo of the doctor: (c) Universitätsklinikum Essen
Department of Adult and Pediatric Thoracic Surgery, Thoracic Endoscopy.
University Hospital Essen:

Request more information now.
We will be happy to answer all your questions.
---
Certificates