Open endarterectomy or angioplasty of lower extremity arterial disease diabetes foot syndrome (program ID:

290159

)
University Hospital Essen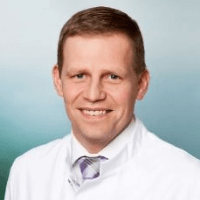 Head Physician
Dr. med.
Martin Lainka
Specialized in: adult and pediatric vascular, endovascular surgery
Department of Adult and Pediatric Vascular, Endovascular Surgery
Program includes:
Initial presentation in the clinic
clinical history taking
physical examination
laboratory tests:

complete blood count
biochemical analysis of blood
Lipid metabolism (HDL/LDL, cholesterol,
triglycerides Lip(a), homocysteine)
blood coagulation analysis (aPTT, PT, INR)
inflammation indicators (CRP, ESR)
metabolic status (uric acid, total glucose, HbA1c)
cardiovascular disease risk markers
kidney function test (creatinine, urea)
TSH

doppler/ duplex receptacles of lower extremities
angio-MRI from aorta and of lower extremities
duplex peripheral arteries
preoperative care
open endarterectomy or angeoplasty
daily wound care
blood transfusions (if needed)
symptomatic treatment
control examinations
the cost of essential medicines and materials
nursing services
full hospital accommodation
developing of further guidance
Required documents
Medical records
X-ray examination (if available)
Service
Price:
Type of program :
Expected duration of the program:
You may also book

Price:
About the department
The Department of Adult and Pediatric Vascular, Endovascular Surgery at the University Hospital Essen offers the full range of surgical treatment of arterial and venous diseases, including vascular anomalies. The specialization includes the treatment of diseases of the aorta, carotid artery, circulatory disorders in the lower extremities, as well as venous surgery, the formation of dialysis access in adults and children, specialized treatment of chronic wounds. The department's doctors have in their arsenal the modern and effective treatment methods, which allow to achieve positive results even in particularly difficult clinical cases. The department is headed by Dr. med. Martin Lainka.
The department cooperates closely with all related disciplines of the hospital, which allows the doctor to provide each patient with a comprehensive, differentiated treatment based on individual clinical indications. The department's doctors carry out all standard diagnostic procedures, for example, CT, MRI, digital subtraction angiography, CO2-angiography, non-contrast and contrast-enhanced ultrasound of the vessels. The range is also complemented by all modern surgical and minimally invasive methods, such as shunting, stent implantation, balloon dilatation, and catheter techniques.
The main clinical focuses of the department include:
Diagnostics and treatment of carotid stenosis and other brain supplying arteries

Surgical and interventional techniques as part of the interdisciplinary therapy

Diagnostics and treatment of acute and chronic circulatory disorders

Circulatory disorders of the extremities

Surgical techniques (shunting, flap plastic surgery, hybrid interventions) and interventional techniques (stent implantation, balloon dilatation, rotational thrombectomy)

Intestinal circulatory disorders

Surgical techniques
Interventional techniques

Endovascular (TEVAR, EVAR) and open treatment methods of aneurysms, ruptures of the thoracic and abdominal aorta (in close cooperation with the Department of Cardiology and Angiology, Department of Cardiothoracic Surgery)
Special endovascular procedures (chimney-graft technique), as well as the implantation of fenestrated and special prostheses (fEVAR, bEVAR)
Reconstruction of the iliac artery (surgical, minimally invasive and hybrid techniques)
Surgical and minimally invasive treatment of limb artery aneurysms
Comprehensive interdisciplinary treatment of diabetic foot syndrome, including surgical and minimally invasive vascular therapy
Shunting in adults and children, as well as dialysis catheterization (for example, using Demers catheter) and hybrid prosthesis implantation
Diagnostics and treatment of vascular malformations, vascular tumors
Diagnostics and treatment of varicose veins and chronic venous insufficiency, especially in recurrent types of diseases
Surgical and interventional therapy for pelvic and lower extremity vein thrombosis
Specialized treatment of wounds in arterial, venous and diabetic ulcers (within the certified center)
Other medical services
Photo of the doctor: (c) Universitätsklinikum Essen
---
About hospital
Accommodation in hospital
Diabetic foot
Program [Description]
Open endarterectomy or angioplasty of lower extremity arterial disease diabetes foot syndrome
Hospital: University Hospital Essen
Type:
Duration:
Price:
date_range
There are 69 diabetic foot treatment hospitals on Booking Health website
Show all clinics
Certificates