Hospital Gummersbach Oberberg
Department of Adult and Pediatric General, Abdominal, Thoracic, Vascular Surgery (

284600

)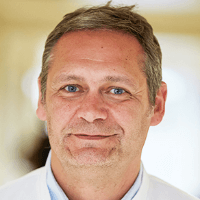 Prof. Dr. med.
Stefan Saad
Specialized in: adult and pediatric general, abdominal, thoracic, vascular surgery
About the Department of Adult and Pediatric General, Abdominal, Thoracic, Vascular Surgery at Hospital Gummersbach Oberberg
The Department of Adult and Pediatric General, Abdominal, Thoracic, Vascular Surgery at the Hospital Gummersbach Oberberg offers the full range of surgical treatment in the areas of its specialization. It successfully performs operations to treat gastrointestinal cancers, particularly, stomach and intestinal cancers, thoracic cancers, tumors of the liver and gallbladder, endocrine glands, soft tissues, as well as multivisceral resections. The department annually performs more than 2,200 surgical interventions of varying complexity, which demonstrates rich clinical experience of the surgeons. The department has 75 beds, including the Intensive Care Unit.
The department is headed by Prof. Dr. med. Stefan Saad. The professional team of employees consisting of three senior physicians, four resident surgeons, four assistant physicians and competent nursing staff works under the strict guidance of a highly qualified surgeon.
Clinical practice is based on the use of the advanced medical equipment, the most effective and sparing surgical techniques. Most operations are performed using minimally invasive techniques, which makes postoperative pain syndrome less severe, while the risks of developing severe haemorrhages or postoperative complications are almost zero. Such operations allow the patients to return to their usual lives as quickly as possible without prolonged rehabilitation measures. When treating cancers, the specialists from the related fields can be involved, for example, gastroenterologists, oncologists, radiologists, radiation therapists and others.
The department's key focus is cancer surgery. It is worth noting the Bowel Center, which has been certified by the German Cancer Society since 29 April 2008. The certification guarantees compliance with all international standards and requirements for the treatment of intestinal pathologies.
The department demonstrates excellent results in thoracic surgery. This field is distinguished by close cooperation with the thoracic surgeons of the Academic Hospital Cologne-Merheim. The service range includes the diagnostic interventions (for example, mediastinoscopy, thoracoscopy) and surgery to remove benign or malignant lung tumors. When treating lung cancer, the doctors use both classic open surgical techniques and sparing minimally invasive ones. The treatment regimen is developed individually, according to the individual clinical indications and diagnostic test results. In addition, the department performs operations to treat pneumothorax, empyema, as well as interventions to remove lung metastases.
In the field of pediatric surgery, the specialists perform hernia repair surgery, phimosis surgery, as well as appendectomy.
The department's main clinical focuses include:
General and abdominal surgery

Surgical treatment of gastrointestinal malignancies (special focus on the treatment of bowel and stomach cancer)
Surgical treatment of liver and gallbladder tumors
Surgical treatment of endocrine neoplasms (thyroid gland, adrenal glands, pancreas)
Surgical treatment of soft tissue tumors
Multivisceral resection for multiple organ cancer

Minimally invasive surgery

Antireflux surgery (for example, for heartburn, belching)
Hernia repair surgery (inguinal hernia, anterior abdominal wall hernia, umbilical and incisional hernia)
Gastrointestinal surgery for benign and malignant neoplasms
Bowel surgery for benign and malignant diseases
Gallstone treatment
Thoracic interventions (lung resections, pleural diseases)
Surgical treatment of hyperhidrosis (increased sweating)
Removal of adrenal glands and spleen

Bariatric surgery (surgical treatment of morbid obesity)

Gastric banding
Gastric bypass surgery
Sleeve gastroplasty
Biliopancreatic diversion

Thoracic surgery

Mediastinoscopy (endoscopic examination of the mediastinum)
Minimally invasive thoracoscopy (examination of pleural cavities)
Interventions to remove benign and malignant lung and pleural tumors (minimally invasive or open surgical procedures)
Surgical treatment of pneumothorax and pleural empyema
Lung metastasis removal

Vascular surgery

Carotid artery surgery
Abdominal, iliac and femoral artery surgery
Surgical treatment of varicose veins
Dialysis access formation
Balloon dilation and stent implantation for vascular obstructions

Pediatric surgery

Hernia repair surgery
Phimosis correction
Appendectomy

Other surgical services
Curriculum vitae of Prof. Dr. med. Stefan Saad
Prof. Stefan Saad studied medicine, along with politics, history and philosophy, at the Universities of Aachen and Cologne. In 1986, he was admitted to medical practice. In 1989, after successfully defending his doctoral thesis and receiving the university prize for the best thesis, he was appointed as Assistant Physician at the Academic Hospital Cologne-Merheim. After a two-year stay in Japan, Dr. Saad returned to Merheim in 1998. In 2001, he became Assistant Professor and received Venia legendi. He is currently the Chief Physician of the Department of Adult and Pediatric General, Abdominal, Thoracic, Vascular Surgery at the Hospital Gummersbach Oberberg. The specialist is particularly experienced in minimally invasive surgery and morbid obesity treatment. In addition, he specializes in cancer surgery.
Photo of the doctor: (c) Klinikum Oberberg GmbH
Department of Adult and Pediatric General, Abdominal, Thoracic, Vascular Surgery.
Hospital Gummersbach Oberberg:

Request more information now.
We will be happy to answer all your questions.
---
Certificates