Hospital Gummersbach Oberberg
Department of Radiation Therapy (

284609

)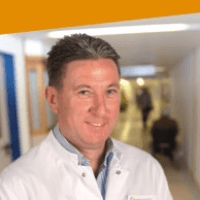 Dr. med.
Peter Vacha
Specialized in: radiation therapy
About the Department of Radiation Therapy at Hospital Gummersbach Oberberg
The Department of Radiation Therapy at the Hospital Gummersbach Oberberg offers all types of therapeutic radiation for the treatment of cancers. A team of experienced doctors, technical assistants and qualified nursing staff provides the highest level of treatment on an outpatient and inpatient basis. The department is also responsible for the treatment of inflammatory and degenerative joint diseases. The department is headed by Dr. med. Peter Vacha.
Along with surgical treatment and chemotherapy, radiation therapy is one of the most effective methods of cancer treatment. The department has advanced equipment and a competent team of doctors with rich experience in various types of radiation therapy. The specialists work using the progressive systems for radiation therapy, which allow them to use minimal radiation doses and focus radiation on the targeted area of ​​the body, minimizing side effects. These are two collimator-based linear accelerators from Siemens (with the possibility of intensity-modulated radiation therapy), a brachytherapy system (Nucletron/Elekta), three 3D systems for radiation planning (Oncentra), the IntraBeam System form Zeiss for intraoperative irradiation of breast tumors and bone metastases, etc.
The department's radiation therapists take part in weekly tumor boards, where they together with other specialists develop individual treatment regimens for each patient. The radiation therapists cooperate closely with chemotherapists, since the achievement of optimal results often requires the combination of these two techniques.
The department's clinical focuses include:
Percutaneous 3D conformal radiation therapy for tumor treatment
Low-dose radiotherapy for the treatment of inflammatory and degenerative joint diseases
Intraoperative radiation therapy for breast cancer
Combined chemoradiotherapy
Contact irradiation (afterloading technique) for the treatment of gynecologic tumors
Intraoperative irradiation of metastases of the thoracic and lumbar spine prior to mechanical stabilization (kyphoplasty with intraoperative radiation therapy)
Other therapeutic options
Photo of the doctor: (c) Klinikum Oberberg GmbH
Department of Radiation Therapy.
Hospital Gummersbach Oberberg:

Request more information now.
We will be happy to answer all your questions.
---
Certificates