Hospital Gummersbach Oberberg
Department of Adult and Pediatric Diagnostic, Interventional Radiology (

603236

)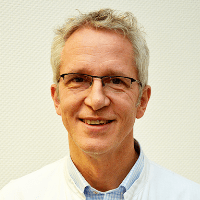 Dr. med.
Achim Müller
Specialized in: adult and pediatric diagnostic, interventional radiology
About the Department of Adult and Pediatric Diagnostic, Interventional Radiology at Hospital Gummersbach Oberberg
The Department of Adult and Pediatric Diagnostic, Interventional Radiology at the Hospital Gummersbach Oberberg offers the full range of modern imaging tests, as well as imaging-guided therapeutic procedures. The Chief Physician of the department is Dr. med. Achim Mülle.
The department cooperates closely with other departments and specialized centers of the hospital, providing comprehensive diagnostic procedures, which form the basis for the development of optimal treatment regimens. The department has the state-of-the-art medical and technical base, as well as strictly complies with radiation protection standards.
The department's competent medical team cares not only about the high quality of medical services, but also about the comfort of their patients. In this regard, the department is structurally divided into specialized diagnostic rooms with comfortable waiting areas.
The service range includes all types of modern radiological diagnostics, including spiral computed tomography (CT) and magnetic resonance imaging (MRI). To conduct the classical X-ray diagnostics, the department has three separate rooms, including a special room for examining patients with injuries. All examination results are stored digitally and transmitted to specialists from other departments using a modern picture archiving and communication system.
In the field of interventional radiology, the key attention is paid to procedures for the restoration of patency of blood vessels in case of stenoses or obstructions. The department also provides imaging-guided pain therapy, for example, in the case of back pain.
The main clinical focuses of the department include:
Diagnostic radiology

Classical X-ray diagnostics in adults and children
Fluoroscopy in adults and children
Spiral computed tomography of all areas of the body, including at the planning stage of the operation
Magnetic resonance imaging (the special focus on examinations of the brain, spinal cord and spine, diagnostics of the musculoskeletal system and joints)
CT- and MRI-guided puncture and biopsy
Digital subtraction angiography
Mammography in women

Interventional radiology

Balloon dilation and stent implantation in case of stenosis and obstruction of blood vessels
Imaging-guided pain therapy in case of back pains

Other medical services
Photo of the doctor: (c) Klinikum Oberberg GmbH
Department of Adult and Pediatric Diagnostic, Interventional Radiology.
Hospital Gummersbach Oberberg:

Request more information now.
We will be happy to answer all your questions.
---
Certificates