Hospital Waldbrol Oberberg
Department of Adult and Pediatric General, Abdominal Surgery (

286089

)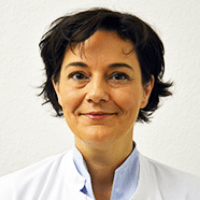 Dr. med.
Stefanie Hild
Specialized in: adult and pediatric general, abdominal surgery
About the department
The Department of Adult and Pediatric General, Abdominal Surgery at the Hospital Waldbrol Oberberg offers the full range of surgical treatment in its areas of specialization. The key attention is paid to the application of sparing minimally invasive techniques, which are the gold standard of modern surgery. The department's specialists have rich and successful experience in the surgical treatment of abdominal cancers, including preoperative diagnostics and postoperative care. The department's competence also includes proctologic interventions and thyroid surgery. The department has 40 beds for patient hospitalization. The department is headed by Dr. med. Stefanie Hild. She is an experienced surgeon and a true professional dedicated to her work.
The department's surgeons often treat patients with inguinal, umbilical and incisional hernias. They also perform operations on all organs of the abdominal cavity, including stomach, small and large intestine, rectum, gallbladder and bile ducts, liver, spleen, pancreas, kidneys and adrenal glands. When treating abdominal cancers, the doctors from the Department of Oncology, which is part of the certified Cancer Center Oberberg, are actively involved in the process.
Proctology specialists are responsible for operations for inflammatory processes in the perianal region, treatment of anal fistulas and fissures, as well as for hemorrhoid surgery (Milligan-Morgan technique, Longo procedure, hemorrhoidectomy with linear stapler). In addition, the department performs transanal resections of adenomas and polyps, stapled transanal rectal resection (STARR for a combination of hemorrhoids with rectal prolapse).
Special attention should be given to the surgical treatment of thyroid diseases. When performing such interventions, the surgeons use a binocular magnifier and intraoperative neuromonitoring to exclude lesions of the nervus laryngeus recurrens.
The service range is complemented by pediatric surgery. The operations in children are performed by specially trained surgeons, as a rule, on an outpatient basis. For example, the department often performs operations for inguinal hernias, undescended testicles and phimosis.
The service range of the department includes:
Outpatient surgery

Diagnostic surgical procedures (for example, biopsy)
Surgical treatment of inguinal and umbilical hernias in adults and children
Circumcision in case of phimosis in children
Surgical correction of undescended testes (cryptorchidism) in children
Surgical removal of benign tumors (for example, lipomas and atheromas)
Surgical treatment of abscesses
Sclerotherapy for hemorrhoids

Inpatient surgery

Diagnostic and therapeutic interventions on the stomach, colon and small intestine, rectum, gallbladder and bile ducts
Gastrointestinal cancer surgery, including preoperative diagnostics and postoperative care (in collaboration with the certified Cancer Center Oberberg)
Treatment of inflammatory processes in thoracic wall and pleural cavities
Drainage for pneumothorax
Treatment of abdominal injuries
Thyroid surgery
Antireflux surgery for hiatal hernia combined with gastroesophageal reflux disease
Proctological surgery (operations for anal abscesses, fistulas, fissures, hemorrhoids, etc.)
Minimally invasive surgery (for example, appendectomy, cholecystectomy, fundoplication, etc.)
Appendectomy
Cholecystectomy
Bowel resection
Fundoplication in case of gastroesophageal reflux disease
Surgery for inguinal and incisional hernias

Other surgical options
Curriculum vitae
Dr. med. Stefanie Hild underwent medical training in Waldbrol. She was Assistant and Senior Physician in the Departments of Surgery at the Helios Clinic Titisee-Neustadt, the DRK Altenkirchen-Hachenburg Hospital and the St. Johannes Hospital Troisdorf-Sieglar. Before holding the position of the Chief Physician of the Department of Adult and Pediatric General, Abdominal Surgery at the Hospital Waldbrol Oberberg, Dr. Hild worked as the Chief Physician in the Department of Surgery at the Elbe-Elster Hospital in the town of Finsterwalde in Brandenburg.
Photo of the doctor: (c) Klinikum Oberberg GmbH
Department of Adult and Pediatric General, Abdominal Surgery.
Hospital Waldbrol Oberberg:

Request more information now.
We will be happy to answer all your questions.
---
Certificates