Hospital Waldbrol Oberberg
Department of Vascular Surgery (

286092

)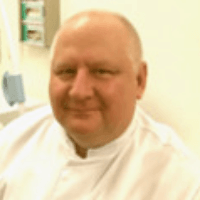 Dr. med.
Wojciech Jan Szczotka
Specialized in: vascular surgery
About the Department of Vascular Surgery at Hospital Waldbrol Oberberg
The Department of Vascular Surgery at the Hospital Waldbrol Oberberg offers all the options of modern medicine for the diagnostics and treatment of diseases of arteries, veins and lymphatic vessels. More than 30 beds are available for inpatient treatment of patients. the department is headed by Dr. med. Wojciech Jan Szczotka.
The department includes the certified Center of Excellence for Vascular Surgery Oberberg, which is the only facility of this kind in the region. With all the necessary technical resources and advanced therapeutic methods, the department's specialists can successfully treat diseases of the aorta, cerebral arteries, mesenteric arteries, limb arteries, veins and lymphatic vascular system.
The clinical practice involves the use of both classic open surgical techniques and sparing minimally invasive catheter techniques, such as balloon dilatation and stent implantation. The treatment regimen for each patient is selected individually. Prior to treatment prescription, the patient undergoes the comprehensive diagnostics, including dopplerography, color duplex sonography, light reflection rheography, venous occlusion plethysmography, phlebography, angiography, computed tomography, etc.
The department's service range includes the following surgical options:
Carotid stenosis surgery
Treatment of abdominal aortic aneurysm

Open surgery
Endovascular procedure (abdominal aorta prosthetics)

Treatment of acute and chronic circulatory disorders of the lower limbs

Open surgery (peripheral artery bypass surgery)
Interventional procedures (balloon dilatation and stent implantation)
Hybrid interventions (combination of open surgery and interventional procedure)

Treatment of varicose veins

Conservative therapy
Classic surgical interventions
Endovenous procedures

Surgical treatment of thoracic outlet syndrome
Treatment of thromboses
Treatment of chronic wounds and diabetic foot
Formation and correction of vascular dialysis access
Implantation of port systems for chemotherapy
Implantation of pacemakers and defibrillators
Other medical services
Photo of the doctor: (c) Klinikum Oberberg GmbH
Department of Vascular Surgery.
Hospital Waldbrol Oberberg:

Request more information now.
We will be happy to answer all your questions.
---
Certificates