Diagnostic tests for spinal cord meningioma (program ID:

110109

)
Academic Hospital Hildesheim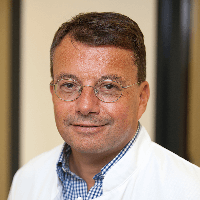 Head Physician
Dr. med.
Thomas Günther
Specialized in: spine surgery
Department of Spine Surgery
Program includes:
Initial presentation in the clinic
clinical history taking
review of medical records
physical examination
general neurological examination
neuropsychological tests
laboratory tests:

complete blood count
inflammatory indicators (CRP,ESR)
indicators of coagulation of blood
tumor markers

CT scan of spinal cord (on indication 650 €)
MRI scan of spinal cord (on indication 1200 €)
nursing services
consultation of all leading experts
explanation of individual treatment plan
written statement
Required documents
Medical records
X-ray examination, MRI/CT scan (if available)
Service
Price:
Type of program :
Expected duration of the program:
You may also book

Price:
About the department
The Department of Spine Surgery at the Academic Hospital Hildesheim under the direction of Dr. med. Thomas Günther covers the entire spectrum of spine surgery, as well as neurosurgical care in case of accidents (e.g. acute cerebral hemorrhages). The department treats more than 1,500 inpatients and almost 6,000 outpatients. Close interdisciplinary cooperation with the Departments of Surgery, Anesthesiology, Internal Medicine and Radiology is an integral part of the department's work.
In the field of spine surgery, the service range covers all injuries, tumorous changes in the bones, metastases, herniated discs and nerve root compression, as well as spinal cord compression in each part of the spine – from skull to cervical spine and up to the sacrococcygeal region. An essential importance is given to the interdisciplinary cooperation with Oncology, Gynecology and Radiation Therapy at the Academic Hospital Hildesheim. If necessary, these are involved in providing comprehensive medical care. In addition, the department actively uses intraoperative neuromonitoring.
Intervertebral disc surgery involves the use of all treatments for both cervical and lumbar spine. Also, the doctors have in their arsenal minimally invasive techniques, such as endoscopic discectomy or removal of sequestra, nucleoplasty and replacement of intervertebral discs. Preference is given to microsurgical techniques. Depending on the indications and the disease, there can be used all available ventral and dorsal methods.
The main focuses of the department include:
Neurotraumatology
Spine surgery
Intervertebral disc surgery
Pain therapy
Photo of the doctor: (c) Helios Kliniken GmbH
---
About hospital
Accommodation in hospital
Spinal meningioma
Program [Description]
Diagnostic tests for spinal cord meningioma
Hospital: Academic Hospital Hildesheim
Type:
access_time Duration:
Price:
date_range
There are 87 spinal meningioma diagnostic hospitals on Booking Health website
Show all clinics
Certificates