Treatment of middle ear congenital anomaly with stapes replacement (program ID:

257763

)
Helios Hospital Hildesheim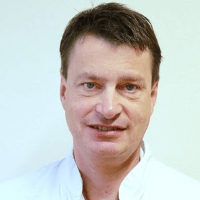 Head Physician
Prof. Dr. med.
Burkard Schwab
Specialized in: adult and pediatric otolaryngology
Department of Adult and Pediatric Otolaryngology
The program includes:
Initial presentation in the clinic
clinical history taking
physical examination
review of medical records
laboratory tests:

complete blood count
biochemical analysis of blood
TSH-basal, fT3, fT4
indicators of inflammation (CRP, ESR)
indicators blood coagulation

otorhinolaryngological examination:

otoscopy
Dix-Hallpike testing
nystagmus testing:

spontaneous nystagmus
positional nystagmus
artificial nystagmus testing

speech audiometry
tympanometry
eustachian tube testing
testing of blood pressure and buzzing
for tinnitus examination
otoacoustic emission test
brainstem audiometry
VEMP testing
(Vestibular evoked Myogenic Potential)
video head impulse testing
eye movement testing
CT of petrous pyramid
contrast-enhanced MR
imaging on labyrinth in 3D

preparation according to preoperative standard
stapes surgery (plastic repair/ stapes replacement)
aimed at hearing restoration
symptomatic treatment
control examinations
the cost of essential medicines and materials
nursing services
full hospital accommodation
explanation of future recommendations
written statement
Required documents:
Medical records
Audiometry (if available)
Temporal bone CT scan (if available)
Service
Price:
Type of program :
Expected duration of the program:
You may also book:

Price:
About the department
The Department of Adult and Pediatric Otolaryngology at the Helios Hospital Hildesheim offers diagnostics and treatment of the full range of ENT diseases. Medical services are provided to patients of all ages, including children. The department performs modern surgery to improve hearing, including the placement of implantable hearing aids and cochlear implantation. An important ​​clinical focus of the medical facility is also the treatment of benign and malignant head and neck tumors: neoplasms of the larynx, throat, oral cavity, nasal cavity, paranasal sinuses, etc. With appropriate clinical indications, the department's surgeons perform aesthetic plastic surgery in order to restore an attractive aesthetic appearance of the face after the treatment of a certain ENT disease. The department mostly performs surgery to repair scars, defects after tumor removal, nose reshaping surgery and facelift in case of facial nerve paralysis. The department's therapeutic offer also includes sparing laser surgery. The Chief Physician of the department is Prof. Dr. med. Burkard Schwab.
Many patients come to the department hoping to restore hearing that may be impaired due to chronic suppurative otitis media, middle ear effusion, congenital damage to the structure of the inner ear, inner ear ossification, ear tumors and other pathological changes. In most cases, surgery is the most effective treatment for hearing loss. The department's otolaryngologists perform microsurgical procedures to replace the auditory ossicles with titanium prostheses or autologous cartilaginous tissues, surgery to eliminate chronic ear inflammations, cholesteatoma removal surgery, laser surgery for otosclerosis and other surgical procedures. The operations are performed using innovative computer-assisted navigation. Prior to the intervention, the patient undergoes CT and/or MRI scanning in order to obtain accurate images of the surgical field in various projections. Thus, the patients with hearing loss are guaranteed not only high efficiency of treatment, but also its safety.
The patients suffering from severe forms of hearing loss (sensorineural hearing loss, conductive or mixed hearing loss) can restore hearing by the placement of implantable hearing aids or cochlear implantation. The surgical interventions of this spectrum are prescribed when conventional hearing aids do not provide the patient with a decent hearing quality. The team of the department's doctors carries out comprehensive diagnostics, which serves as the basis for determining the severity of the hearing loss and the optimal type of hearing aid – a partially/fully implantable hearing aid or a middle ear prosthesis (cochlear implant). Cochlear implantation can be performed in both adults and children. The department's specialists have vast experience in performing these specialized surgical interventions, so the patients can count on the best possible treatment outcome.
The treatment of nasal and paranasal sinus diseases is also within the competence of the department's otolaryngologists. The most common pathologies in this area include chronic inflammation, nasal polyps and cysts. The first-line treatment is drug therapy, but if it is ineffective, the specialists resort to endoscopic surgical interventions. With appropriate clinical indications, nasal and paranasal sinus surgery is also performed using state-of-the-art laser systems characterized by high accuracy and minimal traumatization.
An integral part of the department's clinical practice is the treatment of head and neck tumors. Laryngeal tumors are the most common. The malignant diseases of this spectrum are diagnosed and treated in close cooperation with oncologists and radiation therapists. The department offers various diagnostic examinations to detect a tumor, determine its size and localization. These include endoscopic diagnostic procedures, ultrasound scanning, computed tomography, magnetic resonance imaging, etc. At the stage of planning treatment tactics, the department's doctors pay attention not only to the effectiveness of therapy, but also to the preservation of important functions (voice, swallowing). During the operation, the surgeon removes the entire tumor, and the affected cervical lymph nodes, if possible. The department's surgeons prefer sparing minimally invasive surgical techniques. Small tumors can be removed using a CO2 laser, which is extremely accurate and eliminates the development of profuse bleeding. Whenever required, tumor removal surgery can be followed by plastic repair. The surgical treatment is usually complemented by radiation therapy, the optimal type of which is selected individually for each patient.
The specialists in pediatric otolaryngology admit young patients under the age of 18. The department's otolaryngologists have long experience in the treatment of enlarged tonsils, middle ear effusion, tonsillitis, congenital ENT malformations, neck cysts and other ENT diseases. The therapeutic options include both conservative and surgical techniques. The treatment regimen is developed individually for each child.
The department's main clinical focuses include:
Surgical and conservative treatment of head and neck tumors
Head and neck laser surgery
Laryngeal surgery using high-frequency jet ventilation
Surgical treatment of tracheal tumors and stenoses
Microscopic interventions for salivary gland diseases using neuromonitoring
Microscopic and endoscopic interventions for nasal and paranasal sinus diseases
ENT computer-assisted navigation surgery
Aesthetic and reconstructive plastic surgery in the head and neck
Middle ear surgery

Hearing improvement surgery
Cholesteatoma surgery
Otosclerosis surgery

Placement of implantable hearing aids and cochlear implantation (including in children)
Treatment of ENT diseases in children

Adenotomy
Tonsillectomy
Paracentesis (surgical incision in the eardrum)
Drainage of the tympanic cavity

Other medical services
Curriculum vitae
Higher Education and Professional Career
1986 - 1992 Study of Human Medicine, Faculty of Medicine, University of Wuerzburg.
1993 - 1994 Internship, Department of Otolaryngology, Charite University Hospital Berlin.
1994 - 1995 Assistant Physician, Department of Otolaryngology, Charite University Hospital Berlin.
1995 - 1997 Work in the Department of Otolaryngology, Hannover Medical School.
1997 Board certification in Otolaryngology.
1999 - 2004 Senior Physician, Department of Otolaryngology, Hannover Medical School.
2004 - 2015 Managing Senior Physician, Department of Otolaryngology, Hannover Medical School.
2006 Habilitation in Otolaryngology, Hannover Medical School.
2011 Extraordinary Professorship.
Since November 2015 Chief Physician of the Department of Adult and Pediatric Otolaryngology at the Helios Hospital Hildesheim.
Teaching Career
Lecturer at the Hannover Medical School.
Photo of the doctor: (c) Helios Kliniken GmbH
---
About hospital
Accommodation in hospital
Middle ear congenital anomaly
Program [Description]
Treatment of middle ear congenital anomaly with stapes replacement
Hospital: Helios Hospital Hildesheim
Type:
Duration:
Price:
date_range
There are 75 middle ear congenital anomaly treatment hospitals on Booking Health website
Show all clinics
Certificates