Colon cancer diagnosis (program ID:

148869

)
University Hospital of Ludwig Maximilian University of Munich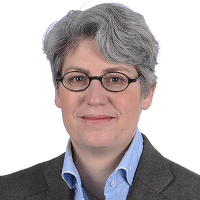 Head Physician
Prof. Dr. med.
Julia Mayerle
Specialized in: gastroenterology, hepatology
Department of Gastroenterology and Hepatology
Program includes:
Initial presentation in the clinic
clinical history taking
review of medical records
physical examination
laboratory tests:

complete blood count
biochemical analysis of blood
tumor markers
inflammation markers (CRP, ESR)
blood coagulation analysis (aPTT, PT, INR)

ultrasound of the abdomen
CT/MRI scan of the abdomen(if clinically indicated, additional cost is 650/1200€)
colonoscopy with biopsy, histological and immunohistochemical study
nursing services
services of all leading experts
explanation of individual treatment plan
Required documents
Medical records
Esophagogastroduodenoscopy (EGD), MRI/CT scan (not older than 3 months)
Biopsy results (if available)
Service
Price:
Type of program :
Expected duration of the program:
You may also book

Price:
About the department
The Department of Gastroenterology and Hepatology at the University Hospital of the Ludwig Maximilian University of Munich offers the full range of services in diagnostics and treatment of diseases of the gastrointestinal tract, liver, pancreas. The department is headed by Prof. Dr. med. Julia Mayerle.
The department performs all the innovative endoscopic procedures, as well as high-precision ultrasound and functional examinations, which allow making an accurate diagnostics and prescribe an appropriate effective therapy. In addition, it conducts active scientific and clinical trials contributing to the development of new treatment methods.
The department specializes in the diagnostics and treatment of the following diseases:
Neuroendocrine tumors of the gastrointestinal tract
Cancer of the colon, pancreas, liver, and bile ducts
Stones in the bile ducts and pancreatic duct
Intestinal dysmotility, reflux esophagitis
Chronic inflammatory bowel diseases
Diseases of the small intestine of unknown origin, chronic diarrhea
Cholestatic, inflammatory and infectious liver diseases
Alcoholic liver diseases
Liver cirrhosis (including the preparation for liver transplantation and postoperative care)
Other diseases and pathological conditions
The service range of the department includes:
Functional diagnostics

Esophageal manometry
24-hour pH-metry
24-hour pH-impedancemetry
Small bowel manometry
13C-octanoic acid breath test to assess the gastric emptying function
13C-urea breath test for Helicobacter pylori
Hydrogen breath test (H2-breath test)

Diagnostic endoscopy

Fluorescent examination methods
Monochromatic laser radiation examinations
High resolution Zoom video endoscopy
Digital examinations
Gastroscopy
Esophagogastroduodenoscopy
Endoscopic retrograde cholangiopancreatography
Cholangioscopy
Proctoscopy
Rectoscopy
Colonoscopy
Ileoskopie
Capsule endoscopy
Double-balloon enteroscopy
Endosonography

Therapeutic endoscopy

Treatment of esophageal varices
Hemorrhage treatment
Treatment of vascular malformations
Treatment of polyps
Treatment of benign and malignant tumors
Treatment of stenosis
Mucosectomy (resection of the mucous membrane in precancerous conditions)
Photodynamic therapy for bile duct cancer
Bougienage, dilation, plastic surgery and stenting of the bile ducts

Intensive care
Treatment of metabolic disorders (within the specialized outpatient clinic)
Other medical services
Curriculum vitae
2001 Doctoral thesis defense (Dr. med.) with honors (summa cum laude) and admission to medical practice.
1994 - 2001 Study of Medicine in Budapest, Würzburg, Muenster.
2003 - 2007 Clinical Residency in Internal Medicine, Department of Gastroenterology, Endocrinology and Nutritional Medicine, University of Greifswald (Head: Prof. Dr. med. M.M. Lerch).
2007 Assistant in the Department of Molecular Gastroenterology, University of Greifswald, certification in Internal Medicine.
2009 Certification in Gastroenterology, Lister Scholarship, Glasgow Royal Infirmary, University of Glasgow, UK.
2011 Associate Professor (lifelong title) in Internal Medicine and Gastroenterology.
2013 Certification in Gastroenterology.
2016 Professor and Head of the Department of Gastroenterology and Hepatology at the University Hospital of Ludwig Maximilian University of Munich.
Awards (selected)
2006 Martin Gulcov Prize, German Society for Digestive and Metabolic Diseases (DGVS).
2006 Sir Hans Krebs Prize, Hannover Medical School.
2013 Tannhauser Prize, German Society for Digestive and Metabolic Diseases (DGVS).
Memberships
2006 President of the German Pancreatic Club.
2012 - 2015 Counselor, European Pancreatic Club, Commission for the Selection of Doctoral Theses.
2007 - 2010 German Society for Digestive and Metabolic Diseases (DGVS), Commission for the Selection of Doctoral Theses, Congress Secretary (2017).
2010 - 2015 Scientific Committee Member, United European Gastroenterology Federation (UEGF).
Since 2011, Deputy Editor in Chief of the Pancreatology Journal.
Since 2013, Advisor to the International Association of Pancreatology.
American Pancreatic Association.
Since 2016, Board Member of the European Association for Gastroenterologists, Endoscopists and Nutritionists (EAGEN).
Photo of the doctor: (c) LMU Klinikum
---
About hospital
Accommodation in hospital
Colon cancer
Program [Description]
Colon cancer diagnosis
Hospital: University Hospital of Ludwig Maximilian University of Munich
Type:
access_time Duration:
Price:
date_range
There are 94 colon cancer diagnostic hospitals on Booking Health website
Show all clinics
Certificates