Treatment of mitral valve insufficiency with minimally invasive replacement of mitral valve (program ID:

146257

)
University Hospital of Ludwig Maximilian University of Munich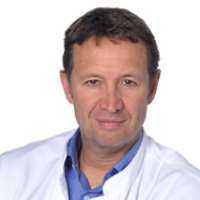 Head Physician
Prof. Dr. med.
Christian Hagl
Specialized in: cardiac surgery
Department of Cardiac Surgery
Program includes:
Initial presentation in the clinic
clinical history taking
physical examination
cardiological examination
laboratory tests:

complete blood count
general urine analysis
biochemical analysis of blood
TSH-basal, fT3, fT4
indicators of inflammation
indicators blood coagulation

measurement of arterial blood pressure
electrocardiogram
holter monitoring (24h)
transesophageal echocardiography
cardiac catheterization
preoperative care
prosthetic (replacement) mitral valve
symptomatic treatment
control examinations
cost of essential medicines and materials
nursing services
full hospital accommodation
explanation of future recommendations
Price:
Type of program :
Expected duration of the program:
You may also book

Price:
About the department
According to the Focus magazine, the Department of Cardiac Surgery at the University Hospital of Ludwig Maximilian University of Munich ranks among the top departments in Germany in the area of its specialization!
The department offers the full range of services in the field of diagnostics and treatment of heart diseases. It performs more than 2,500 operations every year, including minimally invasive ones. The highly qualified team of doctors and nursing staff, whose main task is to provide optimal treatment based on the very latest achievements of modern medicine, take care of the patients. Close cooperation with other departments of the hospital allows performing interdisciplinary, comprehensive treatment taking into account all the personal needs of the patients. The Chief Physician of the department is Prof. Dr. med. Christian Hagl.
The service range of the department includes:
Diagnostics and surgical treatment of coronary heart disease

Diagnostics

Medical history analysis
General medical examination
Stress ECG
Conventional ECG
Coronary angiography
Myocardial scintigraphy
Positron emission tomography (PET)
Magnetic resonance imaging (MRI)

Therapy

Standard coronary artery bypass grafting
Coronary artery stenting (percutaneous coronary intervention)
Coronary artery bypass grafting without using a heart-lung machine
Minimally invasive coronary artery bypass grafting
Implantation of the left ventricular auxiliary device Jarvik 2000
Intra-aortic balloon counterpulsation

Diagnostics and surgical treatment of the heart valve diseases

Aortic valve diseases

Clinical examination
ECG
Thoracic X-ray
Echocardiography with color doppler
Heart catheter examination with coronary angiography
Reconstructive aortic valve surgery
Aortic root correction
Aortic valve replacement (mechanical and biological prostheses)
Aortic valve implantation through a catheter

Mitral valve diseases

Surgical interventions in mitral stenosis
Surgical interventions in mitral valve insufficiency

Diagnostics and surgical treatment of the type A and B aortic dissection (according to the Stanford classification)
Diagnostics and surgical treatment of cardiac arrhythmias

Pacemaker implantation
Cardiac resynchronization therapy
Cardioverter-defibrillator implantation
Event recorder implantation
Care for patients with previously implanted pacemakers and defibrillators

Heart transplantation
Combined heart and lung transplantation
Other diseases and treatment methods
Curriculum vitae
Prof. Christian Hagl studied medicine and defended his doctoral thesis at the Heidelberg University. His clinical training began in 1995 in the Department of Cardiac Surgery at the University Hospital Kiel. One year later, he began his work at the Hannover Medical School, where he underwent professional training at one of the largest Transplant Centers in Europe. After a two-year research internship at the School of Medicine at Mount Sinai, New York, he returned to Germany and was habilitated at the Hannover Medical School. In 2004, Prof. Hagl was appointed as a Senior Physician, and since January 2009 as a Leading Senior Physician in the Department of Cardiothoracic and Transplant Surgery at the Hannover Medical School. In 2010 he received the title of the Extraordinary Professor.
Since 2006 till 2008, he was a Board Member of the German Society of Cardiothoracic Surgery (special focus on the structured training of young surgical staff). Prof. Hagl is a member of numerous scientific societies and commissions, as well as a scientific reviewer of the Zeitschrift für Herz-, Thorax- und Gefäßchirurgie.
October 1, 2011, Prof. Dr. med. Christian Hagl was appointed the Head of the Department of Cardiac Surgery at the University Hospital of Ludwig Maximilian University of Munich.
---
About hospital
Accommodation in hospital
Mitral valve insufficiency (prolapse)
Price:
Program [Description]
Treatment of mitral valve insufficiency with minimally invasive replacement of mitral valve
Hospital: University Hospital of Ludwig Maximilian University of Munich
Type:
access_time Duration:
date_range
There are 48 mitral valve insufficiency (prolapse) treatment hospitals on Booking Health website
Show all clinics
Certificates