Diagnosis and conservative treatment of shingles (program ID:

148557

)
University Hospital of Ludwig Maximilian University of Munich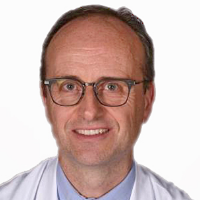 Head Physician
Prof. Dr. med.
Lars French
Specialized in: adult and pediatric dermatology, allergology
Department of Adult and Pediatric Dermatology, Allergology
Program includes:
Initial presentation in the clinic
clinical history taking
review of medical records
physical examination
dermatological skin examination
laboratory tests:

complete blood count
biochemical analysis of blood
inflammation indicators (CRP, ESR)
herpes simplex virus (HSV)
Immunoassay for antibody analysis (Ig G, Ig M) to herpes zoster

differential diagnosis of other diseases of the skin
consultation of related specialists
symptomatic specific treatment
the cost of essential medicines and materials
nursing services
control examinations
full hospital accommodation
developing of further guidance
Service
Price:
Type of program :
Expected duration of the program:
You may also book

Price:
About the department
The Department of Adult and Pediatric Dermatology, Allergology at the University Hospital of the Ludwig Maximilian University of Munich offers the full range of diagnostic and therapeutic services in these medical fields. The Department specializes in the treatment of all skin diseases, allergic reactions and venereal pathologies. The quality medical care is provided by a highly professional team of 50 specialized doctors and 300 nurses, as well as medical and technical workers. About 90,000 outpatients and more than 5,800 inpatients are treated here annually. The department is headed by Prof. Dr. med Lars French.
The 8-storey building for inpatient treatment is a historical monument (its construction was completed in 1929). This is the first high-rise hospital building in Germany, which served as a model for the architecture of medical buildings in the subsequent years.
The service range of the department includes the diagnostics and treatment of the following diseases:
Acne and rosacea
Autoimmune diseases (scleroderma, systemic lupus erythematosus)
Occupational skin diseases (eczema, basal cell carcinoma)
Bullous diseases (pemphigus, bullous pemphigoid)
Eczematous diseases (atopic dermatitis, allergic contact dermatitis)
Genodermatoses (rare congenital skin diseases, often related to other illnesses)
Anal and rectal diseases (proctology)
Allergic reactions

Anaphylactic shock (anaphylaxis)
Drug allergy
Insect venom allergy
Mastocytosis
Food allergy
Neurodermitis
Allergic respiratory diseases (hay fever, chronic allergic rhinoconjunctivitis or bronchial asthma) due to pollen allergy, domestic animals, house dust mites
Professional dermatosis

Hair diseases
Sexually transmitted diseases (for example, HIV, syphilis)
Benign and malignant skin diseases, precancerous skin conditions
Chronic wounds
Skin diseases in children

Eczema
Allergies
Ichthyosis
Hemangiomas
Warts and molluscum contagiosum
Birthmarks and nevi
Fungal diseases

Psoriasis
Venous diseases
Other diseases
The diagnostic and therapeutic options of the department include:
Diagnostics

Non-invasive imaging diagnostics
Allergy tests
Digital dermatoscopy
Electron microscopy
Histological examinations using the full range of immunohistochemical and cytogenetic methods
Mycological and bacteriological examinations (within the framework of the specialized laboratories)
Ultrasound examinations

Surgical treatment

Resection of skin tumors
Defect closure and skin reconstruction with the help of microsurgical plastic surgery involving local and free flaps
Microscopic (micrographic) surgery in basal cell carcinoma (especially in the facial area)
Lymph node removal (for example, lymph node dissection in malignant melanoma)
Electrochemotherapy in metastatic melanoma or other superficial metastatic tumors
Surgery to treat varicose veins
Nail plate plastic surgery
Lymph node transplantation
Implantation of expanders for skin stretching
Artificial skin transplantation

Aesthetic dermatology

Dermabrasion
Skin lifting surgeries, for example, after pregnancy, weight loss
Liposuction
Lipofilling
Eyelid surgery (blepharoplasty)
Face lift
Correction of the nose, auricle and chin deformities
Lip reshaping
Hair transplantation
Hyperhidrosis treatment
Scar revision
Wrinkle treatment
Treatment of complications and consequences after the use of fillers
Different types of peels
Removal of spider veins
Cellulite treatment

Cryotherapy (for example, to remove tumors, warts)
Laser treatment methods
Photodiagnostics and phototherapy (for example, various types of PUVA therapy)
Photodynamic therapy and fluorescence diagnostics
Other medical services
Curriculum vitae
Academic and Professional Career
Since 2018, Head of the Department of Adult and Pediatric Dermatology, Allergology at the University Hospital of Ludwig Maximilian University of Munich.
2006 - 2018 Head of the Department of Dermatology, University Hospital Zurich, Switzerland.
2003 - 2006 Extraordinary Professor, Dermatology, University Hospital Geneva, Switzerland.
2003 - 2006 Professorship in Medicine, University of Geneva, Switzerland.
1999 - 2000 Visiting Clinical and Research Fellow, Department of Dermatology, University of Pennsylvania, Philadelphia, USA.
1998 Privat-Docent, University of Geneva.
1993 - 1997 Resident and Research Fellow, Department of Dermatology, University Hospital Geneva, Switzerland.
1993 Doctoral thesis defense (Dr. med.), University of Geneva, Switzerland.
1990 - 1993 Research Fellow, Cellular and Molecular Biology, University Hospital Geneva, Switzerland.
1988 Diploma in Medicine, Faculty of Medicine, University of Geneva. Medical Specialist in Dermatology, PD, University of Geneva.
1981 - 1988 Study of Medicine, University of Geneva, Switzerland.
Positions in Scientific Societies and Committees
Since 2010, Vice President of the Swiss Society of Dermatology and Venereology (SGDV).
Since 2008, Board Member, European Dermatology Forum (EDF).
2004 - 2005 President of the European Society for Dermatological Research (ESDR).
1997 - 2005 Board Member of the European Society for Dermatological Research (ESDR).
Awards and Honorary Memberships
2012 Otto Naegeli Prize.
2011 Thirty-sixth Annual Lecture by M.H. Samitz on Dermatology.
Leo von Zumbusch Memorial Lectureю
Since 2008б Member of the National Academy of Sciences Leopoldina.
2003 Louis-Jeantet Award in Medicine.
2000 Pfizer Prize for clinical trials in Immunology and Rheumatology.
1999 Leenaards Foundation Award for the Encouragement of Scientific Research..
1998 Prix Claude Perrier Fondation Prize for researches in Pharmacology.
1997 - 2002 "SCORE A" Award for the development of a professional career, Swiss Clinicians Opting for Research / Swiss National Science Foundation.
1995 Roche Prize for Dermatological Research.
Main Research Focuses
Role of the immune system in the development of toxic epidermal necrolysis and skin cancer.
Apoptosis and drug effects.
Causes and mechanisms of skin cancer development.
Treatment methods in skin diseases.
Photo of the doctor: (c) LMU Klinikum
---
About hospital
Accommodation in hospital
Price:
Program [Description]
Diagnosis and conservative treatment of shingles
Hospital: University Hospital of Ludwig Maximilian University of Munich
Type:
access_time Duration:
date_range
There are 57 shingles treatment hospitals on Booking Health website
Show all clinics
Certificates