Chemotherapy in ovarian cancer (program ID:

327079

)
University Hospital of Ludwig Maximilian University of Munich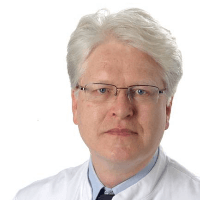 Head Physician
Prof. Dr. med.
Volker Heinemann
Specialized in: oncology
Comprehensive Cancer Center Munich
Program includes:
Initial presentation in the clinic
clinical history taking
review of medical records
physical examination
laboratory tests:

complete blood count
general urine analysis
biochemical analysis of blood
inflammation indicators (CRP, ESR)
indicators blood coagulation
tumor markers (CEA, CA19-9, CA125)

individual plan of the chemotherapy
(the cost of medicines is included)
symptomatic treatment
the cost of essential medicines and materials
nursing services
control examinations
consultation of related specialists
Required documents
Medical records
MRI/CT scan (not older than 3 months)
Biopsy results (if available)
Service
Price:
Type of program :
Expected duration of the program:
You may also book

Price:
About the department
The Comprehensive Cancer Center Munich (CCC Munich) at the University Hospital of Ludwig Maximilian University of Munich offers the accurate diagnostics and effective treatment of all types of cancer. The center has 3,500 beds. The medical institution is certified according to the standards of DIN EN ISO and the German Cancer Society, therefore it guarantees individualized medical care with the use of innovative treatment methods. The center is headed by Prof. Dr. med. Volker Heinemann.
The center brings together and coordinates the medical, scientific and teaching activities of the Technical University of Munich and Ludwig Maximilian University of Munich, which makes it one of the largest centers of this kind in Germany and far beyond its borders.
The particular importance is attached to the continuous development and improvement of the interdisciplinary medical care. During the diagnostics and treatment planning, the competent team of experts takes care of patients. It specializes in all important fields of modern oncology (including internal medicine, surgery, radiation therapy, etc.). The primary goal of all doctors at the center is to provide the oncological patients with best treatment results.
In addition, much attention is paid to supporting both patients and their families during the whole treatment process. For this purpose, a number of concomitant and supportive treatment options are offered, including social counseling, nutrition counseling, sports, psycho-oncology, palliative care, self-help groups, etc.
The center specializes in the treatment of the following oncological diseases:
Breast cancer
Cancer of the female reproductive system

Uterine cancer
Cervical cancer
Ovarian cancer
Endometrial cancer
Vaginal cancer
Vulvar cancer

Prostate cancer
Penile cancer
Gastrointestinal cancer

Bowel cancer
Stomach cancer
Colorectal cancer
Pancreatic cancer

Liver cancer and liver metastases
Bone and soft tissue cancer (sarcomas)
Kidney cancer
Lung cancer
Head and neck tumors
Endocrine tumors
Brain and spinal cord tumors
Hematologic malignant diseases (for example, leukemia)
Oncological diseases in children
Neuroendocrine tumors
Thyroid cancer
Other malignant diseases
Curriculum vitae
1996 Medical Specialist in Internal Medicine.
1996 Habilitation, Ludwig Maximilian University of Munich.
1997 Medical Specialist in Oncology and Hematology.
2005 ESMO Examination (European Society for Medical Oncology).
2010 Appointment to the position of a Director of the Comprehensive Cancer Center Munich.
Scientific and Social Activities
Leader of the Working Group on Internal Oncology.
Leader of the Working Group on Oncology, Department of Internal Medicine III, University of Munich.
Leader of the Working Group on Pancreatic Cancer, AIO.
Executive Member of the Working Group on Colorectal Cancer, AIO.
Board Member of the Tumour Centre Munich (TZM).
Board Member of the Project Group on Gastrointestinal Tumors at the Tumour Centre Munich (TZM).
Principal Researcher in the German Consortium for Translational Oncology (DKTK).
Editor of the Section for Oncological Gastroenterology in the European Journal of Cancer (EJC).
Memberships
American Society of Clinical Oncology (ASCO).
German Cancer Society (DKG).
German Society for Hematology and Oncology (DGHO).
Working Group on Internal Oncology (AIO).
Tumour Centre Munich (TZM).
German Society for Senology.
European Organisation for Research and Treatment of Cancer (EORTC).
Photo of the doctor: (c) LMU Klinikum
---
About hospital
Accommodation in hospital
Ovarian cancer
Program [Description]
Chemotherapy in ovarian cancer
Hospital: University Hospital of Ludwig Maximilian University of Munich
Type:
access_time Duration:
Price:
date_range
There are 92 ovarian cancer treatment hospitals on Booking Health website
Show all clinics