Treatment of prostate cancer with metastases in the lymph nodes with nerve-sparing prostatectomy and lymphadenectomy (program ID:

558279

)
Marien Hospital Marl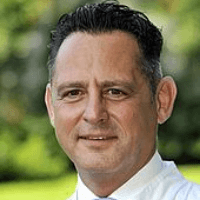 Head Physician
Dr. med.
Hans-Jörg Sommerfeld
Specialized in: adult and pediatric urology
Department of Adult and Pediatric Urology
Program includes:
Initial presentation in the clinic
history taking
general clinical examination
laboratory tests:

complete blood count
general urine analysis
biochemical analysis of blood
inflammation indicators (CRP, ESR)
indicators blood coagulation
tumor marker, PSA

ultrasound of the urogenital system
CT/MRI scanners
preoperative care
nerve-sparing prostatectomy and excision of lymph nodes
histologically and immunohistochemically
examination of the remote tissues
symptomatic treatment
cost of essential medicines
control examinations
nursing services
stay in the hospital with full board
accommodation in 2-bedded room
elaboration of individual treatment plan
Service
Price:
Type of program :
Expected duration of the program:
You may also book

Price:
About the department
The Department of Adult and Pediatric Urology at the Marien Hospital Marl offers the full range of diagnostics and treatment of diseases of the genitourinary system in men and boys. The department has 62 beds for inpatient treatment. The therapeutic options include both conservative and surgical techniques. Many operations are performed using the innovative da Vinci surgical system, which reduces the rehabilitation period by 5 times and leads to the complete absence of pain the very next day after surgery. The key focus of the department is cancer surgery in malignant diseases of the prostate gland, bladder, kidneys, and testicles. Also, the department specializes in the treatment of urinary incontinence and pediatric urological pathologies. The department is headed by Dr. med. Hans-Jörg Sommerfeld.
For the comprehensive and most effective treatment of prostate diseases, the department has a specialized center, which was the first in the Recklinghausen region and only the second in Germany to be certified in accordance with the international quality standard DIN EN ISO 9001. The center mostly focuses on the diagnostics and treatment of prostate cancer and benign prostatic hyperplasia. It is worth noting that the conservative and operational range is complemented by alternative treatment methods (for example, treatment of prostate cancer using the internal irradiation with radioactive "seeds").
A feature of the department is that the medical team for the long years of its successful clinical practice has developed the optimal step-by-step treatment strategy for each ailment, so all the doctors act harmoniously, adhering to a specific plan. Naturally, this strategy is adjusted in accordance with the individual clinical indicators, the needs and wishes of patients.
The service range of the department includes:
Diagnostics and treatment of prostate cancer (all surgical procedures are performed exclusively using a da Vinci robot)

Open retropubic prostate removal (radical prostatectomy with potency preservation)
Laparoscopic removal of lymph nodes in the pelvic region
Laparoscopic radical prostate removal
Low-dose-rate brachytherapy (radioactive prostate irradiation)

Diagnostics and treatment of benign prostatic hyperplasia

Transurethral electro-resection and open transurethral prostatic resection
Surgical enucleation of adenoma with pronounced prostate enlargement
Transurethral microwave thermotherapy (as an alternative in high risk of anesthesia)
Treatment of prostate adenoma with a holmium laser (HoLEP)

Care and treatment of patients with advanced cancer stages of the urological sphere

Pain therapy (in accordance with the guidelines of the World Health Organization)
Measures for the maintenance and improvement of the quality of life, as well as psychological support within conversations with the patient and his relatives
Support of the social services

Diagnostics and treatment of urolithiasis

Endoscopic therapy through the percutaneous and ureterorenoscopic access
Stone breaking by the method of flexible and semi-rigid lithotripsy (ballistic, ultrasonic)
Extracorporeal shock wave lithotripsy
Chemical dissolution of stones

Diagnostics and treatment of bladder cancer

Endoscopic transurethral tumor resection
Radical tumor removal (cystectomy)
Various forms of urine drainage (for example, artificial bladder, Mainz-Pouch I, Mainz-Pouch II, etc.)
Polychemotherapy (cisplatin / gemcitabine, MVAC, paclitaxel / gemcitabine)
Photodynamic diagnostics of bladder tumors

Diagnostics and treatment of testicular cancer

Surgical removal of the affected testicle
Removal of lymph nodes in the area of ​​lymph efflux from the affected organ (retroperitoneal lymphadenectomy/modified and with nerve preservation)
Chemotherapy (PEB, PEI, carboplatin), adapted to the tumor stage, as a single treatment method or in combination with other therapeutic measures

Diagnostics and treatment of urinary incontinence in men and women

Consultations on involuntary urination, diagnostics, including urogynecological examinations, and follow-up therapy
Appointment of drug therapy on an individual basis
Training on pelvic floor muscle strengthening exercises and the use of electrical stimulation methods
Operational procedures in accordance with the latest scientific achievements
Insertion of special vaginal tapes
Surgical elevation of the pelvic floor in the case of bladder prolapse (vaginosacropexy)
Bladder neck suspension (Burch's operation)
Implantation of artificial sphincters in urinary incontinence in men or women

Diagnostics and treatment of kidney cancer

Radical and organ preservation surgery (radical nephrectomy / partial resection of the kidney)
Immunomodulatory therapy (interferons / interleukins / vinblastine)
Surgical treatment of kidney cancer with the da Vinci robotic system

Microsurgery

Fertility restoration (vasoepididymostomy)
Neurolysis in chronic pain in the testicles (chronic testalgia and epididymitis)

Diagnostics and treatment of urological diseases in children

Treatment and recommendations in urinary incontinence (enuresis), including incontinence due to the neuro-urological causes
Elimination of the urine outflow disorders (endoscopic and open procedures for the elimination of improper urine outflow, surgical sanitation in stenosis of the pelvic-ureteric segment)
Correction of hypospadias
Correction of undescended testicles (cryptorchidism)
Surgical sanitation in hydrocele
Circumcision in case of foreskin narrowing (plastic / sparing / radical interventions)

Andrology

Diagnostics and treatment of erectile dysfunction / impotence
Treatment of hormonal disorders in children and adults
Treatment of male menopause
Diagnostics and treatment of infertility in men

Diagnostics and treatment of other urological diseases in adults and children
Photo of the doctor: (с) Marien-Hospital
---
About hospital
Accommodation in hospital
Program [Description]
Treatment of prostate cancer with metastases in the lymph nodes with nerve-sparing prostatectomy and lymphadenectomy
Hospital: Marien Hospital Marl
Type:
access_time Duration:
Price:
date_range