Park-Clinic Weissensee Berlin
Department of Cardiology (

302401

)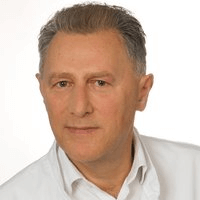 Dr. med.
Richard Stern
Specialized in: cardiology
About the department
The Department of Cardiology at the Park-Clinic Weissensee Berlin offers all the options of modern diagnostic and treatment methods for cardiovascular diseases. The Chief Physician of the department is Dr. med. Richard Stern. The doctor ranks among the leading cardiologists in Germany and is known for rich clinical experience, including in the treatment of especially complex cases.
Of particular interest to the specialists is the provision of medical care to patients with arterial hypertension, coronary artery disease, heart attack and heart failure. The department operates a progressive Cardiac Catheterization Laboratory, which serves for many diagnostic and therapeutic procedures. The very latest invasive and non-invasive treatment methods are applied in the clinical practice.
To diagnose arrhythmias of unclear origin or strokes, the department implants event recorders with remote control. In addition, the department's team of doctors regularly performs operations to implant (replace) pacemakers.
The department's specialization includes:
Diagnostics and treatment of coronary artery disease
Diagnostics and treatment of pulmonary heart and hemodynamic disorders in the pulmonary circulation
Diagnostics and treatment of diseases of the arteries, arterioles and capillaries
Diagnostics and treatment of diseases of the veins, lymphatic vessels and lymph nodes
Diagnostics and treatment of arterial hypertension
Diagnostics and treatment of other cardiovascular diseases
The range of the department's diagnostic and therapeutic services includes:
Electrocardiography (ECG)
24-hour ECG monitoring
Echocardiography, stress echocardiography, transesophageal echocardiography
Right heart catheterization
24-hour blood pressure monitoring
Pacemaker implantation and replacement
Other medical services
Curriculum vitae
Education
1977 - 1984 Study of Human Medicine at the Free University of Berlin.
1981 - 1984 Experimental thesis at the Institute for Toxicology and Embryonic Pharmacology (under the supervision of Prof. Merker).
Professional Career
1985 - 1989 Assistant Physician at the Berlin Jewish Hospital, Department of Internal Medicine, as well as Department of Radiography and Nuclear Medicine.
1989 - 1996 Assistant Physician, Department of Cardiology and Pulmonology, Charite University Hospital Berlin, Campus Benjamin Franklin.
1993 Board certification in Internal Medicine.
1996 Board certification in Cardiology.
1996 - 1997 Senior Physician, Department of Internal Medicine, Martin Luther Hospital, Berlin.
1997 - 2005 Deputy Head of the Department and Leading Senior Physician of the Department of Cardiology and Intensive Care, Vivantes Am Urban Hospital and Vivantes Friedrichshain Hospital, Berlin.
2005 - 2012 Medical Director of the Heart Failure Center at the Jewish Hospital, Berlin.
Since 2013 Chief Physician of the Department of Cardiology at the Schlosspark Clinic.
Since 2016 Chief Physician of the Department of Cardiology at the Park-Clinic Weissensee Berlin.
Memberships in Professional Societies
German Cardiac Society, Working Group on Heart Failure.
Board of Trustees of the Men's Health Foundation.
Berlin Society for Prevention and Rehabilitation of Cardiovascular Diseases.
European Society of Cardiology.
Photo of the doctor: (c) Park-Klinik Weißensee GmbH
Department of Cardiology.
Park-Clinic Weissensee Berlin:

Request more information now.
We will be happy to answer all your questions.
---
Certificates