Park-Clinic Weissensee Berlin
Department of Plastic, Aesthetic Surgery and Hand Surgery (

302405

)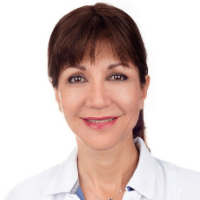 Dr. med.
Viola Moser
Specialized in: plastic, aesthetic surgery and hand surgery
About the Department of Plastic, Aesthetic Surgery and Hand Surgery at Park-Clinic Weissensee Berlin
The Department of Plastic, Aesthetic Surgery and Hand Surgery at the Park-Clinic Weissensee Berlin offers the full range of surgical interventions in these fields. The department's experienced surgeons specialize in reconstructive interventions for the treatment of skin and soft tissue defects upon the removal of tumors, burns, injuries or congenital pathologies, as well as carry out aesthetic operations. In addition, the department's tasks include the surgical treatment of all diseases and hand injuries, as well as those that heal with secondary tension burns. The department's surgeons widely use the very latest surgical techniques, while most interventions are performed on an outpatient basis. The department is headed by Dr. med. Viola Moser.
The team of surgeons specializing in hand surgery have unique competencies in the treatment of compression syndromes (carpal and cubital tunnel syndrome), connective tissue changes (Dupuytren's contracture), tumor-like formations (ganglions) and tendon pathologies. The patients also receive high-quality physiotherapeutic care.
The clinical practice gives important attention to the treatment of benign and malignant neoplasms of the facial skin, with follow-up reconstruction of defects after their resection. The department applies various restoration techniques, for example, native skin grafts, with which the doctor can close even large defects.
The priority focuses of the department's clinical activities include:
Scar revision
Correction of soft tissues defects on the face after neoplasm resection
Surgical correction of gynecomastia in men
Reconstructive breast interventions in women (for example, asymmetry correction)
Hand surgery
Other surgical services
Photo of the doctor: (c) Park-Klinik Weißensee GmbH
Department of Plastic, Aesthetic Surgery and Hand Surgery.
Park-Clinic Weissensee Berlin:

Request more information now.
We will be happy to answer all your questions.
---
Certificates