Treatment of hairy cell leukemia with cytostatics (program ID:

105671

)
University Hospital RWTH Aachen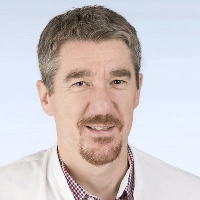 Head Physician
PD Dr. med.
Edgar Jost
Specialized in: oncology, hematology
Department of Oncology and Hematology
Program includes:
Initial presentation in the clinic
clinical history taking
review of medical records
physical examination
laboratory tests:

complete blood count
general urine analysis
biochemical analysis of blood
blood smear
TSH-basal
inflammation indicators
indicators blood coagulation

ultrasound of spleen
aspiration biopsy of bone marrow
cytogenetic analysis
therapy with cytostatics (1 curse)
nursing services
services of all leading experts
explanation of individual treatment plan
Required documents
Medical records
MRI/CT scan (not older than 3 months)
Bone marrow biopsy results (if available)
Service
Price:
Type of program :
Expected duration of the program:
You may also book

Price:
About the department
The Department of Oncology and Hematology at the University Hospital RWTH Aachen offers accurate diagnostics and effective treatment of benign and malignant blood diseases, as well as solid tumors. The department's specialists are proud of the excellent results in the field of bone marrow transplantation, which is among the department's priority focuses. The department has 61 beds. Medical care is carried out both on an outpatient and inpatient basis. The department is headed by PD Dr. med. Edgar Jost.
The department specializes in the diagnostics and treatment of leukemias and lymphomas, as well as aplastic syndromes, mast cell diseases and myeloproliferative neoplasms. The priorities of inpatient medical care are the treatment of acute leukemias and high-dose chemotherapy. In the field of solid tumor treatment, the department is known for systemic therapy of lung cancer, head and neck tumors, sarcomas, etc. In addition, the standard services include supportive treatment and systematic psycho-oncological consultations.
The department cooperates closely with the Euregional Comprehensive Cancer Center Aachen. Therefore, the department has an access to the very latest diagnostic and treatment methods, as well as the opportunity to engage all the necessary specialists to the treatment process. The therapy of cancers requires particularly professional and comprehensive approach, and therefore the treatment strategy for each patient is developed individually with the participation of oncologists, radiologists, radiation therapists, specialized doctors (for example, otolaryngologists, orthopedists), etc. The psycho-oncological care also plays an important role in the treatment process, since when the patients hear the diagnosis of cancer, they often lose heart and cannot cope with an emotional stress on their own. If desired, the treatment within the clinical trials is possible.
The department provides the diagnostics and treatment of the following pathologies:
Myelodysplastic syndrome
Acute myeloid leukemias
Chronic myeloid leukemias
Aplastic syndromes (for example, aplastic anemia, paroxysmal nocturnal hemoglobinuria)
Hereditary and acquired anemias
Blood clotting disorders
Multiple myeloma
Myeloproliferative neoplasms (for example, essential thrombocythemia, true polycythemia, primary myelofibrosis)
Brain tumors
Lymphomas of the central nervous system
Head and neck tumors
Lung cancer
Lymphomas
Melanomas (choroidal, metastatic melanomas)
Other diseases
Photo of the doctor: (c) Uniklinik RWTH Aachen
---
About hospital
Accommodation in hospital
Hairy cell leukemia
Program [Description]
Treatment of hairy cell leukemia with cytostatics
Hospital: University Hospital RWTH Aachen
Type:
Duration:
Price:
date_range
There are 61 hairy cell leukemia treatment hospitals on Booking Health website
Show all clinics
Certificates