Lipofilling in abnormal breast areola (program ID:

106133

)
University Hospital RWTH Aachen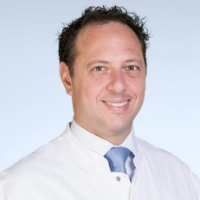 Head Physician
Prof. Dr. med.
Justus Beier
Specialized in: plastic, burn surgery, hand surgery
Department of Plastic, Burn Surgery and Hand Surgery
Program includes:
Initial presentation in the clinic
clinical history taking
review of medical records
physical examination
laboratory tests:

complete blood count
general urine analysis
biochemical analysis of blood
inflammation indicators (CRP, ESR)
indicators blood coagulation

mammology examination:

breast ultrasound
mammography

preoperative care
surgery involving own fat transplantation (lipo-filling)
symptomatic treatment
control examinations
the cost of essential medicines and materials
nursing services
full hospital accommodation
explanation of future recommendations

Required documents
Medical records
Breast ultrasound (if available)
Service
Price:
Type of program :
Expected duration of the program:
You may also book

Price:
About the department
The Department of Plastic, Burn Surgery and Hand Surgery at the University Hospital RWTH Aachen offers the full range of services in these medical fields. The specialization covers reconstructive microsurgery, plastic and reconstructive surgery of the breast, postbariatric surgery, planned and emergency hand surgery. The clinical practice is based on the use of the very latest surgical techniques, which guarantee excellent functional and aesthetic results. The department is headed by Prof. Dr. med. Justus Beier.
The experts in the field of reconstructive surgery are engaged in the restoration of shape and functions of the body. The department performs surgery to reconstruct large defects of the skin and soft tissues, for example, after the removal of tumors or accidents, skin distortion by scars, breast loss after cancer, as well as paralysis of the nerves in the face or hands. The first stage of treatment is comprehensive counseling and diagnostics, after which the optimal surgical technique is selected. The scope of services ranges from laser treatment of extensive scars to microsurgical tissue transplantations during breast reconstruction. Another priority field is reconstructive surgery of the head and neck after burns and after the removal of tumors.
In the field of aesthetic surgery of the face and neck, special attention is paid to eyelid and face lift, as well as lipofilling. In addition, the surgical options cover complex hand surgery, including 24-hour replantation surgery service. Plastic surgical reconstruction of all burn scars and all severe wounds is also a key focus of ​​the department.
The service range of the department includes:
Plastic reconstructive and aesthetic breast surgery

Breast reconstruction using patient's own tissues (after breast removal due to breast cancer)
Breast reduction and augmentation
Correction of malformations (for example, tuberous breasts), breast and nipple asymmetries
Breast augmentation using implants (for medical and for aesthetic reasons)
Gynecomastia treatment in men

Hand and peripheral nerve surgery

Arthroscopy
Treatment of all types of bone fractures and dislocations of the thumb, other fingers, metacarpal and carpal bones
Treatment of arthrosis and rheumatoid arthritis
Treatment of diseases of the tendons and ligaments of the hand
Scar revision in the hand
Dupuytren's contracture treatment
Correction of congenital malformations of the hand and complex hand injuries
Surgical interventions on peripheral nerves
Treatment of nerve lesions
Treatment of compression syndromes in the hand

Postbariatric surgery, surgical treatment of lipo- and lymphedema

Abdominal lift
Lifting/removal of tissues in the genital area
Male breast reconstruction in gynecomastia
Upper body lift with female breast reshaping
Buttock lift
Body lift
Hand lift
Hip lift
Neck lift
Surgical interventions to treat lipo- and lymphedema

Burn surgery and scar revision
Other medical services
Curriculum vitae
Prof. Beier studied medicine at the Universities of Greifswald and Freiburg, as well as in Durban, South Africa. Since 1998, he worked as Doctoral Student in Plastic Surgery at the University Hospital Freiburg, where he also defended his experimental doctoral thesis on the subject: "Muscle tissue engineering". Then he worked as Intern in the Department of Plastic Surgery and Hand Surgery, where over time he held the position of Assistant Physician. Since 2005, Prof. Beier worked at the University Hospital Erlangen and there he had his board certification in plastic and aesthetic surgery. Two years later, Prof. Beier received an additional specialization in hand surgery. Since 2012, he held the position of the Leading Senior Physician and Deputy Head of the Department of Plastic Surgery and Hand Surgery at the University Hospital Erlangen. In 2016, he received the title of Extraordinary Professor at the Friedrich-Alexander University Erlangen-Nuremberg. Since August 16, 2017, Professor has been the Head of the Department of Plastic, Burn Surgery and Hand Surgery at the University Hospital RWTH Aachen.
Professor has extensive knowledge in all fields of modern plastic surgery. His clinical activities are focused on microsurgical reconstructive interventions, hand surgery and breast reconstruction using patient's own tissues.
Photo of the doctor: (c) Uniklinik RWTH Aachen
---
About hospital
Accommodation in hospital
Abnormal breast areola
Program [Description]
Lipofilling in abnormal breast areola
Hospital: University Hospital RWTH Aachen
Type:
Duration:
Price:
date_range
There are 91 abnormal breast areola treatment hospitals on Booking Health website
Show all clinics
Certificates