Treatment of total anomalous pulmonary venous connection (TAPVC) with surgical correction (program ID:

106303

)
University Hospital RWTH Aachen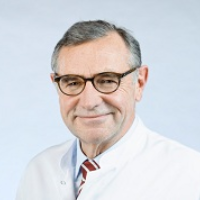 Head Physician
Prof. Dr. med.
Rüdiger Autschbach
Specialized in: cardiothoracic surgery
Department of Cardiothoracic Surgery
Program includes:
Initial presentation in the clinic
clinical history taking
review of medical records
cardiological examination
physical examination
laboratory tests:

complete blood count
general urine analysis
biochemical analysis of blood
TSH-basal
inflammation indicators
indicators blood coagulation

measurement of arterial blood pressure
electrocardiogram
holter monitoring (24h)
echocardiography
preoperative care
surgical treatment of total anomalous pulmonary
venous connection (TAPVC)
symptomatic treatment
control examinations
cost of essential medicines and materials
nursing services
full hospital accommodation
explanation of future recommendations
Price:
Type of program :
Expected duration of the program:
You may also book

Price:
About the department
According to the Focus magazine, the Department of Cardiothoracic Surgery at the University Hospital RWTH Aachen ranks among the top medical facilities in the field of its ​​specialization!
The department offers all options of modern surgery for the treatment of diseases of the cardiovascular system and thoracic organs. The department widely uses modern minimally invasive techniques, which are considered the gold standard of surgery. Since its founding in 1976, the department has performed more than 40,000 open heart interventions. The department's surgeons also have vast experience in the field of implantation of the artificial heart and mechanical heart support systems. All operations are carried out in strict accordance with the protocols of professional societies. The department is headed by Prof. Dr. med. Rüdiger Autschbach.
The department has 63 beds, as well as 28 beds in the Intensive Care Unit. In general, the department's cardiothoracic surgeons perform more than 1,500 surgical interventions annually, whereas about 1,000 of them in the open heart. Thus, the department has earned a reputation as the largest and one of the most successful Cardiology Centers in North Rhine-Westphalia.
The department's range of medical services includes:
Cardiovascular interventions

Coronary artery bypass grafting with or without heart-lung machine, including minimally invasive bypass grafting
Heart valve surgery: classical and minimally invasive heart valve replacement surgery, reconstructive heart valve surgery
Correction of heart diseases in adulthood
Surgical treatment of heart arrhythmias: implantation of pacemakers and defibrillators, single-chamber and multi-chamber systems (biventricular stimulation)
Surgical treatment of heart tumors
Implantation of an artificial heart and heart support systems

Interventions on thoracic organs

Minimally invasive surgery

Bimanual video-assisted mediastinoscopy
Thoracoscopy for lung biopsy, pleural biopsy, talc pleurodesis
Video-assisted thoracic surgery

Resection of lymph nodes and mediastinal tumors
Atypical lung resection
Pleural empyema
Bullectomy
Lung volume reduction surgery
Resection of pericardial cysts
Pericardial fenestration
Anatomical resection of lung lobe in lung cancer
Resection of pulmonary metastases
Interventions in pneumothorax (lung rupture)

Conventional thoracic surgery

Surgical oncology in lung cancer

Classical lung resections, including the resection of sentinel lymph node
Extensive interventions (bronchoplasty, angioplasty), as well as thoracic wall resection, resection of the right atrium, pericardium and diaphragm, peripheral tumors of the upper lobe of the lung
Multimodal therapy concepts (combination of surgical intervention with chemotherapy, radiation therapy)

Resection of thoracic wall tumors
Surgery in pulmonary emphysema

Bullectomy
Lung volume reduction

Surgery to treat pleural mesothelioma
Thymus resection
Surgical treatment of tumors and tracheal stenoses

Aortic surgery (for example, in aneurysms)
Other surgical options
---
About hospital
Accommodation in hospital
Anomalous pulmonary venous connection
Price:
Program [Description]
Treatment of total anomalous pulmonary venous connection (TAPVC) with surgical correction
Hospital: University Hospital RWTH Aachen
Type:
access_time Duration:
date_range
There are 47 anomalous pulmonary venous connection treatment hospitals on Booking Health website
Show all clinics
Certificates