St. Remigius Hospital Opladen Leverkusen
Department of Gastroenterology, Cardiology, Endocrinology and Pulmonology (

303014

)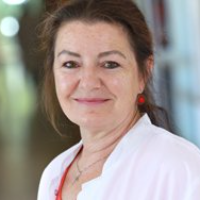 Dr. med.
Claudia Münks-Lederer
Specialized in: gastroenterology, cardiology, endocrinology, pulmonology
About the Department of Gastroenterology, Cardiology, Endocrinology and Pulmonology at St. Remigius Hospital Opladen Leverkusen
The Department of Gastroenterology, Cardiology, Endocrinology and Pulmonology at the St. Remigius Hospital Opladen Leverkusen offers the full range of top-class medical services to patients with diseases of the gastrointestinal tract and cardiovascular system, pathologies of the respiratory system, type 1 and 2 diabetes mellitus, and other metabolic disorders. The department has 105 beds for the treatment of inpatients. The state-of-art technical infrastructure allows the doctors to perform accurate diagnostics and effective monitoring of the recovery process. The department's physicians successfully apply various regimens of drug therapy, and in more complex cases, they perform low traumatic endoscopic procedures. The department provides treatment to more than 4,000 inpatients annually, which indicates a high credit of trust in the specialists of the healthcare facility. The department is headed by Dr. med. Claudia Münks-Lederer.
The department's team of gastroenterologists specializes in the diagnostics and treatment of pathologies of the digestive system. The focus of the specialists is on patients with stomach and bowel diseases. With the help of video endoscopes, doctors receive scans of the mucous membrane of the stomach, small and large intestine. Video endoscopy allows the doctors to accurately diagnose many diseases. Minimally invasive surgical interventions can also be performed with endoscopes, for example, removal of benign and precancerous bowel polyps, elimination of intestinal and stomach stenosis, and internal bleeding. In the field of colon cancer diagnostics, special attention is paid to background and precancerous conditions. The department – together with the doctors from the Department of Abdominal and Thoracic Surgery – develops comprehensive treatment programs at the certified Colon Cancer Center Kplus St. Remigius Leverkusen. The goal of this center is to provide timely diagnostics and treatment.
The department also specializes in the diagnostics and treatment of cardiovascular diseases. Ultrasound methods (for example, echocardiography) are used for this purpose. Ultrasound systems with color Doppler mapping provide doctors with the information on the area of ​​myocardial infarction, heart valve disease, myocardial condition, and are also the basis for planning further treatment. In addition, the department has excellent options for the diagnostics and treatment of heart arrhythmias with medications or pacemaker implantation. The department has more than 20 years of experience in the implantation of single- and dual-chamber pacemakers. The department is also competent in medical care for patients suffering from severe conditions, within the intensive care unit. The department's highly efficient medical equipment is designed to monitor patients and maintain vital bodily functions. Medical staff and a specially trained care team are at the disposal of patients around the clock.
Endocrinology is an integral part of the department's clinical practice as well. When it comes to therapy for metabolic disorders, the primary focus is on diabetes mellitus treatment, which includes drug therapy and dietary measures, as well as physical activity. Doctors in this field have received special training in accordance with the requirements of the German Diabetes Society, so they have excellent skills in providing medical care to patients with type 1 and 2 diabetes mellitus. Since diabetes mellitus is an incurable disease, the goal of therapy is to maintain the patient's satisfactory health condition and prevent the development of complications. Many patients with diabetes mellitus face such a complication as diabetic foot syndrome that, without timely treatment, leads to limb amputation. The specialists of the medical facility apply comprehensive regimens for the treatment of chronic wounds in the lower limb and give recommendations for the prevention of this syndrome.
The department is highly competent in the diagnostics and treatment of diseases of the lungs and respiratory tract. The medical facility deals with the treatment of acute and chronic airway obstruction typical for bronchial asthma or COPD, pulmonary vascular diseases and tumors. Equipped with modern technology, the Pulmonary Function Laboratory offers a wide range of examinations, including body plethysmography, provocation tests, lung diffusion testing, blood gas analysis and other tests. Thanks to close cooperation with thoracic surgeons, patients can be treated at the Rheinisch-Bergischer Lung Center. The specialists in the field of pulmonology carry out drug therapy and perform modern bronchoscopic interventional procedures. In complex clinical cases requiring surgical treatment, thoracic surgeons are involved in the therapeutic process.
The department's main clinical activities include:
Gastroenterology

Diagnostics and treatment of gastrointestinal diseases

Diagnostic services

Abdominal ultrasound
Dopplerography and color duplex sonography of the abdominal blood vessels
Needle biopsy of the liver and other abdominal organs
Esophagogastroduodenoscopy (endoscopic examination of the esophagus, stomach and duodenum)
Percutaneous endoscopic gastrostomy (PEG)
Ileocolonoscopy (colonoscopy with endoscopic examination of the lower part of the small intestine)
Endoscopic retrograde cholangiopancreatography
Brush biopsy of the bile ducts and pancreatic duct
Esophageal X-ray
Contrast-enhanced gastrointestinal X-ray (for the diagnostics of functional disorders)
Bowel transit time determination
Magnetic resonance cholangiopancreatography
Small bowel MRI (MR enteroclysis)

Therapeutic services

Dilatation for benign and malignant esophageal and stomach stenosis
Treatment of esophageal varices with ligation or sclerotherapy
Hemostasis with hemostatic clamps or injectables
Argon plasma coagulation for vascular malformations (angiodysplasia)
Endoscopic removal of foreign bodies
Polypectomy (gastrointestinal polyp removal)
Mucosectomy / endoscopic mucosal resection (deep endoscopic polyp removal)
Gallstone removal (for example, mechanical lithotripsy)
Bile duct stenting
Nasobiliary tube for biliary irrigation

Cardiology

Diagnostics and treatment of cardiac arrhythmias

Diagnostic services

Resting 12-lead ECG
Stress ECG
24-hour Holter monitoring
Implantation of event recorders (an implantable recording device that provides continuous ECG recording for a longer period of time in rare types of arrhythmia)
Echocardiography
Transesophageal echocardiography

Therapeutic services

Implantation (single- and dual chamber systems), including pacemaker and event recorder performance checks
Pharmacological and electrical cardioversion for cardiac arrhythmias (restoration of a normal heart rhythm, for example in atrial fibrillation, with drugs or a defibrillator)

Diagnostics and treatment of cardiopulmonary failure and pulmonary circulation disorders

Diagnostic services

Echocardiography (ultrasound examination of the heart, its valves and large vessels)
Spiroergometry (with a bicycle ergometer)
Right heart catheterization
Chest CT scan

Therapeutic services

Diagnostics and treatment of arterial hypertension

Diagnostic services

24-hour blood pressure monitoring and ECG recording
Stress ECG
Echocardiography (ultrasound examination of the heart, its valves and large vessels)
Renal artery duplex scanning
Laboratory tests for suspected secondary arterial hypertension (hypertension caused by diseases of the kidneys and other organs)

Therapeutic services

Endocrinology

Diagnostics and treatment of endocrine diseases, metabolic disorders with a focus on the treatment of type 1 and 2 diabetes mellitus

Diagnostic services

Comprehensive diagnostics for the detection of type 1 and 2 diabetes mellitus
Thyroid ultrasound and blood test for blood test for hormone levels
Laboratory diagnostics of the function of the adrenal glands, parathyroid glands and pituitary gland

Therapeutic services

Insulin therapy, including pump insulin therapy
Training of patients on the proper lifestyle with diabetes mellitus
Consultation on all aspects of diabetes mellitus management
Drug therapy for thyroid, adrenal, parathyroid and pituitary diseases

Pulmonology

Diagnostics and treatment of respiratory and pulmonary diseases

Diagnostic services

Endobronchial ultrasound for minimally invasive lung examination
Pulmonary function tests: body plethysmography; lung function assessment during exercise and at rest, blood gas analysis; allergy tests; right heart catheterization

Therapeutic services

Drug therapy
Therapeutic bronchoscopy
Pleural puncture

Other diagnostic and therapeutic options
Curriculum vitae of Dr. med. Claudia Münks-Lederer
Dr. med. Claudia Münks-Lederer heads the Department of Gastroenterology, Cardiology, Endocrinology and Pulmonology at the St. Remigius Hospital Opladen Leverkusen. The doctor received her medical education at the University of Duesseldorf, after which she began training in Internal Medicine and Pulmonology at the City Hospital Solingen. Dr. Claudia Münks-Lederer worked in the Departments of Gastroenterology, Cardiology and Nephrology at the same hospital. After that, the specialist went to Bavaria for 14 years and worked there in the Department of Cardiology and Pulmonology at the hospital in Fuerth. After some time, the doctor returned to North Rhine-Westphalia, where she worked as a Senior Medical Advisor at the hospital in Werne, after which she held the position of the Head Physician at the West Hospital in Recklinghausen and Marl.
Photo of the doctor: (c) Katholische Kranken- und Pflegeeinrichtungen Leverkusen GmbH
Department of Gastroenterology, Cardiology, Endocrinology and Pulmonology.
St. Remigius Hospital Opladen Leverkusen:

Request more information now.
We will be happy to answer all your questions.
---
Certificates