St. Remigius Hospital Opladen Leverkusen
Department of Adult and Pediatric Orthopedics, Endoprosthetics (

303016

)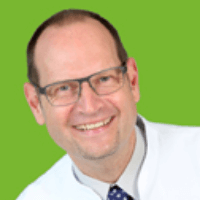 PD Dr. med.
Ralf Decking
Specialized in: adult and pediatric orthopedics, endoprosthetics
About the department
The Department of Adult and Pediatric Orthopedics, Endoprosthetics at the St. Remigius Hospital Opladen Leverkusen offers all modern options of the diagnostics and treatment of bone, joint, muscle and tendon diseases. The purpose of all the department's employees is the optimal maintenance or restoration of the functions of the person's musculoskeletal system. If possible, the department's doctors solve the orthopedic problem using conservative techniques, but if they do not give any positive result, the patient will be prescribed surgical treatment. In October 2012, the medical facility received the status of the Maximum Care Endoprosthetics Centre for outstanding results of clinical practice in this field. The department is headed by PD Dr. med. Ralf Decking.
Partial or total joint replacement surgery (knee, hip, shoulder, elbow, ankle, finger joints) is among the priorities of the department's doctors. For this purpose, the department uses high-quality implants from alloys of cobalt chrome, titanium, ceramic and polyethylene. Depending on the patient's age and bone quality, the endoprostheses can be implanted using cement and cementless fixation techniques. Many operations can be performed using sparing, minimally invasive technique. When treating children and adolescents, the doctors prefer joint-preserving operations, which enables them to preserve the patient's own joint.
The department's field of ​​competence also includes the replacement of endoprostheses (revision interventions). Such operations are highly sophisticated and require a special professional approach. To stabilize the endoprosthesis, there can sometimes be used a special (similar to bone tissue) metal material and bone augmentation, as well as special implants (for example, modular prostheses, which are composed of several components according to the principle of the building set).
In addition, the department's doctors are experts in the field of arthroscopy. In comparison with open joint surgery, the advantage of arthroscopy is that healthy structures are not damaged during the intervention. Due to this, arthroscopy has a less negative effect on the patient's body and is less painful than open surgery. The arthroscopic procedures are mostly applied for the treatment of cartilage lesions, arthrosis, cruciate ligament injury, meniscus injuries, removal of the free body from the joint, etc.
The department pays special attention to the treatment of orthopedic problems in children and adolescents.To this end, it has specially equipped children's rooms and specially qualified personnel. If necessary, the department provides accommodation for one of the parents. With appropriate indications, surgical treatment can be performed on an outpatient basis.
The department's key clinical focuses include:
Outpatient surgery
Arthroscopic surgery
Joint replacement surgery, including joint-preserving interventions
Revision endoprosthetics
Foot surgery (for example, hallux valgus, hallux rigidus, transverse flatfoot, metatarsalgia, acquired flatfoot, clubfoot, metatarsus adductus, etc.)
Pediatric orthopedic surgery
Minimally invasive surgery

Hip replacement surgery
Cruciate ligament surgery
Arthroscopy
Treatment of carpal tunnel syndrome

Operations with the use of surgical navigation
Treatment of rheumatic lesions of the musculoskeletal system
Shoulder surgery
Treatment of sports injuries of the shoulder, hand, foot, hip, knee joints, tendon and ligament ruptures, muscle and bone injuries
Other medical services
Curriculum vitae
​2002 Board certification in Orthopedics.
2002 Additional qualification in Chiropractic.
2003 Additional qualification in Physiotherapy.
2006 Certification in Foot Surgery of the German Association for Foot and Ankle Surgery.
2006 Board certification in Orthopedics and Traumatology.
2007 Research Internship (Endoprosthetics), Hospital for Special Surgery, New York.
2008 Additional qualification in Special Orthopedic Surgery.
2008 Additional qualification in Rheumatology.
2009 Habilitation, Faculty of Medicine, University of Ulm.
Since October 2011 Head of the Department of Adult and Pediatric Orthopedics, Endoprosthetics at the St. Remigius Hospital Opladen Leverkusen.
Membership in International Societies
German Society for Orthopedics and Orthopaedic Surgery (DGOOC).
Founding Member of the International Society for Computer Assisted Orthopaedic Surgery (CAOS-International).
Working Group on Endoprosthetics (AE).
German Association for Foot and Ankle Surgery (DAF).
Scientific Career
Participation in clinical and biomechanical researches on hip and knee arthroplasty.
Lead on surgical courses for doctors in Germany and abroad.
Photo of the doctor: (c) Katholische Kranken- und Pflegeeinrichtungen Leverkusen GmbH
Department of Adult and Pediatric Orthopedics, Endoprosthetics.
St. Remigius Hospital Opladen Leverkusen:

Request more information now.
We will be happy to answer all your questions.
---
Certificates