University Hospital Giessen UKGM
Department of Pediatric Surgery (

303385

)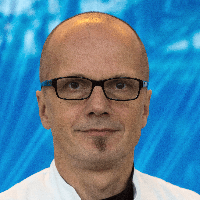 Dr. med.
Jens G. Riedel
Specialized in: pediatric surgery
About the Department of Pediatric Surgery at University Hospital Giessen UKGM
The Department of Pediatric Surgery at the University Hospital Giessen UKGM offers the treatment of all surgical diseases in children, ranging from fetal surgery to the treatment of premature and newborn babies, as well as adolescents under the age of 15 years. The department is headed by Dr. med. Jens G. Riedel.
Particular emphasis in the department's clinical practice is placed on neonatal surgery, surgical treatment of congenital malformations, abdominal pediatric surgery, cancer surgery and plastic surgery. A competent medical team takes care of young patients. It provides optimal therapy while paying due attention to all the features of a young growing body.
The department annually performs from 400 to 600 interventions in the field of pediatric surgery. This does not include interventions in areas, such as urology, traumatology (treatment of accident consequences) or neurology.
An important role is also given to interdisciplinary cooperation with the Departments of Pediatrics, Pediatric Radiology, Anesthesiology, Obstetrics and Gynecology. In addition, a striking feature of the department is the conduction of complex diagnostic tests under short-term anesthesia (for example, MRI), the diagnostics and treatment of malformations immediately after birth (Level I Perinatal Center).
The key clinical focuses of the department include:
Surgery for premature babies and newborns
Minimally invasive pediatric surgery
Outpatient pediatric surgery
Oncological pediatric surgery
Pediatric urology
Other surgical options
Photo of the doctor: (c) UKGM - Universitätsklinikum Gießen und Marburg GmbH
Department of Pediatric Surgery.
University Hospital Giessen UKGM:

Request more information now.
We will be happy to answer all your questions.
---