University Hospital Marburg UKGM
Department of Diagnostic and Interventional Neuroradiology (

590778

)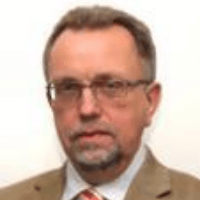 Prof. Dr. med.
Siegfried Bien
Specialized in: diagnostic and interventional neuroradiology
About the department
The Department of Diagnostic and Interventional Neuroradiology at the University Hospital Marburg UKGM offers the full range of imaging diagnostics and interventional treatment of diseases of the nervous system under imaging guidance. The department is headed by Prof. Dr. med. Siegfried Bien.
The experienced specialists with unique competencies work with patients, which allows them to provide first-class medical care to patients with pathologies of varying severity. The doctors from the Departments of Neurology and Neurosurgery are often involved in the diagnostic and therapeutic process. The state-of-the-art technical base of the department also contributes to successful clinical practice.
The department's spectrum of medical services includes:
Diagnostic neuroradiology

Computed tomography (CT) scan of the head, neck and spine
Magnetic resonance imaging (MRI) of the head, neck and spine
Angiography of the vessels of the head and neck, as well as vessels of the spinal cord, including CT/MRI angiography
Myelography with registration of functional indicators
X-ray studies

Interventional neuroradiology

Thrombectomy (for stroke treatment)
Stent angioplasty for stenosis of cerebral or other intracranial arteries
Treatment of intracranial aneurysms
Treatment of vascularized tumors, arteriovenous malformations and dural arteriovenous fistulas
Treatment of extracranial vascular malformations
CT-guided pain therapy for back pain (periradicular therapy, facet joint block, etc.)

Other diagnostic and therapeutic options
Photo of the doctor: (c) UKGM - Universitätsklinikum Gießen und Marburg GmbH
Department of Diagnostic and Interventional Neuroradiology.
University Hospital Marburg UKGM:

Request more information now.
We will be happy to answer all your questions.
---