Diagnostic tests for spinal cord lipoma (program ID:

567324

)
University Hospital Erlangen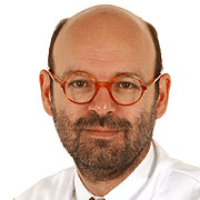 Head Physician
Prof. Dr. med.
Michael Buchfelder
Specialized in: adult and pediatric neurosurgery
Department of Adult and Pediatric Neurosurgery
Program includes:
Initial presentation in the clinic
clinical history taking
review of medical records
physical examination
general neurological examination
neuropsychological tests
laboratory tests:

complete blood count
inflammatory indicators (CRP, ESR)
indicators of coagulation of blood
tumor markers

CT scan of spinal cord (on indication 650 €)
MRI scan of spinal cord (on indication 1200 €)
nursing services
consultation of all leading experts
development of individual treatment plan
written statement
Required documents
Medical records
MRI/CT scan (if available)
Service
Price:
Type of program :
Expected duration of the program:
You may also book

Price:
About the department
The Department of Adult and Pediatric Neurosurgery at the University Hospital Erlangen offers the accurate diagnostics and effective treatment of the entire spectrum of neurosurgical diseases, injuries, inflammations, tumors and malformations of the brain, spinal cord and their meninges, as well as the spine. As one of the largest medical facilities of its kind in Germany, the department performs more than 2,500 surgical interventions every year. The Chief Physician of the department is Prof. Dr. med. Michael Buchfelder.
The department has 78 beds, including 14 beds in the intensive care unit. The priority goal of the specialists is to provide patient-oriented, high-quality medical care, as well as the study of neurosurgical diseases, the development of new therapeutic methods and the training of medical students.
The surgical treatment is provided in four state-of-the-art operating rooms. In addition to the high-tech surgical microscopes, accurate neuronavigation systems and spinal surgery devices with the ability to perform complex 360-degree stabilization, the operating rooms are equipped with the 1.5 Tesla magnetic resonance tomography for intraoperative imaging.
The department provides outpatient medical care. There are offered many consultations, for example, on general neurosurgical pathologies, pituitary, spinal diseases, oncopathologies, epilepsy, neurovascular malformations, as well as preoperative and postoperative care. The specialists of the department annually provide their services to more than 5,500 outpatient patients with various neurosurgical diseases.
An important department's focus is the diagnostics and surgical treatment of diseases of the nervous system in infants, young children and adolescents (in collaboration with the Department of Pediatric and Adolescent Medicine, the Department of Neuropediatrics, Pediatric Oncology). The therapeutic spectrum covers the treatment of common and rare neurosurgical diseases. The department has extensive experience in pediatric neurosurgery and offers all the relevant modern surgical treatment techniques.
The main clinical focuses of the department include:
Diagnostics and treatment of pituitary tumors (about 250 surgical procedures per year)

Microsurgical intervention
Endoscopic interventions
Operations with the use of intraoperative MRI

Diagnostics and treatment of acoustic neuroma

Monitoring of the patient in dynamics using MRI after the diagnostics
Radiosurgery or fractional radiation therapy
Neurosurgical procedure using a surgical microscope
Operations using intraoperative electrophysiological monitoring with recording of acoustic evoked potentials
Surgical interventions with facial and trigeminal nerve intraoperative stimulation
Surgery in the sitting position to protect facial and auditory nerves

Spinal surgery (more than 400 operations on the spine, including more than 100 stabilization procedures, including endoprosthetics of the vertebral bodies in all sections of the spine)

Microsurgery
Navigation surgery
Open interventions

Diagnostics and treatment of neurosurgical diseases in children of all age groups (in collaboration with the related disciplines)
Diagnostics and surgical treatment of epilepsy

Microsurgical resection of certain brain regions up to the total removal (usually temporal lobe removal)
Resection of specific brain regions, for example, hypocampectomy (amygdala removal)
Resection of the brain regions adjacent to the functionally important areas (for example, motor center, speech center, memory center, voice and visual path)
Removal of several lobes (multilobectomy)
Resection of epilepsy-related defects (tumors, scars, malformations)
Resection of the cerebral cortex (hemispherotomy) and its connecting structures (callosotomy), functionally important brain regions (multiple subpial transections)
Implantation of the vagus nerve deep stimulation system

Diagnostics and treatment of aneurysms

Open neurosurgical interventions (clipping, strengthening the aneurysm walls)
Neuroradiological endovascular procedures (coiling, stenting)

Diagnostics and treatment of hemangiomas (arteriovenous malformation)

Classical interventions
Neuroradiological endovascular procedures (embolization, radiosurgery)
Combination therapy (in rare cases)

Skull base surgery

Surgery in a sitting position
Intraoperative echocardiography
Electrophysiological monitoring
CUSA device (ultrasound aspiration system for the treatment of severe tumors)
Endoscopy
Microscopy
Intraoperative imaging
Neuronavigation
Laser surgery
Preoperative functional imaging
5-ALA fluorescence diagnostics
Highly specialized, postoperative neurosurgical intensive care

Diagnostics and treatment of neurovascular compression syndromes (for example, trigeminal neuralgia, hemifacial spasm)
Intraoperative MRI and neuronavigation

Recurrence of pituitary adenoma
Brain tumors (low and high-grade gliomas) with unclear boundaries
Epilepsy surgery
Invasive diagnostics (implantation of electrodes in the brain) to accurately determine the localization of the epileptic focus
Brain neoplasm biopsy in hard-to-reach regions

Neurosurgical intensive care (early detection and treatment of brain and spinal cord dysfunctions associated with traumatic brain injury and spinal cord injury, intracranial hemorrhage or inflammation of the central nervous system and spinal cord)
Treatment within the framework of clinical trials
Other medical services
Photo of the doctor: (c) Universitätsklinikum Erlangen
---
About hospital
Accommodation in hospital
Spinal cord lipoma
Program [Description]
Diagnostic tests for spinal cord lipoma
Hospital: University Hospital Erlangen
Type:
access_time Duration:
Price:
date_range
There are 89 spinal cord lipoma diagnostic hospitals on Booking Health website
Show all clinics
Certificates