Radical, extensive surgical resection of melanoma (program ID:

255205

)
University Hospital Erlangen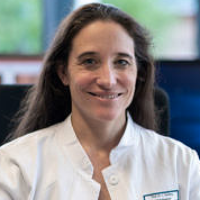 Head Physician
Prof. Dr. med.
Carola Berking
Specialized in: dermatology, allergology, andrology
Department of Dermatology, Allergology and Andrology
Program includes:
Initial presentation in the clinic
clinical history taking
physical examination
review of medical records
laboratory tests:

complete blood count
general urine analysis
biochemical analysis of blood
TSH-basal, fT3, fT4
tumor markers
indicators of inflammation (CRP, ESR)
indicators blood coagulation

ultrasound
CT/MRI scan
preoperative care
micrographic surgical treatment of facial skin melanoma
histologically and immunohistochemically
examination of the remote tissues
symptomatic treatment
control examinations
the cost of essential medicines and materials
nursing services
full hospital accommodation
explanation of future recommendations
Required documents
Medical records
Biopsy results (if available)
Service
Price:
Type of program :
Expected duration of the program:
You may also book

Price:
About the department
The Department of Dermatology, Allergology and Andrology at the University Hospital Erlangen offers accurate diagnostics and effective treatment of diseases of the skin and its appendages, allergic reactions, as well as male infertility and erectile dysfunction. Priority is given to the diagnostics and treatment of skin tumors, inflammatory skin diseases, vitiligo, psoriasis, neurodermatitis and chronic non-healing wounds. Skin cancer therapy is carried out within a specialized Skin Cancer Center certified by the German Cancer Society. The department's dermatologists successfully apply conservative treatment methods (ointments, gels, pills), advanced laser technologies and surgical techniques. Every year, the department admits more than 3,000 inpatients and about 50,000 outpatients. Close interdisciplinary cooperation and the very latest infrastructure of the university hospital ensure the highest level of medical services and the best treatment results, thanks to which the department has an impeccable reputation throughout Europe and beyond. The department is headed by Prof. Dr. med. Carola Berking.
The main focus of the department's specialists is on dermatology. The first stage of the therapeutic process is a thorough study of the patient's medical history and examination, based on the results of which an accurate diagnosis is made and an effective treatment regimen is developed. The set of therapeutic measures is selected for each patient individually. Benign dermatological diseases are mostly treated with conservative methods and laser therapy. The department has at its disposal cutting-edge laser systems: Er:YAG and CO2 lasers, Er:YAG laser, diode laser, ruby ​​laser, KTP/LBO laser and others. Laser therapy is successfully used to remove angiomas, hemangiomas, nevi, treatment of nail mycosis, hypertrichosis, hirsutism, hyperhidrosis, skin pigmentation disorders, scar revision and other pathological skin changes.
The department's medical team is distinguished by its special competencies in the treatment of skin malignant tumors. The most common among them are melanoma and basalioma. The department annually provides treatment to more than 1,200 patients suffering from melanoma. Malignant tumors are usually removed using microsurgical techniques. With appropriate clinical indications, surgical treatment can be complemented by chemotherapy and radiation therapy. If stage 3 and 4 melanoma is detected, it is possible to carry out innovative therapy using the patient's own dendritic cells. These cells are grown in vitro and are tumor antigens. The essence of the therapy is the targeted activation of antitumor immunity. Upon the completion of treatment, the patient can undergo plastic surgery to correct the consequences of the operation and restore an attractive appearance.
Many patients come to the department with suspected psoriasis, diagnostics and treatment of which are carried out within a specialized center. Psoriasis is one of the most common chronic inflammatory skin diseases. Many diagnostic and therapeutic procedures are performed on an outpatient basis, which eliminates the need for hospitalization. The specialists of the medical facility have at their command state-of-the-art equipment and use modern treatments, including their own developments, as well as local therapy and various types of systemic therapy. In special cases, patients can take part in clinical trials, during which innovative drugs that have not yet been approved for use in general clinical practice are applied.
A separate area of ​​the department's clinical practice is the diagnostics and treatment of allergic diseases, including professional allergic reactions. The most common allergic diseases treated in the medical facility include neurodermatitis, hay fever, bronchial asthma, and contact eczema. The main treatment method for allergies in the department is allergen-specific immunotherapy (hyposensitization).
The specialists in the field of andrology carry out comprehensive diagnostics and treatment of male infertility. The doctors in this medical field also deal with the treatment of erectile dysfunction and carry out the procedure for semen cryopreservation.
The department's range of medical services includes the diagnostics and treatment of the following diseases:
Diagnostics and treatment of diseases of the skin, its appendages

Infectious skin diseases (bacterial, viral and fungal skin diseases, including HIV-related pathologies)
Psoriasis
Bullous dermatitis
Papulosquamous dermatoses
Neurodermatitis
Urticaria and erythema
Radiation-induced skin diseases
Diseases of the skin appendages (hair, nails, sweat and sebaceous glands)
Benign skin neoplasms (angiomas, hemangiomas, nevi, etc.)
Malignant skin diseases (melanoma and basalioma)
Chronic non-healing wounds

Diagnostics and treatment of allergic diseases

Neurodermatitis
Hay fever
Bronchial asthma
Contact eczema

Diagnostics and treatment of andrologic diseases

Male infertility
Erectile dysfunction

Diagnostics and treatment of other diseases
Curriculum vitae
Since October 1, 2019, Prof. Dr. med. Carola Berking has been heading the Department of Dermatology, Allergology and Andrology at the University Hospital Erlangen. Prior to this position, she was a Managing Senior Physician in the Department of Dermatology and Allergology at the University Hospital of Ludwig Maximilian University of Munich – the largest Dermatology Center in all of Europe. Prof. Berking's key area of specialization is dermatologic oncology.
Dr. Carola Berking studied Human Medicine at the University of Saarland and at Ludwig Maximilian University of Munich. She received her doctorate at Ludwig Maximilian University of Munich. After a three-year research internship in Philadelphia, USA, in 2004 she completed her board certification in dermatology, and completed her habilitation in the treatment of malignant melanoma. In 2008, Dr. Berking was appointed as W2 Professor at Ludwig Maximilian University of Munich (specialization – dermatologic oncology).
Photo of the doctor: (c) Universitätsklinikum Erlangen
---
About hospital
Accommodation in hospital
Melanoma
Program [Description]
Radical, extensive surgical resection of melanoma
Hospital: University Hospital Erlangen
Type:
Duration:
Price:
date_range
There are 56 melanoma treatment hospitals on Booking Health website
Show all clinics
Certificates