Left bundle branch block (lbbb) conservative treatment and holter monitoring (program ID:

255855

)
University Hospital Erlangen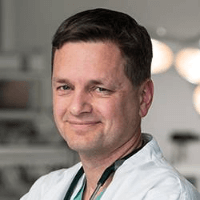 Head Physician
Prof. Dr. med.
Stephan Achenbach
Specialized in: cardiology, angiology
Department of Cardiology and Angiology
Program includes:
Initial presentation in the clinic
clinical history taking
review of medical records
physical examination
laboratory tests:

complete blood count
biochemical analysis of blood
thyroid function test (TSH-basal, fT3, fT4)
mineral metabolism analysis (Na, K, Ca, Mg)
lipid metabolism (HDL/LDL, cholesterol, triglycerides,
Lip(a), homocysteine)
iron content (ferritin, iron)
blood coagulation analysis (aPTT, PT, INR)
metabolic status (uric acid, total glucose, HbA1c)
inflammatory parameters (CRP, ESR)
cardiovascular disease risk markers

vascular system assessment
resting and exercise ECG
vessel elasticity measurement
color doppler echocardiography
color doppler sonography of cerebral vessels
measurement of arterial blood pressure electrocardiogram
Holter monitoring (24h)​
nursing services
treatment by chief physician and all leading experts
explanation of individual treatment plan
written statement
Required documents
Medical records
ECG (if available)
Service
Price:
Type of program :
Expected duration of the program:
You may also book

Price:
About the department
According to the Focus magazine, the Department of Cardiology and Angiology at the University Hospital Erlangen ranks among the top German medical facilities for the treatment of cardiovascular diseases! The department offers the full range of services in these fields and specializes in the treatment of diseases of the cardiovascular system. Due to the availability of modern medical equipment and innovative techniques, especially in the field of diagnostic imaging of the heart, arrhythmias and catheter treatment of coronary stenosis, heart valve defects and other heart diseases, the department plays a leading role in this area in the national and international medical arena. The department is headed by Prof. Dr. med. Stephan Achenbach.
The doctors of the department have excellent qualifications and rich experience in the treatment of cardiovascular pathologies. All employees work hand in hand to provide each patient with not only first-class comprehensive medical care, but also individual, attentive care.
One of the most important components of the department's successful clinical practice is accurate diagnostics using echocardiography, cardiac MRI, CT, etc. The focus is on interventional procedures for complex forms of vascular stenosis and occlusion, for acute myocardial infarction, catheter procedures for treating heart valve defects, treatment of hypertrophic cardiomyopathy. Heart rhythm disorders are diagnosed and treated by specially trained experts in the field of electrophysiology. The patients with arrhythmias are mostly prescribed modern therapies, such as radiofrequency ablation, cryotherapy, laser treatments, pacemaker and defibrillator implantation.
The unique offer of the department is sports cardiology. The specialists in this field conduct all the necessary examinations to determine the possible degree of physical load in patients with cardiovascular diseases. In addition, sports cardiology doctors conduct preventive examinations in healthy people. In this case, the purpose of the examination is to assess the risks of developing problems with the cardiovascular system during a particular exercise.
The service range of the department includes:
Interventional cardiology, including hybrid surgery

Diagnostic cardiac catheterization
Balloon dilatation and stenting to eliminate vascular stenosis
Interventional procedures to close atrial septal defects (patent ovale foramen, atrial septal defect)
Interventional occlusion of the atrial appendage
Catheter treatment of heart valve defects (for example, transcatheter aortic valve implantation)

Cardiac CT and MRI (with contrast enhancement and without it)
Echocardiography

Transesophageal echocardiography
Stress echocardiography
Tissue Doppler echocardiography
3D echocardiography

Diagnostics and treatment of heart rhythm disturbances (arrhythmias)

Ablation
Pacemaker and defibrillator implantation
Cardiac resynchronization therapy for heart failure
Diagnostics of syncopes of obscure origin (using a special implantable device)

Sports cardiology
Physiotherapy
Diagnostics and treatment of diseases of veins, lymphatic vessels and arteries

Infusion therapy
Catheter balloon dilatation
Bypass

Other diagnostic and therapeutic options
Curriculum vitae
1987 - 1993 Study of Medicine at the Medical Faculty of the University of Erlangen.
1993 - 2011 Department of Cardiology, University Hospital Erlangen.
2002 - 2003 Massachusetts General Hospital, Boston, Massachusetts, USA.
2011 - 2012 Department of Cardiology, University Hospital Giessen.
Since 2012 Professor and Head of the Department of Cardiology and Angiology at the University Hospital Erlangen.
Clinical Focuses
Interventional cardiology.
Cardiac CT and MRI (imaging heart diagnostics).
General cardiology.
Intensive care in acute cardiac conditions.
Research Focuses
Imaging of the cardiovascular system (CT, MRI).
Interventional cardiology (intracoronary imaging, TAVI, etc.).
Membership in International Professional Associations
2005 - 2007 President, Society of Cardiovascular CT.
2005 - 2016 Board of Directors, Society of Cardiovascular CT.
2002 - 2006 Board of Directors of the Society of Atherosclerosis Imaging.
2010 - 2014 Heart Imaging Committee, American Heart Association.
European Society of Cardiology.
Prizes and Awards
1999 Jan Brod Prize for Clinical Research, Faculty of Medicine, Hannover Medical School, Germany.
2007 Thomas C. Cesario Distinguished Visiting Professorship Award, University of California, Irvine Medical School.
2009 Simon Dack Award, American College of Cardiology.
2015 Gold Medal of the Society for Cardiovascular Computed Tomography.
2016 Sir Godfrey Hounsfield Memorial Award of the British Institute of Radiology.
Photo of the doctor: (c) Universitätsklinikum Erlangen
---
About hospital
Accommodation in hospital
Left bundle branch block (lbbb)
Program [Description]
Left bundle branch block (lbbb) conservative treatment and holter monitoring
Hospital: University Hospital Erlangen
Type:
access_time Duration:
Price:
date_range
There are 93 left bundle branch block (lbbb) treatment hospitals on Booking Health website
Show all clinics
Certificates