Chemotherapy for germ cell tumors of the ovary (dysgerminoma) (1 course) (program ID:

256497

)
University Hospital Erlangen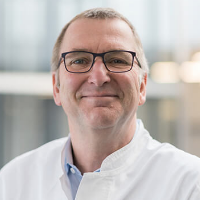 Head Physician
Prof. Dr. med.
Andreas Mackensen
Specialized in: hematology, oncology
Department of Hematology and Oncology
The program includes:
Initial presentation in the clinic
clinical history taking
review of medical records
physical examination
laboratory tests:

complete blood count
general urine analysis
biochemical analysis of blood
TSH-basal, fT3, fT4
tumor markers
inflammation indicators
indicators of blood coagulation

CT scan / MRI of the abdomen and retriperitoneum
abdominal and retroperitoneal ultrasound scan
1 course of chemotherapy
nursing services
consultations of related specialists
explanation of individual treatment plan
How program is carried out
During the first visit, the doctor will conduct a clinical examination and go through the results of previous laboratory tests and instrumental examinations. After that, you will undergo an additional examination, including laboratory assessment of liver and kidney function, ultrasound scan. Based on the received results, the doctor will elaborate the chemotherapy regimen. If necessary, related medical specialists will be involved in the elaboration of a treatment regimen (tumor board).
Chemotherapy is carried out as the day hospital procedure, without mandatory admission to the hospital. After the placement of a venous catheter, you will stay in a comfortable ward. An infusion system will be connected to the catheter, through which the required drug or a drug combination will be administered. All drugs are administered by intravenous drip, slowly, so the total duration of the infusion can be up to several hours. All this time, doctors and nurses will monitor your health condition closely.
After the course of chemotherapy, you will stay under medical supervision in the ward for a few more hours. If your general condition is good, your doctor will allow you to leave the hospital. You will receive the medical report with detailed recommendations regarding further treatment. In the future, you will be able to have a distant consultation with your attending physician and schedule the next course of chemotherapy, if necessary.
Required documents:
Medical records
MRI/CT scan (not older than 3 months)
Biopsy results (if available)
Service
Price:
Type of program :
Expected duration of the program:
You may also book:

Price:
About the department
The Department of Hematology and Oncology at the University Hospital Erlangen provides diagnostics and comprehensive treatment of diseases of the hematopoietic system, as well as solid tumors of various organs. Hematologists most often deal with the treatment of acute and chronic leukemias, malignant lymphomas, myelodysplastic syndromes, plasmacytomas and other pathologies. Chemotherapy is usually first-line therapy. The department's specialists also successfully perform bone marrow transplantation. In the field of oncology, the department provides effective treatment of various tumors of the gastrointestinal tract, endocrine glands, female and male reproductive system, skin cancer, soft tissue and bone sarcomas, head and neck malignancies, etc. The patients suffering from cancer are offered classical (chemotherapy, immunotherapy, hormone therapy) and innovative (immunotherapy, CAR T-cell therapy) treatment methods. Surgical resection of solid tumors is performed by specialized surgeons. The treatment regimen is developed individually for each patient at the tumor board, which plays an important role in achieving a successful treatment result. The department is headed by Prof. Dr. med. Andreas Mackensen.
Along with inpatient beds, the department has a general outpatient clinic, a specialized outpatient clinic for the care of patients after allogeneic bone marrow transplantation, an outpatient clinic for chemotherapy and infusion therapy, as well as diagnostic laboratories. The department's medical team adheres to an individual approach to treatment, and therefore each clinical case is discussed with surgeons, radiation therapists and other experts in related fields in order to choose the optimal treatment tactics. Cancer patients often suffer from depressive states, so doctors devote enough time to personal communication, talking about the upcoming treatment and expected results, and also involve experienced psychologists in their work, who help to overcome emotional distress and set their mind on a favorable treatment result.
Hematology is one of the priority focuses of the department's doctors. The specialists of the medical facility often admit patients with severe malignant diseases of the hematopoietic system: acute and chronic leukemias, lymphomas, myelomas, myeloproliferative and myelodysplastic diseases, plasmacytomas. After conducting a diagnostic examination, making an accurate diagnosis, and determining the stage of cancer, doctors prescribe the most effective course of treatment, which is usually based on chemotherapy. With appropriate indications, hematologists perform autologous or allogeneic bone marrow stem cell transplantation. The department is certified by the German Cancer Society for the treatment of blood cancers, so patients can count on high quality therapy based on the standards of modern university medicine.
In the field of oncology, doctors provide conservative treatment of all types of malignant solid tumors, including breast cancer, cancer of the male and female reproductive system, thyroid cancer, skin cancer, rare neuroendocrine tumors, head and neck tumors, brain cancer, sarcomas, gastrointestinal cancer, lung cancer and others. The first stage of treatment is a comprehensive examination, with the help of which the department's oncologists make a particular diagnosis, determine the stage of the oncological process, the presence or absence of metastases, and assess a general condition of the patient. After receiving comprehensive clinical data, oncologists and doctors of related medical fields gather for tumor boards, during which they develop an individual treatment plan for the patient. The mainstay of therapy for solid malignancies is usually surgical resection of the neoplasm, which is complemented by chemotherapy, radiation therapy, immunotherapy, and other treatments. If a tumor is detected at its advanced stages, the patient receives palliative care aimed at eliminating pain, improving the quality of life and increasing its duration.
As a progressive medical facility, the department offers many innovative treatment methods, which are available only in leading hospitals in developed countries. One of such treatments is CAR T-cell therapy. This type of therapy has become a huge advance in the fight against blood cancer. CAR T-cell therapy involves injecting the patient's own T lymphocytes, which have undergone genetic modification and become capable of recognizing and purposefully destroying tumor cells. Depending on the patient's condition, therapy can take place both on an inpatient or outpatient basis. Prior to starting treatment, the patient's blood is taken. Blood is processed in laboratory conditions using high-tech equipment. The specialists isolate leukocytes, modify and multiply them, and then inject them to the patient. CAR T-cell therapy is most often used in the treatment of blood cancer when other methods are ineffective or the disease recurs.
The department specializes in the diagnostics and treatment of the following diseases:
Hematology

Acute and chronic leukemia
Myeloproliferative diseases
Myelodysplastic syndromes
Malignant lymphomas
Multiple myeloma
Plasmacytoma

Oncology

Gastrointestinal cancer
Cancer of the female reproductive system
Breast cancer
Cancer of the male reproductive system
Endocrine cancer
Lung cancer
Ophthalmic cancer
Skin cancer
Head and neck malignancies
Rare neuroendocrine tumors
Bone and soft tissue sarcomas
Malignant tumors of unknown primary

Other diseases
The department's main therapeutic options include:
Chemotherapy
Antibody therapy
Hormone therapy
Immunotherapy
Blood transfusion and infusion therapy
CAR T-cell therapy
Autologous and allogeneic bone marrow transplantation
Other types of therapy
Curriculum vitae
Higher Education
1979 - 1981 Assistant in the laboratory, University Hospital Freiburg.
1981 - 1989 Study of Human Medicine, Albert Ludwig University of Freiburg.
16.05.1988 State Examination and Diploma in Medicine.
Postgraduate Training and Professional Career
26.05.1988 Admission to medical practice.
31.05.1988 Doctoral thesis defense (magna cum laude) at the Faculty of Medicine of Albert Ludwig University of Freiburg.
08.1988 - 06.1991 Research Fellow, Department of Hematology and Oncology, University Hospital Freiburg.
07.1991 - 06.1993 Scholarship of the German Research Foundation, Department of Oncoimmunology, Gustave Roussy Institute of Oncology, Villejuif, France.
07.1993 - 10.1998 Research Fellow, Department of Hematology and Oncology, University Hospital Freiburg.
10.04.1998 Habilitation in Internal Medicine, Albert Ludwig University of Freiburg.
23.10.1998 Venia legendi in Internal Medicine.
01.11.1998 Senior Physician, Department of Hematology and Oncology, University Hospital Freiburg.
02.12.1998 Board certification in Internal Medicine.
01.06.1999 C3 Professorship in Molecular Hematology, Department of Hematology and Oncology, University Hospital Regensburg.
06.1999 - 09.2007 Senior Physician, Department of Hematology and Oncology, University Hospital Regensburg.
01.06.2004 C3 Professorship (for life).
01.08.2007 Head (W3 Professor) of the Department of Hematology and Oncology, University of Erlangen-Nuremberg.
Since 10.2007 Head of the Department of Hematology and Oncology at the University Hospital Erlangen.
Prizes, Awards and Honors
1990 Young Investigator Award of the International Endotoxin Society, San Diego.
1994 Vincenz Czerny Prize of the Austrian Society of Hematology and Oncology, Vienna.
Patents
European patent, patent №95916557.2-2105.
Photo of the doctor: (c) Universitätsklinikum Erlangen
---
About hospital
Accommodation in hospital
Germ Cell Tumors of the Ovary (Dysgerminoma)
Program [Description]
Chemotherapy for germ cell tumors of the ovary (dysgerminoma) (1 course)
Hospital: University Hospital Erlangen
Type:
Duration:
Price:
date_range
There are 93 germ cell tumors of the ovary (dysgerminoma) treatment hospitals on Booking Health website
Show all clinics
Certificates