Treatment of mesothelioma with pleurectomy (program ID:

257489

)
University Hospital Erlangen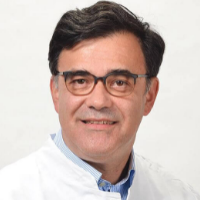 Head Physician
Prof. Dr. med. Dr. h.c.
Horia Sirbu
Specialized in: thoracic surgery
Department of Thoracic Surgery
The program includes:
Initial presentation in the clinic
clinical history taking
review of medical records
physical examination
laboratory tests:

complete blood count
biochemical analysis of blood
inflammation indicators (CRP, ESR)
indicators blood coagulation
TSH-basal
blood gas analysis

chest x-ray examination
measurement of arterial blood pressure
electrocardiogram (ECG)
high-resolution computed tomography (HR-CT)
pulmonary function test
bronchoscopy with biopsy
histological and microbiological examination
preoperative care
surgical pleurectomy
histologically and immunohistochemically
examination of the remote tissues
symptomatic treatment
control examinations
the cost of essential medicines and materials
nursing services
full hospital accommodation
explanation of future recommendations
Required documents:
Medical records
X-ray examination, MRI/CT scan (if available)
Pleural biopsy (if available)
Service
Price:
Type of program :
Expected duration of the program:
You may also book:

Price:
About the department
The Department of Thoracic Surgery at the University Hospital Erlangen offers all types of modern surgical interventions for the treatment of diseases of the lungs, thorax and mediastinal organs. The team of the department's surgeons specializes in operations of any complexity, ranging from minor diagnostic interventional procedures to serious operations using a heart-lung machine. One of the key clinical interests of the department's doctors is lung cancer treatment. The patients with this diagnosis receive interdisciplinary treatment that combines tumor resection, radiation therapy, and chemotherapy. Another area of ​​specialization of the medical facility is laser thoracic surgery, which allows preserving the lung parenchyma, for example, in the treatment of lung metastases. The range of services is complemented by surgical correction of thoracic deformities in adults, for example, pectus excavatum, and minimally invasive endoscopic treatment of hyperhidrosis. In addition, the department's thoracic surgeons have a wealth of experience in innovative video-assisted thoracoscopic surgery. The Chief Physician of the department is Prof. Dr. med. Dr.h.c. Horia Sirbu.
The department's specialists are convinced that a decisive role in the successful treatment outcome is played by close cooperation with doctors from the related medical disciplines: pulmonologists, radiation therapists, oncologists and radiologists. In many cases, it is a multidisciplinary approach that provides the highest chances of recovery. Thanks to cooperation with the Comprehensive Cancer Center Erlangen, close contact of all colleagues involved in the patient's treatment and monitoring of his condition in dynamics is possible.
The availability of innovative technologies and modern medical equipment allows the department's doctors to perform many operations using video-assisted thoracoscopic surgery. The advantages of this technique are obvious – the absence of the need for thoracotomy significantly shortens and simplifies the recovery period after surgery. In addition, when performing such interventions, there is no need for artificial ventilation. Numerous studies confirm both high efficiency and safety of such interventions. The team of surgeons of the medical facility specializes in atypical lung resection, lymph node and mediastinal tumor resection, debridement for pleural empyema, bullectomy, lung volume reduction surgery, pericardial cyst resection, metastasis removal and other interventions using video-assisted thoracoscopic surgery techniques. The patient is already discharged from the hospital after a few days, while classic operations with thoracotomy require a long recovery period.
The department also offers advanced laser technologies for the removal of metastases in the lungs, including multiple ones. High-risk patients can also undergo laser surgery to resect a segment of the lung.
The team of thoracic surgeons working in the medical facility successfully performs thoracoscopic interventions for both diagnostic and therapeutic purposes. When performing such manipulations, a surgeon makes a small puncture of the chest wall and inserts a thoracoscope into the pleural cavity. The thoracoscope is a special instrument that is a narrow tube with a camera at the end. The method is minimally traumatic and, if performed professionally, does not cause any complications. The thoracoscopic technique is most often used in the department for lung and pleura biopsies, pleurodesis, and sympathectomy for hyperhidrosis.
The department's main clinical focuses include:
Diagnostics and surgical treatment of lung cancer
Diagnostics and surgical treatment of chest wall tumors
Diagnostics and surgical treatment of pulmonary emphysema
Diagnostics and surgical treatment of pleural empyema
Diagnostics and surgical treatment of pleurisy
Diagnostics and surgical treatment of pleural mesothelioma
Diagnostics and surgical treatment of pneumothorax
Diagnostics and surgical treatment of tracheal stenosis
Diagnostics and surgical treatment of pectus excavatum
Diagnostics and surgical treatment of hyperhidrosis
Diagnostics and surgical treatment of other diseases
The department's range of surgical services includes:
Cancer surgery

Lung cancer surgery

Standardized interventions with lung resection, including resection of regional and mediastinal lymph nodes
Major interventions (bronchoplasty, angioplasty), chest wall resection, atrial, pericardial or diaphragm resection
Interventions for the treatment of peripheral tumors of the upper lobe of the lung with anterior cervical thoracotomy (Dartevelle procedure)

Surgery for malignant pleural mesothelioma

Extended pleuropneumonectomy and diaphragmatic resection after chemotherapy and radiation therapy (multimodal therapy)

Surgery for mediastinal tumors (thymomas, cysts and thymus neoplasms, myasthenia gravis)

Minimally invasive resection
Thoracoscopic resection
Resection with partial sternotomy

Surgery for tracheal tumors, including stenosis caused by neoplasms

Minimally invasive interventions

Surgery for chest wall tumors, including plastic reconstructive interventions
Laser cancer surgery

Targeted resection of single and multiple metastases on one and both sides
Anatomically adapted lung segment resection in the presence of a round-shaped peripheral pathological malformations in high-risk patients

Minimally invasive surgery

Video-assisted thoracoscopic surgery

Lobectomy
Anterior mediastinotomy (Chamberlain procedure)
Atypical lung resection
Lymph node and mediastinal tumor resection
Debridement for pleural empyema
Bullectomy
Lung volume reduction surgery
Pericardial cyst resection
Pericardial fenestration
Metastasis resection
Pneumothorax surgery

Thoracoscopy

Solitary lymph node resection
Pneumothorax surgery
Lung biopsy
Pleural biopsy
Sympathectomy for hyperhidrosis

Septic thoracic surgery

Other surgical options
Curriculum vitae
Higher Education and Professional Career
1989 - 1992 Doctoral degree, University of Bucharest.
1993 - 2001 Residency, University Hospital Goettingen.
2001 - 2008 Medical Consultant in Cardiothoracic Surgery, University Hospital Aachen.
Since 2008 Head of the Department of Thoracic Surgery at the University Hospital Erlangen.
Clinical Interests
Tracheal surgery.
Lung volume reduction surgery.
Imaging-guided thoracoscopy.
Surgical treatment of thoracic cancers.
Multimodal approach to the treatment of non-small cell lung cancer.
Memberships in Professional Societies
Cardiothoracic Surgery Network.
European Association for Cardio-Thoracic Surgery.
European Society of Thoracic Surgeons.
German Society for Thoracic and Cardiovascular Surgery.
Society of Thoracic Surgeons.
Photo of the doctor: (c) Universitätsklinikum Erlangen
---
About hospital
Accommodation in hospital
Mesothelioma
Program [Description]
Treatment of mesothelioma with pleurectomy
Hospital: University Hospital Erlangen
Type:
Duration:
Price:
date_range
There are 61 mesothelioma treatment hospitals on Booking Health website
Show all clinics
Certificates