University Hospital Frankfurt am Main
Department of Adult and Pediatric Otolaryngology (

26140

)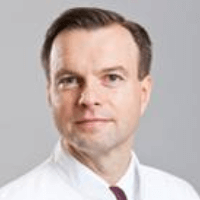 Prof. Dr. med.
Timo Stöver
Specialized in: adult and pediatric otolaryngology
About the department
The Department of Adult and Pediatric Otolaryngology at the University Hospital Frankfurt am Main offers the full range of modern diagnostics and treatment in this field. Of particular interest is the treatment of hearing loss and deafness in adults and children. In addition to microsurgical procedures for hearing improvement, the department also carries out interventions for the installation of implantable hearing aids and cochlear implants. The spectrum is complemented by the treatment of head and neck tumors (functional and minimally invasive interventions, laser surgery and plastic reconstructive surgery), diseases of the nose and paranasal sinuses (microscopic and endoscopic techniques, intraoperative navigation) and skull base pathologies. The department is headed by Prof. Dr. med. Timo Stöver.
The department has the reputation of a maximum care hospital and it is certified in accordance with DIN ISO 9001: 2008 standards. In addition, the department's specialists are proud of their outstanding research activities, which have given birth to many significant scientific innovations and effective treatment methods. Also, the department implements a large-scale cochlear implantation program in the Rhine-Main region, which makes it one of the leading German medical facilities in the field of its specialization.
The department offers both inpatient and outpatient treatment. Particular attention is paid to an individual approach to each patient, an careful and respectful attitude. In addition, the department's doctors get along well with children and do everything possible to make the child's treatment as comfortable as possible.
The main focuses of the department's clinical practice include:
Diagnostics and treatment of hearing impairment in adults

Deafness
Chronic middle ear inflammation
Otosclerosis

Installation of implantable hearing aids
Cochlear implantation in adults and children
Diagnostics and treatment of otolaryngological diseases in children

Hearing loss
Enlarged pharyngeal tonsils
Enlarged palatine tonsils
Recurrent inflamed tonsils

Diagnostics and treatment of diseases of the nose and paranasal sinuses
Diagnostics and treatment of salivary gland diseases

Salivary gland stones
Benign and malignant salivary gland neoplasms

Diagnostics and treatment of head and neck tumors

Facial skin tumors
Salivary gland tumors
Tumors of the oral mucosa
Tongue tumors
Tumors of the tonsils and throat
Tumors of the larynx, nose and paranasal sinuses
Tumors of the neck and ears

Surgical treatment (for example, laser surgery with the preservation of organ functionality, reconstructive interventions using patient's own tissues)
Chemotherapy
Radiation therapy
Antibody therapy
Combination therapy

Laser therapy with the preservation organ functionality (CO2 laser, Er:YAG laser, Nd:YAG laser, KTP laser)

Removal of laryngeal tumors with voice preservation
Tonsillotomy
Reduction of nasal conchae in impaired nasal airflow (laser conchotomy)
Palatal lift in snoring
Operations on auditory ossicles
Sclerotherapy of blood vessels (in hemangiomas, Osler disease)
Endoscopic restoration of swallowing in Zenker's diverticulum
Plastic and aesthetic surgery of the scalp and face (for example, in spider veins, pigment spots)

Plastic surgery

Nose reshaping
Otoplasty
Restoration of facial gesture in facial nerve paralysis
Facial and neck scar revision
Removal of scalp and facial tumors
Flap plastic surgery after tumor removal
Installation of epitheses
Treatment of spider veins and age spots

Skull base surgery using navigation systems, neuromonitoring
Other medical services
Photo of the doctor: (c) Universitätsklinikum Frankfurt
Department of Adult and Pediatric Otolaryngology.
University Hospital Frankfurt am Main:

Request more information now.
We will be happy to answer all your questions.
---
Certificates