University Hospital Frankfurt am Main
Department of Adult and Pediatric Neuroradiology (

588486

)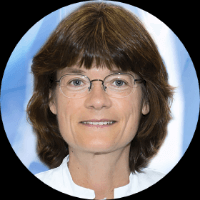 Prof. Dr. med.
Elke Hattingen
Specialized in: adult and pediatric neuroradiology
About the Department of Adult and Pediatric Neuroradiology at University Hospital Frankfurt am Main
The Department of Adult and Pediatric Neuroradiology at the University Hospital Frankfurt am Main offers the widest options of imaging diagnostics and minimally invasive treatment for brain and spinal cord diseases in patients of all age groups, including young children and adolescents. Of particular interest are the treatment of brain tumors, epilepsy, cerebrovascular malformations and acute stroke therapy. The department's doctors believe that the key to the successful treatment outcome is comprehensive and interdisciplinary approach to each clinical case, Therefore, they maintain close cooperation with the specialists from the Departments of Neurology and Neurosurgery. The department is headed by Prof. Dr. med. Elke Hattingen.
The department is equipped with the advanced medical equipment, which allows for both traditional and highly specialized imaging examinations, interventional procedures. The department has exceptional competence in the treatment of complex cerebrovascular diseases, neuropediatric diagnostics (MRI examinations), as well as highly specialized structural, metabolic and functional diagnostics of brain cancers, epilepsy.
The department holds daily interdisciplinary consultations with the participation of specialists in neurology, neurosurgery, neuro-oncology, neuropediatrics, psychiatry, otolaryngology, endocrinology, orthopedics, oncology, etc. Therefore, the department has all the conditions for high-quality medical care of the European level.
The department's medical team is proud of its professional experience in pediatric neuroradiology. The specialization covers the diagnostics of pathologies of the skull and spine in premature and newborn babies, infants and small children, as well as in adolescents. One of the main diagnostic methods is MRI. The examination of children above the age of 5 is carried out without anesthesia. All diagnostic procedures meet the standards of national societies, as well as of the European Society of Paediatric Radiology, the European Society of Neuroradiology. Child's health is in the hands of true professionals who are ready to help him at any time.
The service range of the department includes:
Angiography (imaging of brain and spinal cord vessels), including digital subtraction angiography
Brain and spinal cord MRI
Functional magnetic resonance imaging (for preoperative planning in brain tumors, assessment of tumor progression)
MR spectroscopy for the imaging of metabolic processes in the brain
MRI diagnostics of the brain and spinal cord in children of all ages
Other medical services
Photo of the doctor: (c) Universitätsklinikum Frankfurt
Department of Adult and Pediatric Neuroradiology.
University Hospital Frankfurt am Main:

Request more information now.
We will be happy to answer all your questions.
---
Certificates